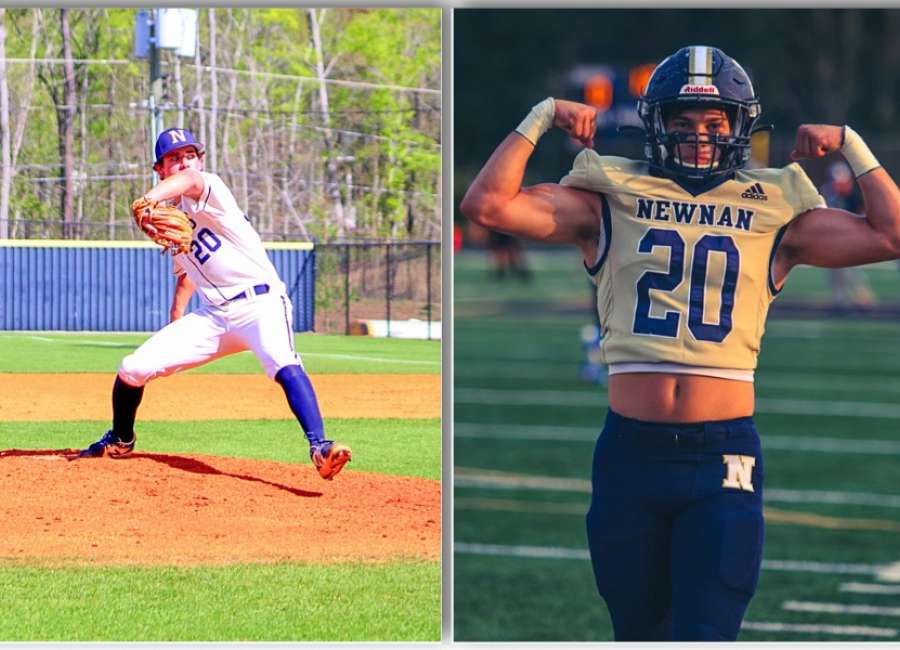 By Derrick Teagle
In January of 2020, I had the pleasure of being a leader at a Christian Youth Retreat (Chrysalis). A Chrysalis Flight is a 3-day weekend designed to help young people understand and grow their faith in God.
My role at Chrysalis was to give a speech about faith (The Rollercoaster of Life) and be a table leader for a group of high students.
I met a young man, Tripp Slaton, who told me he was a football player at Newnan High School. During a break, I asked another Newnan player, Steven Carter, if Tripp was any good and his quick reply was, "He will hit you."
I noticed another table featuring Newnan Baseball players and engaged in conversations with Chapman Ward.
That weekend was also when Kobe Bryant was tragically killed in a helicopter accident. Our table talked about those events after our time together, and we all reiterated the importance of faith.
Another accident occurred when Walker Barnes, a Newnan High School baseball player, died in a car accident six months later. Walker attended that Chrysalis Retreat and was the best friend of Chapman Ward.
Our faith was being tested once again.
Tripp Slaton
Tripp Slaton turned out to be more than a player who will hit you. He was a two-time All-Region Linebacker who recorded over 130 tackles, seven sacks, four forced fumbles, and three blocked kicks.
He was also an All-Region Lacrosse Goalie; he recorded over 500 saves with a 61 percent save percentage. But statistics do not reflect the impact he made.
Newnan football coach Chip Walker shared that he was a leader on and off the field and in the classroom (4.1 GPA, 29 ACT). Tripp represents the program the right way.
Tripp's father, Donnie, shared that Tripp has never lost his faith or given up when things got rough. His mother, Jessica, shared, "Tripp has always loved the Lord, but I have seen his love transform into a passion for serving Christ in every deed. I am very excited that Tripp is going to Mercer University, which aligns with Tripp's beliefs."
Chapman Ward
Chapman Ward dedicated his Senior Year to Walker Barnes and became a big-time winner for the Region Champion Cougars.
Newnan Baseball Coach Marc Gilmore expressed, "Chapman has quietly become one of the best pitchers around this area. He has put in a lot of work with Coach Williams working on his mechanics. I think his start vs. Lowndes in the playoffs last year lit the match to give him more confidence."
Team Chaplin Brian Morgan stated, "Chapman is focused and has a level of intensity unmatched on the field. However, his greatest asset is his ability to become and be whatever role is asked of him, from cheerleader to securing a crucial win."
Stephen Ward, Chapman's dad, shared that Chrysalis provided the environment Chapman needed to disconnect from the normal daily stuff, which allowed God to show himself to him in ways he would not have seen otherwise.
My Perspective
I have noticed two respectful young men from two amazing families. I see two kids who love God, their families, friends and Newnan High School. I have talked to Tripp a lot over the last two years, and he is truly dedicated, determined and dependable. He shared with me on his Signing Day that his faith got him through the up and down recruiting process, and he is glad it ended up with him choosing Mercer.
I remember watching Chapman for the first time against Pebblebrook when he had a no-hitter. It was a good win, but his focus this season was different.
I interviewed Chapman before the Region Championship Game vs. East Coweta, and he shared that his parents' faith in him and their support has impacted him throughout. He knew that Walker Barnes was his biggest supporter and that he is still watching him from heaven.