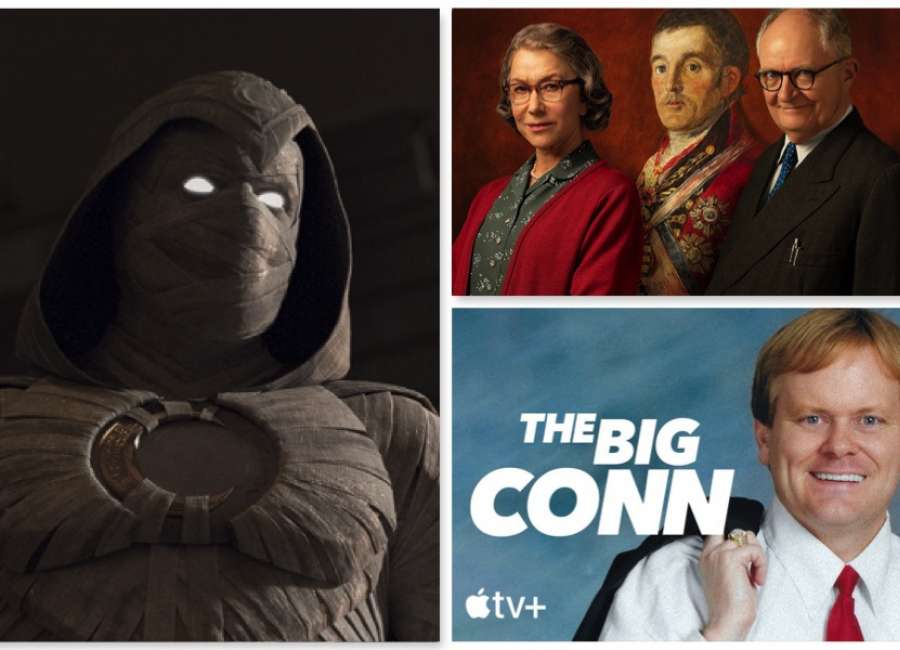 Reviews By: Jonathan W. Hickman
The Duke
Review Rating: 7/10
Film Details:
Director: Roger Michell ("Notting Hill," "Venus," and "My Cousin Rachel")
Cast: Jim Broadbent, Helen Mirren, Matthew Goode, and Fionn Whitehead
MPAA Rating: R
Available in theatrical release
"The Duke" is based on the true story of the first and only theft of a painting from the National Gallery in London. It's not precisely a heist film and instead entertains as a heartwarming courtroom drama.
In 1961, 60-year-old Kempton Bunton (Oscar-winner Jim Broadbent) was a wannabe screenwriter who had trouble maintaining consistent employment. His wife, Dorothy (Oscar-winner Helen Mirren), has tolerated Kempton's inconsistent lifestyle for decades, but recently, as she's aged, she has grown weary of her husband's campaigns against the government.
Kempton's most significant issue is the payment of television licenses. He believes that pensioners should receive free television. And he takes his commitment to his beliefs very seriously. Early in the film, Kempton combats the authorities' efforts to enforce the licenses by removing a tuner part from his family's television. Instead of watching the BBC, his family will watch the ad-supported ITV.
While Dorothy deals with the chaos created by her zealous husband, their youngest son, Jackie (Fionn Whitehead), embraces his father's passion for protest. Jackie, who adores his father, helps him in his campaign. While not as vocal as his dad, he's right there by his parent's side when things get complicated.
And when Kempton comes into possession of a stolen painting, Goya's portrait of the Duke of Wellington, Jackie is on board with Kempton's extreme scheme. Kempton will only return the priceless piece of art if the government covers the television licenses of pensioners. His campaign is suddenly thrust into the news as the baffling theft remains unsolved.
"The Duke" is a charming film. It's such a grounded narrative that we see Helen Mirren on her knees scrubbing a toilet and Jim Broadbent at his fumbling and bumbling best. And Fionn Whitehead (see "Dunkirk") makes for an excellent straight man in this amiable comedy-drama.
It is bittersweet that "The Duke" is director Roger Michell's final narrative film. He passed away last year at the age of 65. I had the pleasure of interviewing him years ago in Toronto about the movie "Venus" that gave Peter O'Toole his final Oscar nomination. Michell was warm and sensitive during our discussion, in which he admitted how wonderful it was to work with the iconic O'Toole.
If you look at Michell's filmography, you'd be hard-pressed to find a film that wasn't worth your time. In addition to "Venus," his collaborations with writer Hanif Kureishi also gave us "The Mother" and "Le Week-end." "The Duke" is a sweet film that honors Michell's sentimental side. His voice will be missed.
The Big Conn
Review Rating: 8/10
Available on Apple TV+
The team behind the documentary series "McMillions" explores the crazy story of Kentucky attorney Eric C. Conn, who defrauded the US Government of $550 million through the Social Security disability program.
Conn was once known as "Mr. Social Security" in Kentucky. He built an empire by defrauding the government and bribing judges. It's a story that might serve as the grist for a narrative feature. But this documentary series proves to be as compelling as it is entertaining.
Delivered in three parts, filmmakers James Lee Hernandez and Brian Lazarte provide insight into one man's fascinating and twisted pursuit of money that may have paradoxically helped his community until the scheme came crashing down.
Moon Knight
Review Rating: 6/10 (Amended and Revised Rating based on the final two episodes)
Available on Disney Plus
As "Doctor Strange and the Multiverse of Madness" dominates this weekend's theatrical landscape, "Moon Knight" concludes its six-episode run on Disney's streaming platform. And the good news is that the final two episodes help to elevate this odd series.
Disney/Marvel took the complex, lesser-known character of Marc Spector/Steven Grant/Moon Knight and embraced its weirdness. Actor Oscar Isaac plays all three personalities and then some, even adopting a somewhat convincing English accent for Grant. And Ethan Hawke gets to play the villain Arthur Harrow. The story involves Egyptian gods using humans as their earth-bound avatars to carry out their bidding.
I found the first four episodes of this series to be alienating—challenging to embrace. The interesting parts of the narrative were undercut by its troubled hero's shifting, confusing personalities. And I had little foundation in Egyptian history to make quick sense of it all.
But by bringing in the edgy directing team of Egyptian filmmaker Mohamed Diab and indie genre directors Justin Benson and Aaron Moorhead, "Moon Knight" proved a departure from the MCU formula. While this has the potential to be refreshing, it's also a little frustrating.
But the final two episodes do pay off, bringing together the disparate threads and resolving most of the questions. And there's a scene that might put a lump in your throat as May Calamawy steps out as the franchise's first Egyptian superhero. Look for Calamawy to join "Strange's" Xochitl Gomez and Iman Vellani (see the upcoming "Ms. Marvel" series) as part of the MCU's diverse Phase Four.
Barry
Review Rating: 8/10
Available on HBO and HBO Max
After a long wait, the quirky series "Barry" returns for its third season. And the pathos, comedy, and insightful, biting drama continue in grand fashion.
Picking up shortly after the events in season two, we meet war veteran turned contract killer Barry Berkman (Bill Hader) as he tries to reinvent himself as an actor in an alternate reality version of Los Angeles. In this season, his girlfriend, Sally Reed (Sarah Goldberg), has hit the big time and serves as creator and star of an exciting new series for a television network.
But their acting careers are threatened by Barry's clandestine criminal career. Barry's former handler, Monroe Fuches (Stephen Root), is hiding out in Chechnya, and the head of the Chechen drug operation, NoHo Hank (Anthony Carrigan), is struggling (both personally and professionally) with a threatening Bolivian drug cartel. And Barry is still trying to make peace with his prickly acting teacher Gene Cousineau (Henry Winkler), who last season discovered to his horror that Barry killed his girlfriend.
Like AMC's "Killing Eve," "Barry," with its amoral characters and violence, might not be to everyone's taste. But I warmed up to HBO's Barry more than I engaged with AMC's Eve. There's something undeniably compelling about Barry's journey that I found unconvincing in the similar "Killing Eve."
HBO shared the first six episodes of this season with me, and I was riveted. At around 30 minutes an installment, "Barry" makes for a great binge; however, it is delivered on HBO weekly. While everyone is excellent here, once again, Winkler steals the show. Can I hear an "Aaayy!"