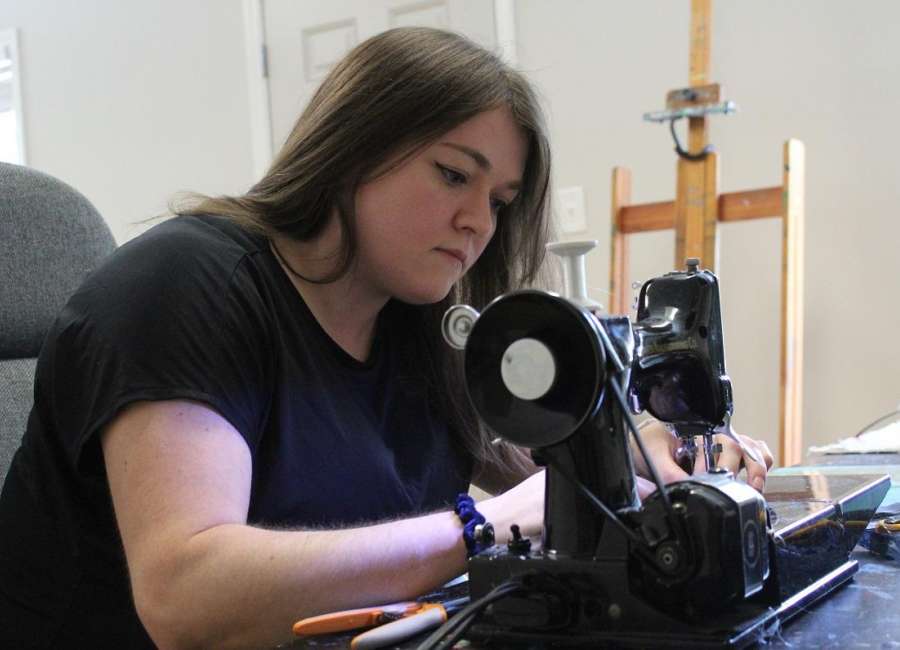 Amy Pabst has taken up residence in Newnan as the city's artist-in-residence for the month.
Pabst is from West Virginia, and specializes in a quilting technique called miniature piecing.
Her quilts tend to be about 10 by 12 inches, she said.
A showing of her work will be held at the Newnan Carnegie Library on May 24 at 3 p.m. Pabst's work will be on display as she discusses her process and journey as a quilter.
Susan Crutchfield, a board member for the Newnan Artist in Residence Program, said Pabst was selected for her unique method of quilting.
"We thought her work with fiber was really unique and fascinating," she said. "She has a passion for sharing her love of quilting, and we thought she would be a great fit to embed in the Newnan community."
Pabst learned to sew from her mother and grandmother when she was young. They worked at a dry cleaners and taught her how to do alterations, she said.
But her passion for quilting kicked off in her early 20s when she checked out a book on the practice at her local library on a whim.
"I immediately fell into a creative fever, and it hasn't slowed down," she said. "I had dabbled with arts in general. I tried drawing, a little bit of painting, some sculpting. I had recently gotten a new sewing machine, so sewing was on my mind. It was really kind of random, I think."
While in Newnan, Pabst said she will continue working on her micro-pieces. She's working on three quilt tops made out of hand-dyed fabric.
The ultimate goal for the work made in Newnan, she said, is to submit her current work for a special exhibit in Houston this fall, in England next summer and California in January.
Her work will continue until the group of quilts has 100,000 pieces all together.
A previous series of her quilts was collected as a book called "Log Cabin: The 100,000 Pieces Project." Each of the quilts was a variation of the Log Cabin layout of quilting. Pabst said Log Cabin blocks are made up of strips around a central square, and the layout is divided diagonally. One half of the layout is light, while the other is dark.
Her book features 19 of the quilts from her first series and breaks down how she made each quilt and the materials she used.
"What I'm working with has strong American roots, but it's neat how this pattern is universal. I was at a museum and they had an Egyptian exhibit, and the mummies were wrapped and the strips they were wrapped with made the log cabin design," she said. "So many cultures have used it over the years."
She said she hopes for her second series of quilts to be collected as a book, too.
Pabst said she's attracted to challenges, which is why she's continued with micro-piecing for her work.
With the small scale, she said she can make her quilts visually appealing not only from far away, but also up close.
"I see it as a challenge, and I like a challenge. When you make a quilt, and you hang it in the show, you want it to look great in the distance, but you want it to look better when you get close to it," she said.