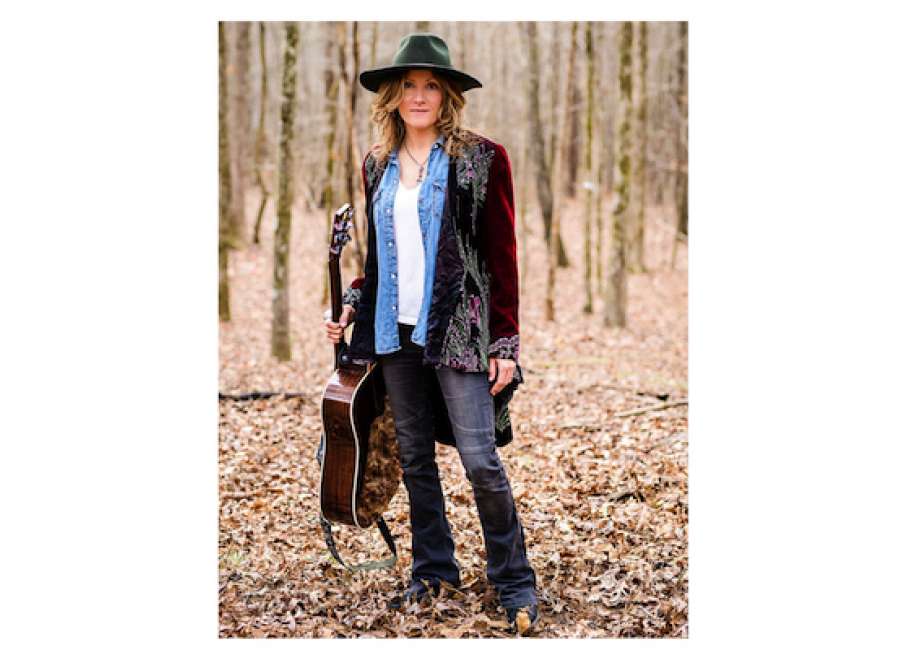 Michelle Malone fans can help celebrate the release of Malone's newest album, "1977," Friday.

Malone and her band – Doug Kees, Matt Stallard, Neal Wauchope and Kent Aberle – will play a two-set album release show downstairs at the Redneck Gourmet. Doors open at 7 p.m. and the show starts at 7:30.
"1977" is Malone's first offering since 2018's "Slings and Arrows," which debuted at No. 8 on the Billboard blues chart. She said she wrote most of "1977" – a quieter, more introspective record than its predecessor – during the initial COVID-19 lockdown, when she was fresh off a West Coast tour.
"It was a happy accident," Malone said. "I got to be off the road for a while, and I had some time to think about my life and my family. When I'm touring, I'm 'go go go' all the time, my music is a little more upbeat, and I'm looking more at the outside world because I'm moving through it. When I didn't have that, the other Michelle kicked in. That's how I started, as a singer-songwriter, and I'm getting back to my deep, original roots."
Still, it was such a departure from "Slings and Arrows" that Malone was uncertain about how it would go over.
"I worried about getting nailed to the wall for doing a 180, genre-wise," she said. "But people liked the record so much they didn't worry about that. I don't think that these songs were any more personal – they just have a different tone. When you're singing and not yelling at someone, they're able to take it to heart easier. But I didn't really think about that. If I like (the songs), I assume other people will like them."
There's a bit of a California vibe to the album that Malone attributes to the West Coast tour. Two weeks before lockdown, she and Kees were driving down the Pacific Coast Highway on a "really great" tour, soaking up the warm sun and unique energy.
"I came home in a completely different frame of mind than everyone else back home," she said.
To counter the uncertainty, Malone said she sought comfort in older songs, particularly the legendary 1970s Laurel Canyon sound. Not only did that influence her writing, but it inspired her to push forward with a long-planned side project, Canyonland – a cover band formed last October that pays tribute to Laurel Canyon.
"I'd been thinking about it for five or 10 years, but I never could find the right people or the time to do it," Malone said. "I finally met some different folks and it just worked out. I'm really excited about it. This is the first cover band I've ever been in, and to sing these songs makes me so happy."
Malone has released more than a dozen studio albums ranging from rock to blues to Americana. She said the common thread is that she is always "very organic, honest and forthright" with her music and lyrics. She didn't plan on writing an acoustic album, for instance – she only plays electric guitar on one song. She just found herself alone, writing the songs that became "1977" on an acoustic guitar.
"The records are different because I wear it on my sleeve," she said. "Sometimes you like to hear an introspective acoustic song. We change from moment to moment, from time to time, and there are many sides of me."
Malone said she had intended for the toned-down album to remain largely acoustic, the way it was written. But "the songs dictate to you what they want," she said, as evidenced by one particular lick in "Even the Queen" that was first harmonica, then acoustic, then electric.
"We just couldn't get the right tone," she said. "We tried everything until we came to that perfect part that (Kees) played with the perfect guitar and the perfect tone. Sometimes you have to expand your horizons to have whatever the songs need, to go all the way around the bases to get back to where home plate is supposed to be."
Now in her third decade of songwriting, Malone said she doesn't write every day, or even every week.
"My internal music clock knows when it's time to make a new record," she said. "You have to have time to observe the world and the people around you, soak it up, make it your own and put your own spin on it. Your own point of view."
The first song she wrote for "1977" was "Not Who I Used to Be."
"It's a personal reflection," Malone said. "I'm utterly surprised at how different I am now than I used to be."
The album has been well received, but it had to live up to Malone's standards first. And it has, she said.
"I really love the songs," she said. "I feel like I've been peeling away layers this year. I'm always trying to be a better writer, a better musician, a better human. And I think that it's working."
She wrote "Not Who I Used to Be" with Eliot Bronson, who collaborated with Malone on "Sugar on My Tongue" on her previous record and who also co-wrote "Even the Queen" for "1977."
"He's a great singer-songwriter and a really great person," Malone said of Bronson. "I enjoy writing with him."
As for Kees, a local resident and music teacher who also is the Michelle Malone Band's guitarist, she is "just so happy to be playing with him" and looks forward to the album release show in Newnan.
"I have met some of the nicest people in the world through Doug," Malone said. "They're really into the music, and we always have a good time."
On Friday, fans will not only hear songs from "1977" but from Malone's extensive catalog as well. Tickets are $28.50 and are available at www.eventbrite.com .