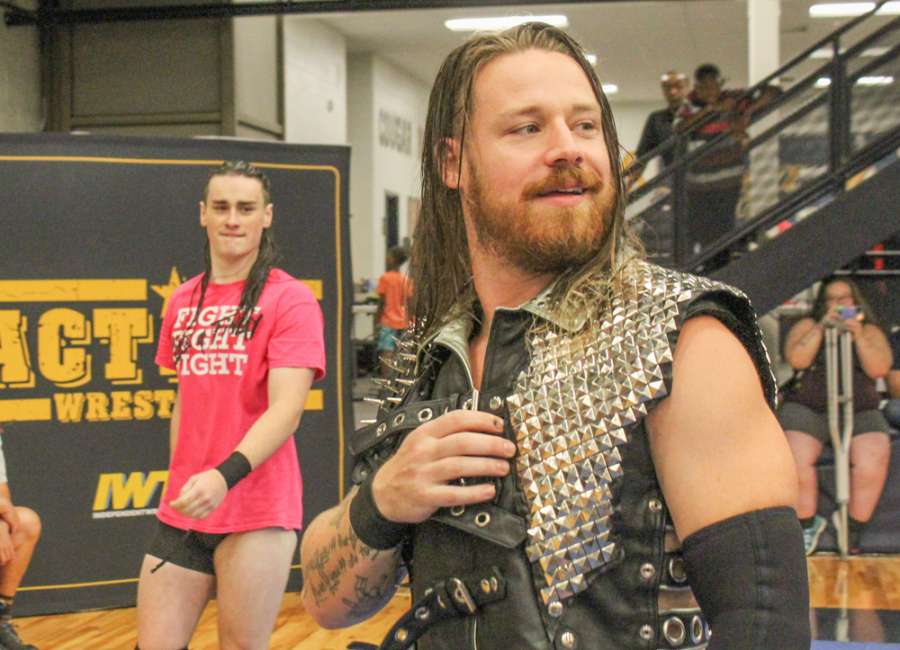 In the 10 years that have passed since he graduated from Newnan High School, David Finlay has wrestled all over the world. In fact, he said on Saturday he stopped counting after the first 15 countries.

"It's pretty crazy," the younger David said. "This is one of those bucket list moments for me, coming back to my old stomping grounds, getting to do my job in wrestling. It's a cool moment. It's a cool night for me."
His younger brother, Brogan, teams with Bobby Flaco in ACTION Wrestling, a Tyrone-based wrestling promotion, and the three competed together in a six-man tag team match on Saturday's ACTION show "Right On The Money," their first event at the Newnan High School gymnasium.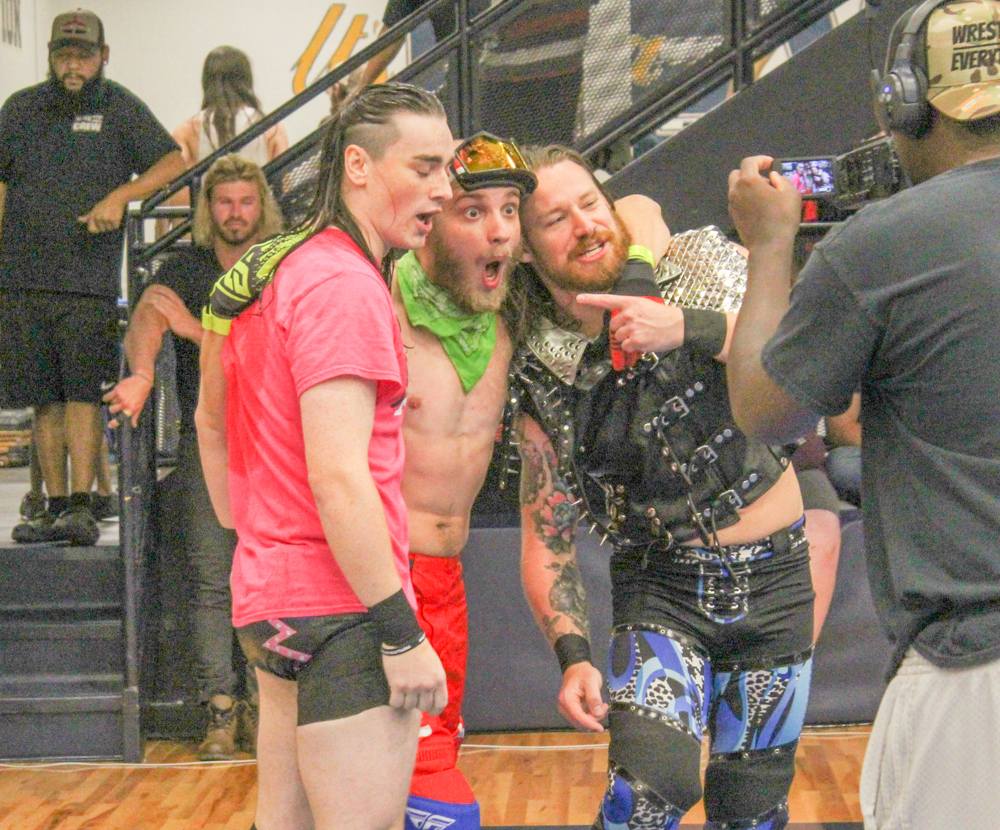 Newnan High School graduates Brogan Finlay, Bobby Flaco and David Finlay returned to their alma mater on Saturday for a six-man tag team match. (Photo by Joe Adgie)

All have Newnan roots. David is a 2012 graduate of Newnan High School and went from Newnan High to greater heights, regularly competing in New Japan Pro Wrestling, the most prominent pro wrestling organization in Japan and one of the largest in the world.
There, David has won championships in that promotion, including the IWGP Tag Team Championship, winning that title with Juice Robinson in the Tokyo Dome in early 2020.
"It's cool. It was fun," Brogan said. "I enjoyed it. It was a little weird being here because I was here not too long ago. This is only the second time we've tussled together."
The team, billed as "Newnan's Finest," defeated The Skulk and fellow Newnan High graduate Damion Turner in the match at Newnan High, in the same gymnasium where the Finlays and Flaco learned how to wrestle.
"It's wild. It almost hasn't hit me yet. It was too much fun. You get to reminiscing, and I could think about it for hours and think about it," Flaco said. "David Finlay is a world-class talent, and I am super grateful to be around him and his family in the business."
Flaco and David were on the same wrestling team at Newnan High School. Flaco graduated a year before David, graduating in 2011.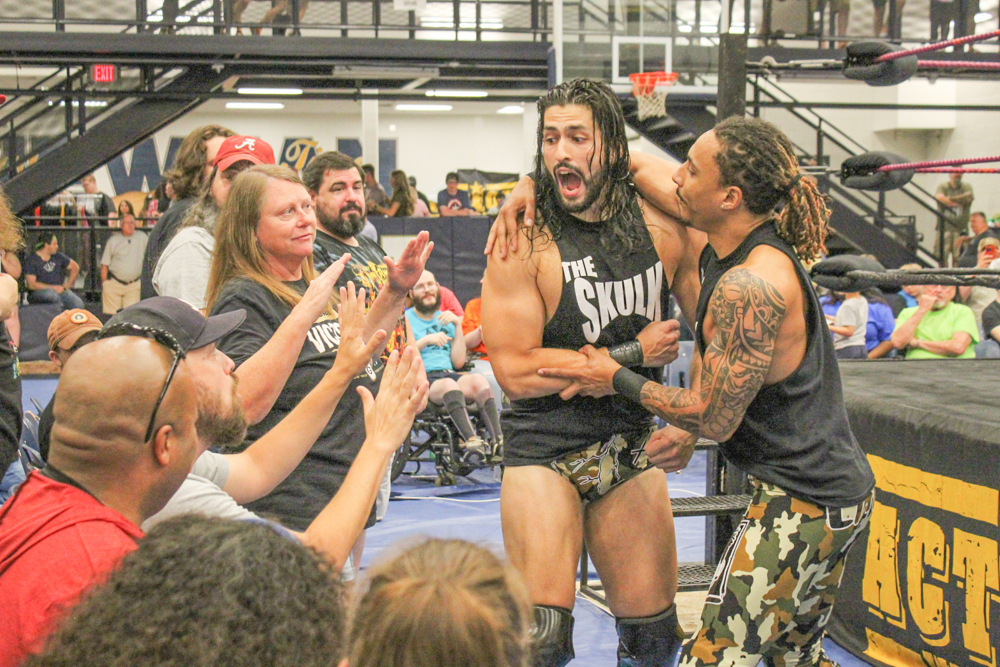 Adrian Alanis and Liam Gray, members of the tag team "The Skulk," argue with fans as they make their way to the ring before their match with the Finlays and Bobby Flaco. (Photo by Joe Adgie)

'It was a Newnan night'
David and Brogan's father, David "Fit" Finlay, is one of Ireland's greatest wrestlers, having competed all over the world for around 40 years – as one of the greatest villains in pro wrestling in Great Britain, in Europe for the Catch Wrestling Association, and then in the U.S. in World Championship Wrestling, before joining World Wrestling Entertainment in the 2000s.
"For once, I got goosebumps," the elder Finlay said. "I've never watched them both going into the ring at the same time, after all the years I've been in the business, seeing my boys, and especially here at Newnan High School where they went to school and graduated from, it was a big deal.
"It was a Newnan night," he said. "It was like the first time the wrestling team won the county championships all over again. With the high school coaches here, and a lot of the kids we coached in high school, it was a great night."
In fact, their coach, Bruce Nyerges, spoke of how the Finlays and Flaco became wrestlers.
"He's done well, so I couldn't be more proud," Nyerges said. "His younger brother, Brogan, is coming along. And Bob, he's really stealing the show there. You never know how it is. When Bob was in high school, his first year, he got the tar beaten out of him. Then he learned how to do a fireman's carry, and they started winning."
The match was the first time the Finlays have competed together in front of family, and the second time the two have competed as a tag team.
The first time was last September at a New Japan show in the Dallas area, when the Finlays teamed with Fred Yehi, Wheeler Yuta and Will Allday in a losing effort against Alex Coughlin, Kevin Knight, Ren Narita, Ryusuke Taguchi and the DKC.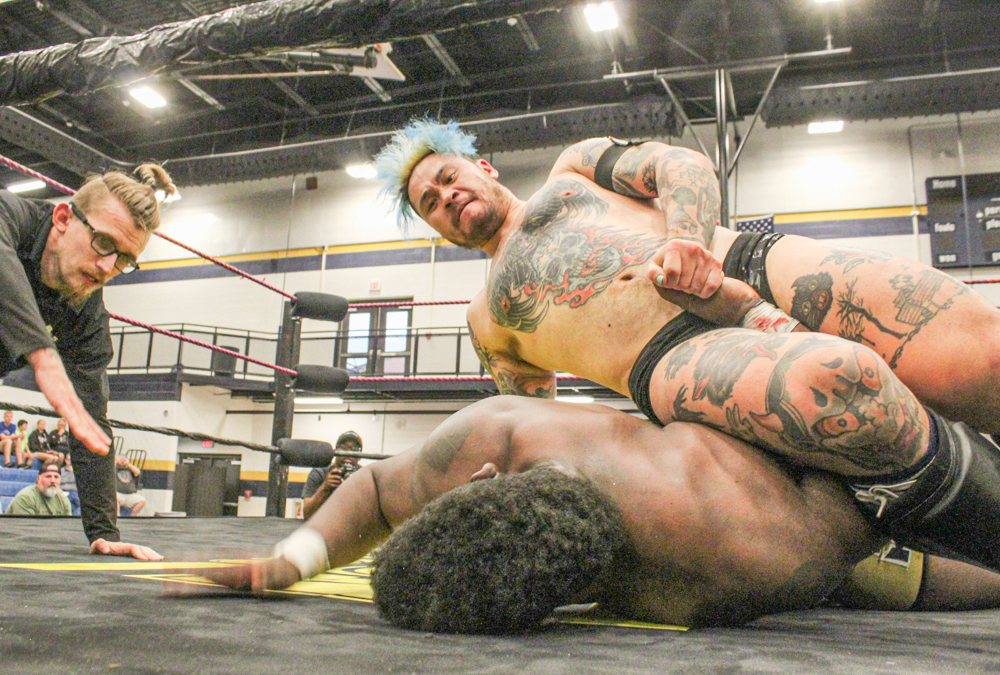 Kevin Ku, the ACTION Wrestling champion, submits Alex Kane to win the match and retain his title. (Photo by Joe Adgie)

In other matches, A.C. Mack successfully defended his Independent Wrestling World Championship from the challenge of AEW wrestler Alan Angels. Kevin Ku, the ACTION Champion, defeated Alex Kane by submission, Matt Sells defeated Pete Youngblood by referee stoppage, Jaden Newman defeated Billie Starkz, Ashton Starr defeated Kavron Kanyon, King Garuda, Rico Gonzalez and Spectre in a five-way scramble match, and Marcus Mathers defeated Damyan Tangra.
ACTION's next show is scheduled for June 10 at the Roger Spencer Community Center in Tyrone. A.C. Mack will defend his Independent Wrestling World Championship against Arik Royal, Adam Priest is signed to wrestle AEW's J.D. Drake and Daniel Makabe, the "Wrestling Genius" from British Columbia, is signed to wrestle AEW's Anthony Henry.
Doors open at 6:30 p.m., and bell time is 7:30. Tickets can be purchased at action-wrestling.com.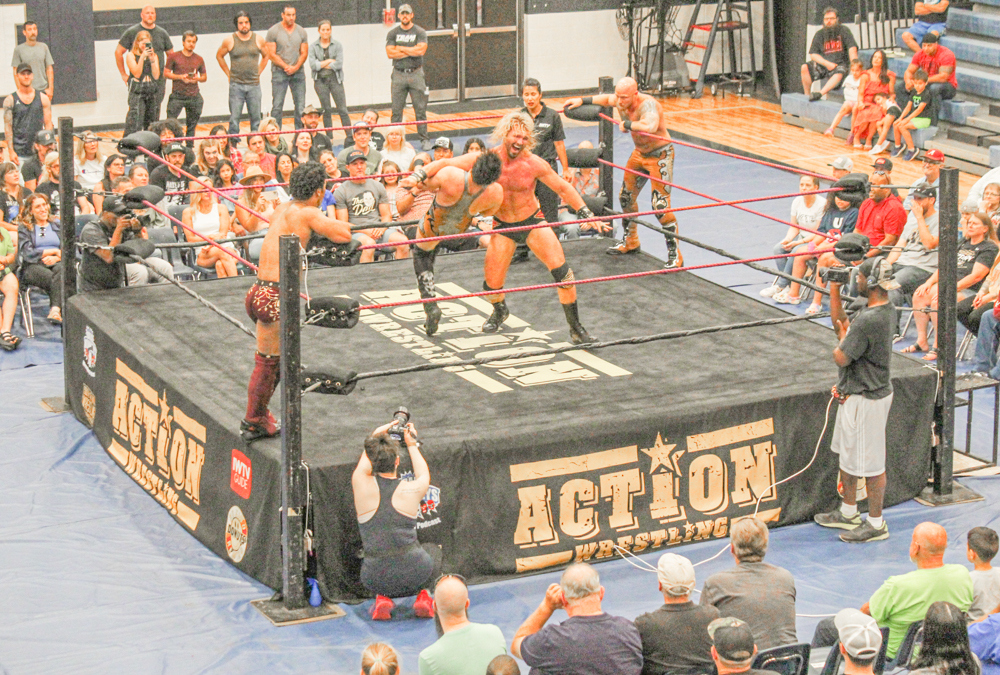 Brady Pierce clotheslines P.J. Hawx as the crowd watches. Pierce and Hawx, along with tag-team partners J. Spade and P.J.'s father, Luke, work on the Starz show "Heels," which has filmed in the Newnan area. (Photo by Joe Adgie)

'Heels': Starz show filmed in Newnan, crew showcased in tag team match
Another special attraction at Saturday night's show was a match involving cast and crew from the Starz show "Heels." The show, about a small pro wrestling promotion in a fictional Georgia town, stars Stephen Amell.
Many members of the cast and crew of the show were on hand, taking the show in. The "Heels" showcase match pitted the father and son tag team of Luke and P.J. Hawx against the Hollywood Heels, Brady Pierce and J. Spade.
Luke Hawx, a native of New Orleans, said after the show that during filming, he and his family fell in love with the Newnan area. The show is filmed in Newnan and in surrounding locations.
"We live in Newnan right now. We lived here for 10 months last year, and then me and my son came back this year; we'll be here until July. We love Newnan, so we're thinking of buying a place over here."
Hawx said the show is in the midst of filming its second season, and will do so until July.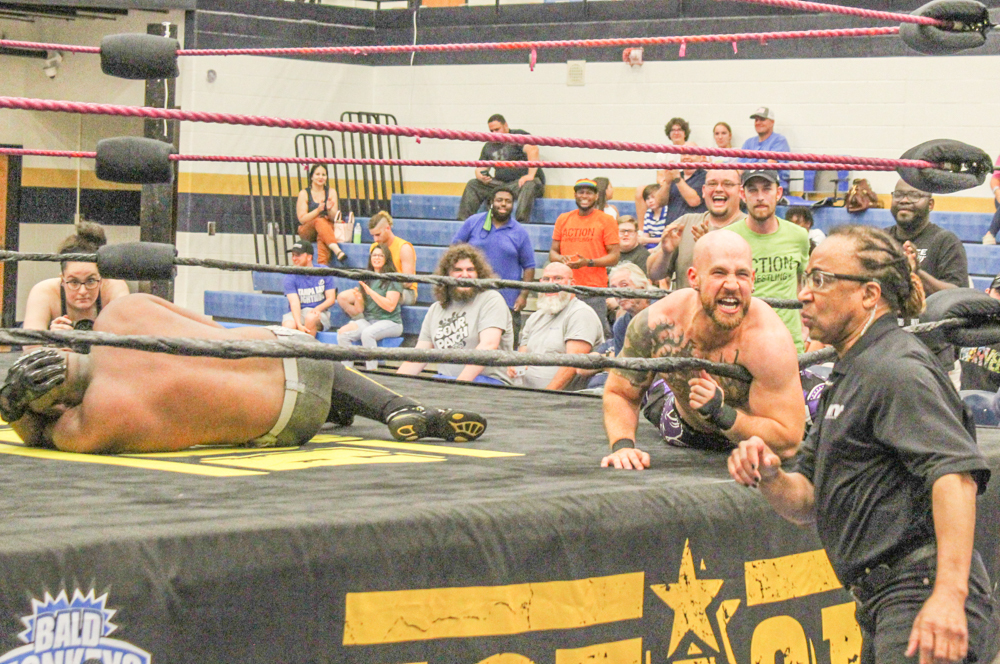 A.C. Mack has just won and successfully retained his Independent Wrestling World Championship. On the right, Alan Angels gives the referee the what-for. Angels had attempted to pin Mack using the middle rope as leverage. The referee kicked Angels' arm off the rope, allowing Mack to roll him up for the win. (Photo by Joe Adgie)