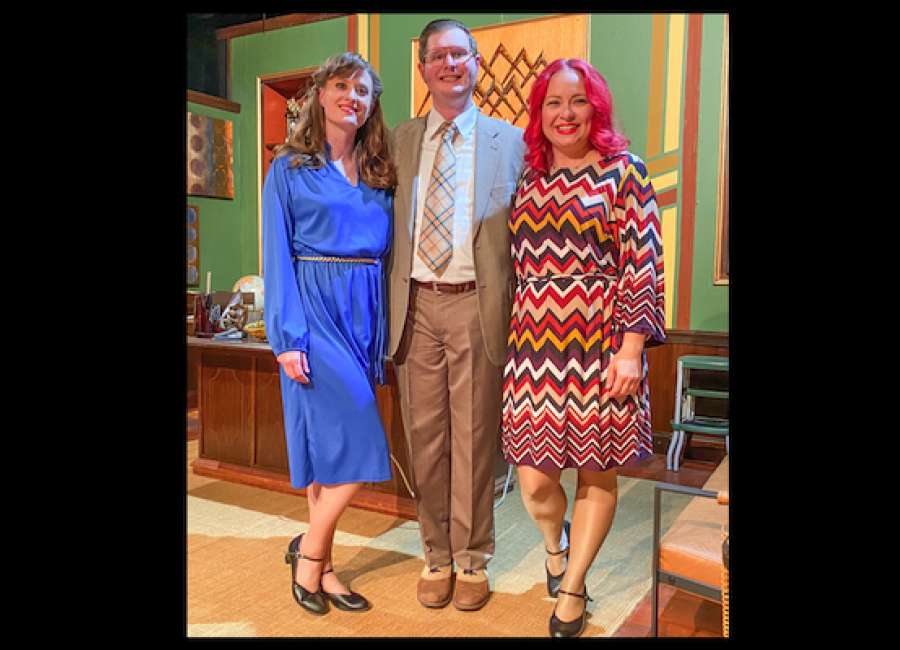 "9 to 5 the Musical" is centered on a trio of characters.

At Newnan Theatre Company, the show has reunited a real-life trio.
Megs Free, Joseph Moore and Olivia Ratliff realized, in casual conversation as cast members in NTC's current production, that they have been castmates before. Moore and Ratliff appeared together as youngsters in a Fayetteville community theatre production of "Annie,", and all three performed together in "The Music Man" as well.
"So it's actually funny that we don't remember each other," said Ratliff said.
"Well, yeah – they were pretty big casts," Moore said.
There are three years between the two, "which is a lifetime," said Ratliff, who went to Fayette County High School and was already a student at Atlanta Christian College by the time she appeared in "The Music Man." Free was also a student at FCHS and, like Ratliff, was in select chorus – but not at the same time.
"We just missed each other," Free said.
Moore was homeschooled from grades 6-10 before attending and graduating from Arlington Christian School. He danced at the Georgia Youth Ballet, where Free also was a student, but again – the two missed each other.
"It's just been like a weird ships passing for almost decades," Free said.
Ratliff's portrayal of Judy Bernly in "9 to 5" marks her return to the stage after a long absence during which she married and became a mother. She has also worked and performed with NTC's improv troupe, the NITWITS.
But almost immediately, she was forced to take another break.
"I was gone for 15 years and the minute I decided to come back, COVID shut everything down," she said.
Free, who has a college degree in musical theatre, also took a long break before she became a regular in NTC shows in the past few years. She and Moore discovered their paths had crossed as youngsters when both appeared in "Evil Dead" in 2017.
"We had that furrowed brow moment," Moore said.
Moore continued performing after high school, moving to Orlando to perform as a Disney character actor for a decade before making his way back to Newnan. Moore's family is heavily involved in the performing arts – his mom, Mary Caroline, now serves as managing director at NTC – and he immediately got and stayed plugged in.
"When I moved back in 2016, I needed a job," he said. "And my job that summer was here at Kids Camp, and I've been here ever since."
Ratliff said she never lost her love of theatre, even during her "mommy sabbatical."
"I don't know if I always planned on coming back, but I was always an enthusiastic audience member in that gap," she said.
When her children were out of the baby stage, Ratliff and her husband took a trip to New York.
"We saw a bunch of shows, and I came home just kind of feeling lonely for that thing I had when I was just a kid," she said.
With the full support of her family, Ratliff decided to attend a NITWITS workshop.
"We don't have a lot of places like this for grownups in this area, so I am so glad to have found Newnan Theatre Company," she said.
Free grew up singing and dancing and took piano and cello lessons as a child, and eventually earned a degree in musical theatre.
"I've pretty much always been in love with theatre," Free said. "But fun fact: Theatre degrees don't matter. So I just somehow got separated from theatre. I did two or three shows after colleges and then just stopped and started working a normal job."
Being cast in NTC's "Sylvia" brought her back onstage, and she is now doing film and production work in addition to community theatre, to further flex her creative muscles.
For Ratliff, it's navigating a new season of her life. For Moore, it's an opportunity to shed his introverted inner self and become someone else for a few moments in time. For Free, it's all about interacting and connecting with audiences.
"Real acting is not acting, it's simply being able to listen and respond and be very truthful in imaginary circumstances," Free said.
Somehow all three ended up back at NTC, looking for what they lost when they left the stage. And they found something they didn't expect: Long-lost family.
"We're all the weirdos, but we all join together," Moore said. "It's like being adopted into a family."
Newnan Theatre Company's "9 to 5 the Musical" runs Thursday-Sunday, with showtimes at 8 p.m. Thursday, Friday and Saturday and a 3 p.m. matinee on Sunday.
All tickets are $12 on Thursdays. For all other performances, tickets are $20 for adults, $15 for seniors 65-older and students; and $10 for children 10-under.
Some shows are already sold out, so advance ticket purchase is recommended.
For more information or to purchase tickets, visit www.newnantheatre.org or call 770-683-6282.