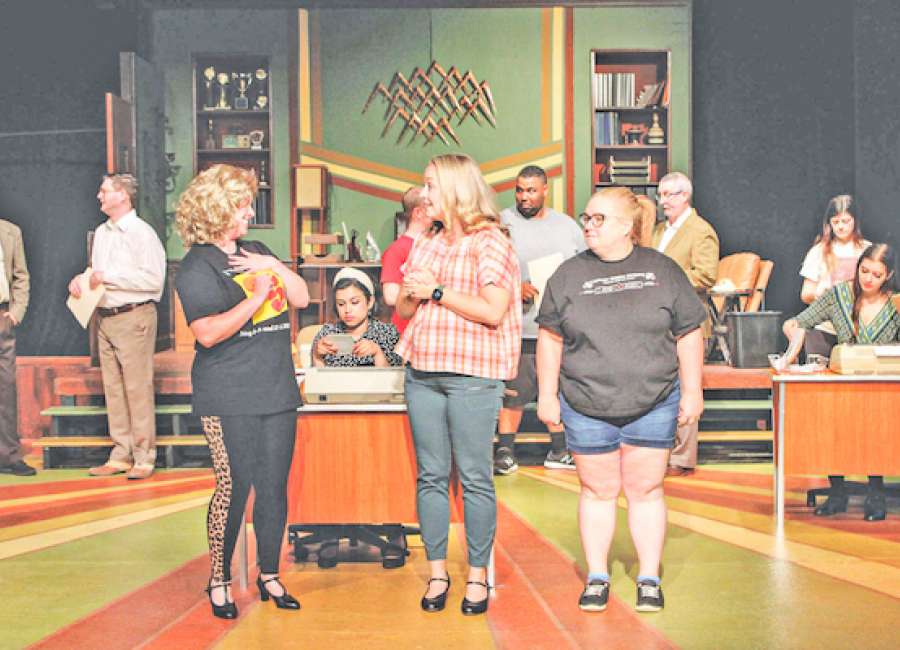 Newnan Theatre Company concludes its 44th Season – branded as a "much-needed Season of Laughs" – with "9 to 5: The Musical," which opens Thursday.
Country music and cultural icon Dolly Parton, who starred in the hit 1980 movie, composed the music and lyrics, and Patricia Resnick wrote the book that spawned both the movie and the musical.
Performances run for the next two weekends (Thursdays-Sundays) from May 5-15.
"'9 to 5: Tthe Musical"' is based on the hit movie about three office workers who plan to get even with their egotistical, lying and hypocritical boss. When their plan spins wildly out of control, the situation becomes hilarious.
Violet Newstead (Karen Youger), an uptight office manager; Judy Bernly (Olivia Ratliff), a recent divorcee; and Doralee Rhodes (Emily Kimbell), a married secretary, team together as they turn the tables on their boss, Franklin Hart Jr. (Jeff Brandon).
Mary Caroline Moore, executive director of the Newnan Theatre Company, is directing the show, which features a cast of 19.
"It's a funny, energetic show that stands up for the American working woman," Moore said. "More than 40 years after the movie, it's a story that rings true today – women are paid 84 percent of what men earn for the same work. We're still arguing about day care, discrimination in the work place, and other serious issues. And the subject of sexual harassment ties directly into the #MeToo movement.
"But it's more than just three women moving up in the working world," Moore added. "It's about how they motivate each other and relate with their struggles and successes. Dolly Parton's score is irresistible, the choreography is outstanding, and our cast is a group of strong performers and solid singers."
Showtimes for "9 to 5: The Musical" are 8 p.m. Thursdays-Saturdays with 3 p.m. matinees on Sundays.
All tickets are $12 on Thursdays. For all other performances, tickets are $20 for adults, $15 for seniors 65-older and students; and $10 for children 10-under.
Some shows are already sold out, so advance ticket purchase is recommended.
For more information or to purchase tickets, visit www.newnantheatre.org or call 770-683-6282.
Newnan Theatre Company is a 501(c)(3) nonprofit organization.