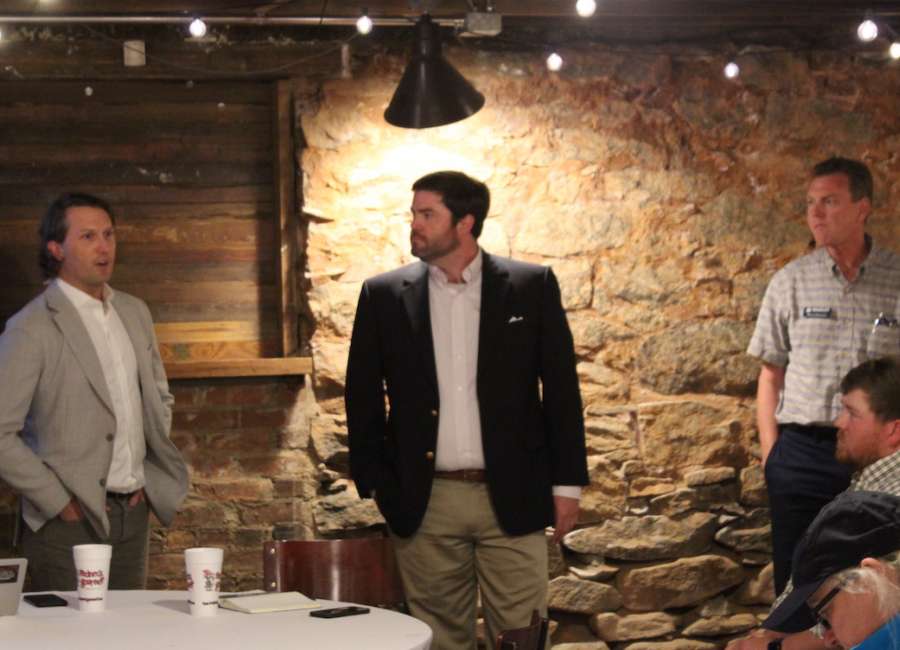 One of two teams looking to redevelop the Caldwell Tank site on East Broad Street presented their case to members of the public this week.

The team, the Sagestone/Packard Capital/Choate team, boasted their local connections to Newnan. The project manager, Mitch Headley, is a Newnan resident, as well as development associates Randy Beavers and Bill Millen. The three presented their case at the Under the Neck event center, located under the Redneck Gourmet on the Newnan Court Square.
"Our job, as master developer, if we were selected, would be to take what the public opinion is and bridge the gap to what the market will bear," Beavers said. "And there is a very wide range of what we call development programs somewhere in that gap."
Beavers said as locals, they will have to live with the results of what is built at the Caldwell Tank property.
"We care what happens to this site," Beavers said. "Whatever happens here, something that I'm going to have to live with, something that my kids are going to have to live with, and Bill and Mitch are in the same boat."
The meetings, Beavers said, are to serve as question and answer sessions, rather than taking hours of phone calls. He admitted that right now, the group does not have all the answers to questions raised.
"If we don't (have answers), it's because it's too soon to answer," Beavers said.
Working with Sagestone is Choate Construction of Atlanta. Speaking of how
While there were no specifics as to what the exact project will look like when completed, the project will neither be similar to the one shot down by the Newnan City Council in 2019 or the city's conceptual design for the area.
That conceptual design showed 32,000 square feet of retail and restaurants, 36,300 square feet of office space, a 106-room hotel and 94 residential units.
Beavers said their group didn't think that plan was "very feasible" for a number of reasons but also felt like it wasn't intended to be.
He and Millen said the group has run economic simulations with more apartments - as much as 120 - and those with none at all, and said there was a feasibility for both scenarios.
"The question I get asked most often is what do you want to do there?" Beavers said. "I can answer that question in 50 different ways and be honest and genuine. There's a lot of things that can be very valuable."
Developers interested in taking their time, speaking to residents
At the meeting, each stressed a feeling that this project will take time to complete if they want to do it right.
As part of that process, the team has said they have spoken to members of the community to see what they would be interested in for the project.
"I've met people since our presentation to council that live in my neighborhood, that I don't know if I would have crossed paths with them," Beavers said. "But I spent five hours on a couple's front porch on Broad Street the other day to figure out why they hated this thing so much. Why were you so much against apartments?"
Beavers said that in spite of that person being a leader against the 2019 proposal for the Caldwell redevelopment, she wasn't against apartments. Instead, it was the attitude from the developer that turned this person off.
"A developer came and sat down at the kitchen table and said 'why are you so mad about this? It's not like you live in a very nice neighborhood.' He also said 'these are going to be luxury apartments.' At the end of the day, this was a person that just didn't understand this community. This woman said that she didn't feel like there were people driving up and going to see his other projects."
Beavers said the woman did and was not impressed with what she saw.
Beavers did say, however, that while they were committed to building something at the Caldwell Tank site, they provided only one guarantee, that there would be challenges faced during the process.
"One thing we can guarantee is there will be problems. There will be challenges. There's not a development - I don't care if you're flipping a house. When you open up a wall, you'll find something you didn't expect. This is a piece of dirt that has 150 years of industrial business in it. We don't know what we're going to find. We don't know what skeletons are in the closet."
The city of Newnan has not yet decided who they will go with to develop the Caldwell Tank site, a site which is currently in soil remediation following the demolition of all the buildings on site.
That decision was not on Tuesday's Newnan City Council agenda, and no date has been set as to when that decision will be made.