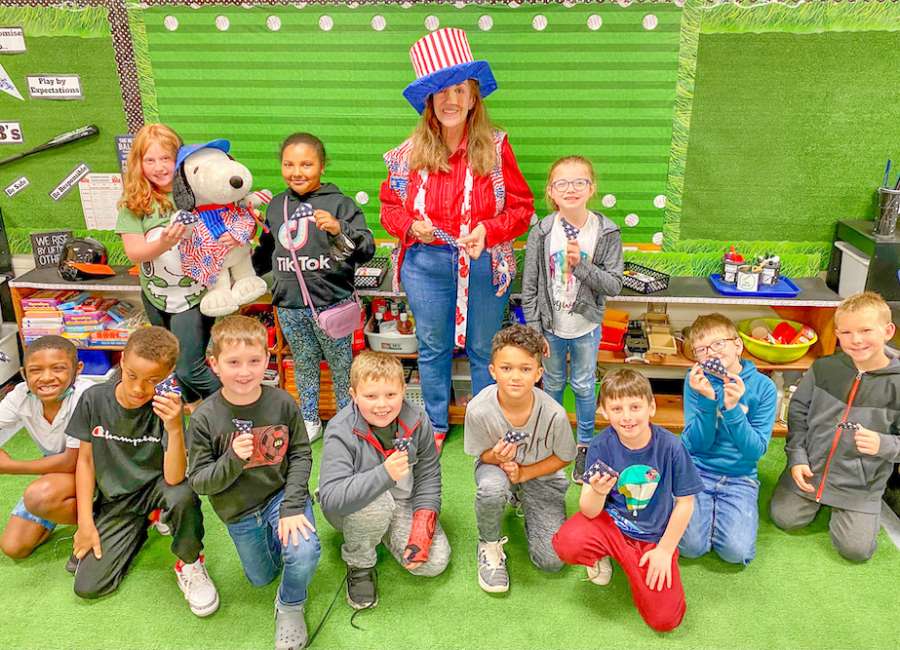 Verna Funk, VFW Auxiliary Post 2667 Patriotic Instructor, recently visited Ruth Hill Elementary School's third grade REACH class as Aunt Samantha during their "Hooray for the USA!" unit.

During the visit, Aunt Samantha shared the book, Old Glory an American Treasure, from school donated by State Rep. Lynn Smith in memory of September 11, 2001. While sharing the story, Aunt Samantha shared pictures and stories of her family members that have served in the military. Then she showed them the proper way to fold Old Glory.
The students were very engaged and interested in what Aunt Samantha shared with them. One commented it was the best REACH day ever! "I really liked it. It was really cool how she taught us how to fold the flag. I never knew the American flag could be so important," stated Ruby Drewery.
"My favorite part was when she taught us how to fold the flag," mentioned London Williams. "I liked how she told us the history of the past presidents and also how she showed us some places on the globe," said Brian Quick.
"I think it was great … a 10 out of 10! She taught us about history and how to fold the flag. That's why I liked her coming to visit. It was an honor to meet them," stated Caden Ball.
"I really enjoyed when she talked about her family and showed the pictures of her family that served in the military," mentioned Abigail Smith. "I liked how they taught us how to fold the flag and taught us about history," stated Cruz Almanzar.
"I just want her to know thank you for coming over and using her time on us," mentioned Levi Hatcher.