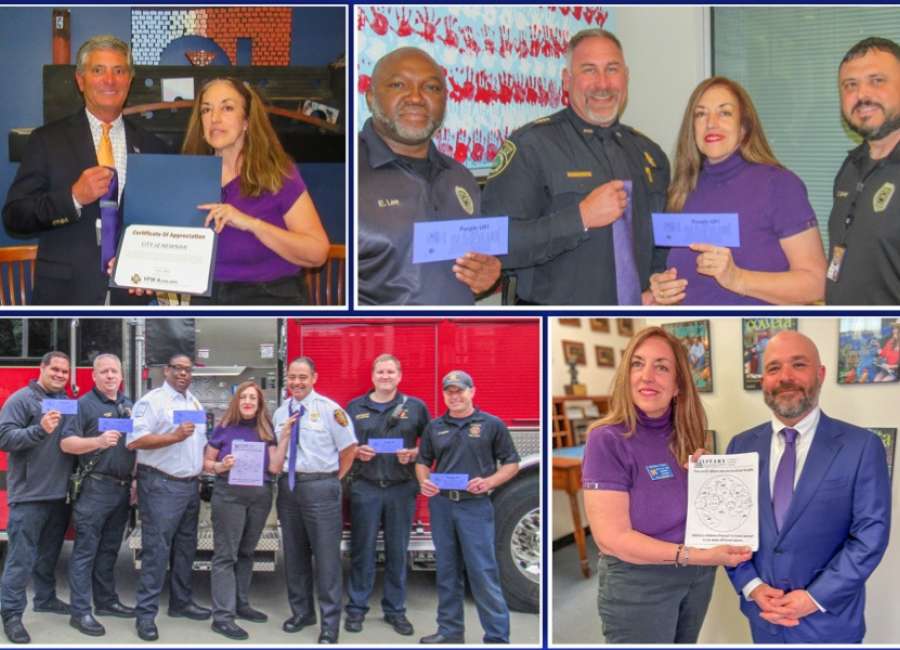 The observance of April as "Month of the Military Child" gathers increased importance in Coweta with thousands of families connected with the U.S. Military.

To show its support, Verna Funk of VFW Auxiliary Post 2667 helped promote "Purple Up Day" on April 15 to recognize military families in Coweta County.
Purple Up Day is designed to bring awareness to families currently in the community that may be affected by being separated from their family members as they have a parent serving overseas.
Normally active service personnel keep their families near or with other family members as they are called overseas. Others serve in the National Guard and in the various Military Reserves that have been activated during the situation overseas.
"As the VFW Auxiliary Patriotic Instructor, it's the hearts of the young children that might find a balance in knowing they have support," Funk said. "It's also the understanding of others around the children that can support them. As our nation is now facing troubling times, many families are on notice. The National Guard in some areas of the country has been sent overseas."
There's a tradition in the military referring to the color purple; one use of the color involves the phrase "purple suit" which can refer to a military activity or organization that includes civilians and/or multiple branches of the military.
Purple indicates that all branches of the military are supported. All the service colors are represented including Air Force blue, Army green, Navy blue, Marine red and Coast Guard blue; said to combine for the mutual benefit of all into the color purple.
April 30 is a National Military Brat Day, which recognizes children born to a parent or parents while serving in the Military.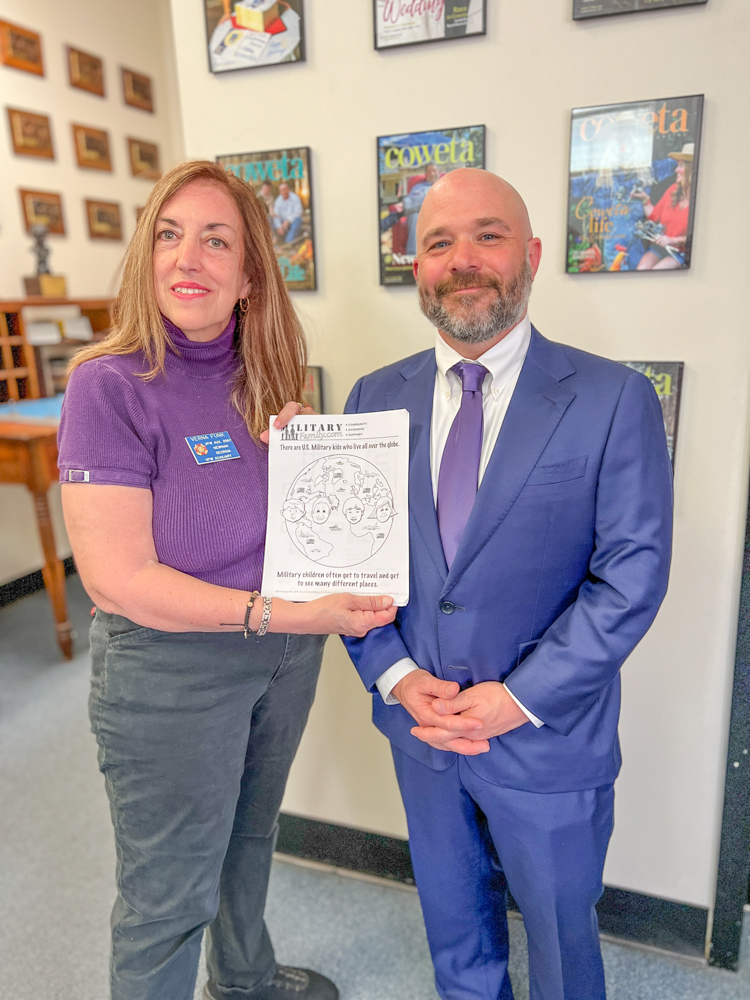 Verna Funk presents a purple tie to Newnan Times-Herald co-publisher Clay Neely.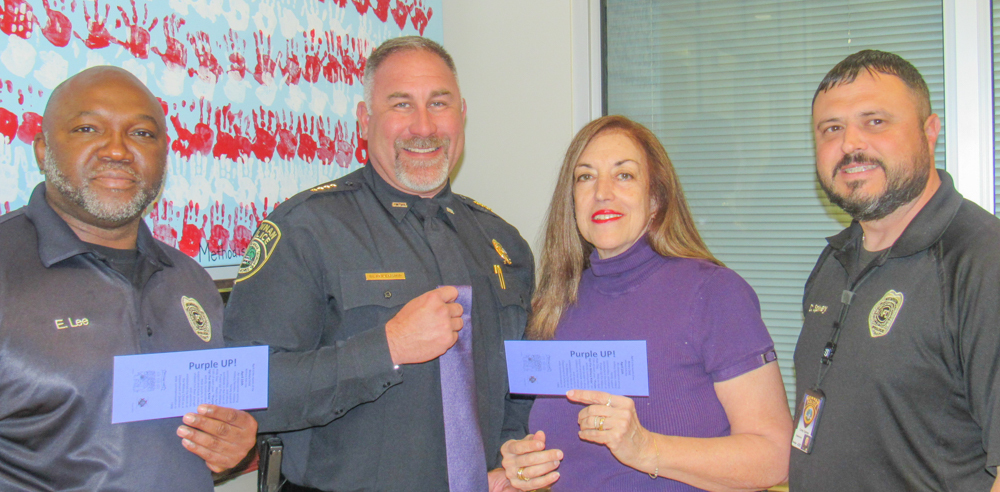 At the Newnan Police Department, Verna Funk presents a purple tie to Chief Brent Blankenship. From left are Officer Edward Lee, Blankenship, Funk and Det. Corey Spivey.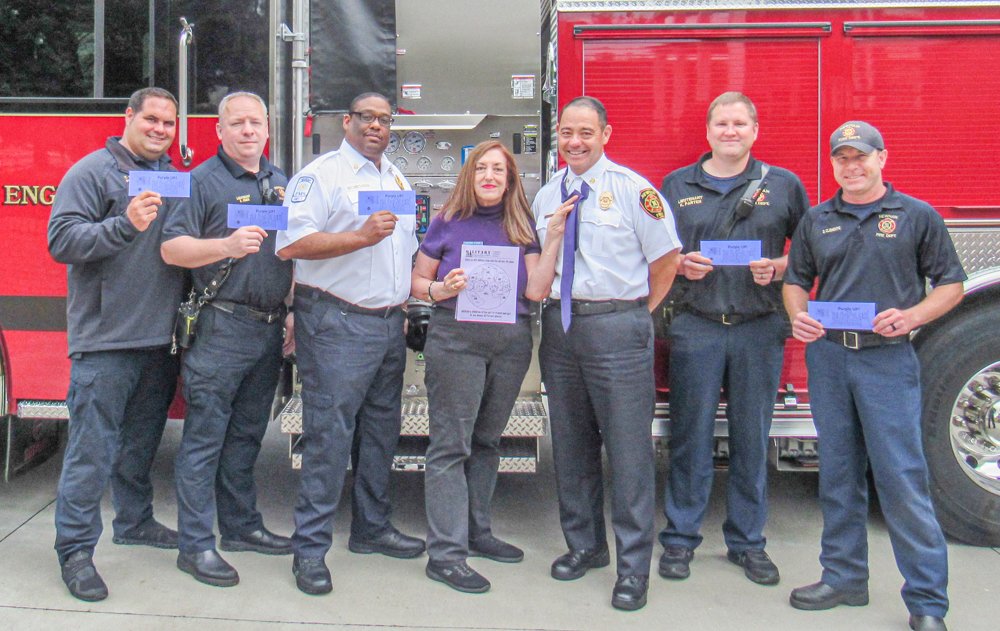 Verna Funk presents a purple tie to Newnan Fire Chief Stephen Brown. From left are Firefighter Chris Calhoun, Lt. Chris Eimer, Funk, Brown, Lt. Kevin Parten and Firefighter Chase Taylor.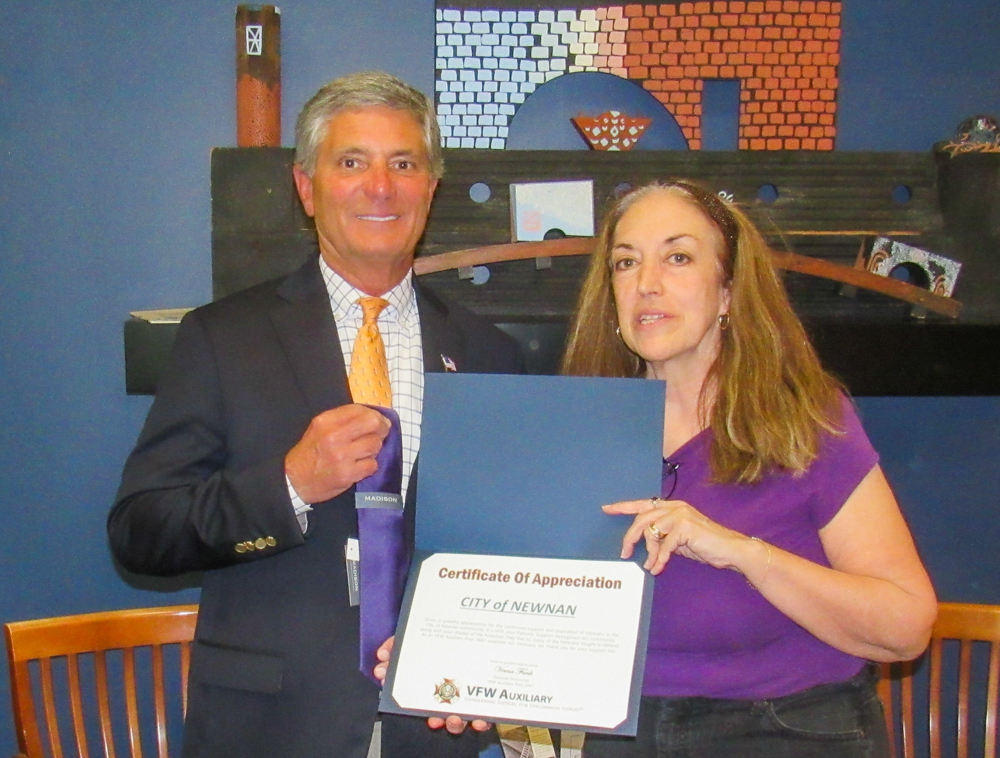 Mayor Keith Brady is presented with a Certificate of Appreciation from VFW Auxiliary Post 2667 for the city's support of veterans.