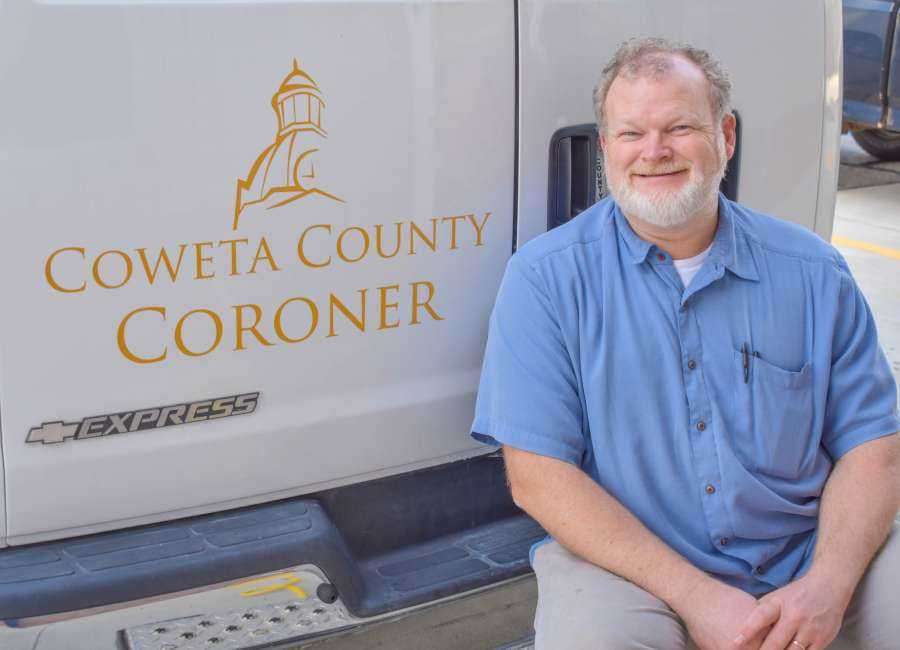 We just finished getting the paper out Friday when I got a call from a friend.

Something had happened at the gun range in Grantville. When three victims were confirmed inside, I made my way down.
I knew the gun range belongs to my friend's family but hoped it was something else.
Anything else.
Nothing prepared me for what I learned at the scene. This was the first time I've dealt with a tragedy of this magnitude that directly impacted someone I know.
Only a few feet away, I could see my friend grieving, and my heart ached.
He knew I was there, too, but I just wanted to be invisible. At a scene like this, you never know who you are to the victim.
Are you the reporter or the friend?
When dealing with death, a reporter does their best to respect the family and their privacy while getting the facts.
All I really needed was a photo of the facility but felt terrible even doing that. I slipped around to an area where I was out of sight to grab a few quick photos of GBI and ATF agents working.
Then I left.
There was no new information coming, and I didn't want my presence to upset anyone.
On the way home, I reached out to Richard Hawk and his deputy coroner, Gary Stallings, to let them know I love them and would keep them in our prayers.
I waited until I got home to tell Beth, who reacted about the same way I did —with disbelief, anger and extreme sadness. We love Richard and all he does for his community.
Richard is one of the greatest men I have met since coming back to Coweta County almost 10 years ago.
Not only is he smart and passionate about his job, but he's also extremely kind and personable with a firm spiritual foundation. He's exactly the kind of person you want as a coroner.
In the state of Georgia, coroners aren't required to have any kind of medical background. But Richard's background in emergency services provides him with a perspective that many other coroners may not possess.
I was proud to accompany him to the Capitol when he was sworn in to serve on the Georgia Child Fatality Review Panel, which ensures suspicious deaths are prosecuted and helps public health officials spot dangerous trends.
Richard's always willing to answer questions, on or off the record, and he's always honest when he can't help.
As our coroner, he deals with the things most of us could never handle, especially the deaths of children.
I once asked him how he deals with processing all the grief and sadness that comes with his job. He replied, "coming home to family."
That made this tragedy sting all the more.
"What's happening to our county?" asked a friend of mine.
Coweta's dealt with crime for a long time, but often without the magnification of social media, which makes everything seem immediate.
But there is something to his question. From smash and grabs at local retailers to car chases on a weekly, if not daily basis, it seems like things are changing.
What we do about it is far beyond my pay grade. I can only do my best to keep up and get the facts straight.
But when a tragedy of this magnitude hits, there's a sadness that goes beyond our usual scope of grief.
The more you learn, the angrier you get. But no amount of anger can heal our friend's grief.
For someone who has devoted his life to the service of others in their greatest hour of need, I hope we as a community can return the favor.
So pray for Richard Hawk and his family, and pray those responsible for this unspeakable act will be brought to justice.
Clay Neely is co-publisher and managing editor of The Newnan Times-Herald. He can be reached at clay@newnan.com