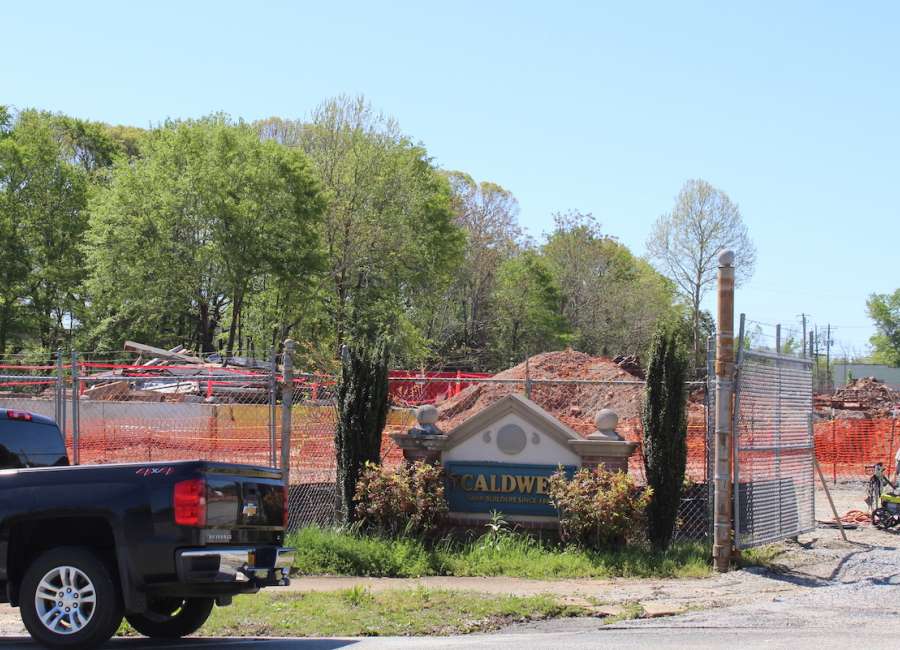 Two firms provided formal presentations to the city of Newnan for how they would like to redevelop the 57 E. Broad St. property, the old Caldwell Tank facility.
"This is an exciting project for the city of Newnan," said Mayor Keith Brady, who stressed that no votes would be taken during the meeting.
No formal plans were presented regarding how, exactly, the area would look after the two firms were done, if they were selected.
"Whichever firm is chosen will lead the city and the community on an exercise to develop and confirm the final plan, thus the number of parking spaces, multi-family and single family units will not be determined for a while," said Cleatus Phillips, Newnan city manager, in an email on Friday.
Mallory and Evans/FIDES: 'We're long-term holders'
"We're long-term partners," said Johnny Dixon of Mallory and Evans, kicking off one of two presentations at the meeting. "We're not merchant developers. We're not coming in here to develop and build a project and sell it in a year. That's not what we do. We're long-term holders."
Dixon said that the group, working with FIDES, were putting their own personal capital into the projects.
"We're looking for a long-term return on that capital, we're looking for a long-term partnership with the city, and we're in it for the long haul," Dixon said.
Dixon said that their proposal would not reimagine downtown Newnan.
"We want to support the businesses that area are already here," Dixon said. "We want to make it aesthetically pleasing and supporting to the residents who already live in downtown Newnan. We want it to enhance the experience of living in downtown Newnan."
Dixon said there are so many people walking around downtown Newnan, and that they "need somewhere to go. They need somewhere to live."
"We want to get the folks that are coming down (Interstate) 85 into downtown Newnan and experience what you've got going on here, families walking around downtown, ladies pushing their children in their stroller going to the candy shop, getting ice cream, going to the Redneck Gourmet to grab a burger. That's what we want here, is to enhance the downtown perspective."
Dixon said that if the Mallory and Evans/FIDES group is selected, they could start construction with 180 days.
"We'd like to get this delivered as soon as we can," Dixon said. "Time kills deals."
Sagestone/Packard: 'It means something to partner with (Newnan)'
The second presentation came from Sagestone Partners and Packard Capital, who is also bidding for the Caldwell site.
"It really means something to us to have the opportunity to partner with the city who, over the last few decades, has continued to lead a place that has been really successful and really vibrant for the last 150 years to ensure it continues to be," said Randy Beavers, a 5th generation Newnan native and development associate with Sagestone, who would be the lead developer for the project if selected. "Our team has assembled because we share the belief that through this partnership there's an opportunity to continue to lead and to do our part to write the next chapter of downtown Newnan."
Beavers compared their pitch to what he called a "Hero's Journey," similar to plot lines from movies made by Disney and other filmmakers.
"The more we think about Newnan, it continues to resonate with us. It essentially entails a hero who is faced with a huge challenge. Seemingly insurmountable odds. But they heed a call to action to fix something or prevent something. In doing so, they enter into unknown territory. It's fraught with risk, fraught with challenges, fraught with peril. The low point of the plot line is what's called the abyss. Without a red thread, like Alladin and the Genie, a guide that comes into the picture to help guide the hero through this unknown territory to guide through the obstacles to emerge victorious."
Beavers said the hero of this story was the city of Newnan, saying the city prevented the Caldwell site from becoming a "negative" for the community.
"You are on the precipice of unknown territory," Beavers said. "A master development, especially in this current economy, is going to have challenges, and it is going to have risks. We don't want to stand here and tell you we have every answer in the world, but we have a team that we believe is uniquely capable of solving and addressing every challenge and every issue that we are going to encounter along the way."
Alex Hertz, chief investment officer with Packard Capital, working with Sagestone, said that, like the other firm, said the group was patient, and was not interested in just going in and going out.