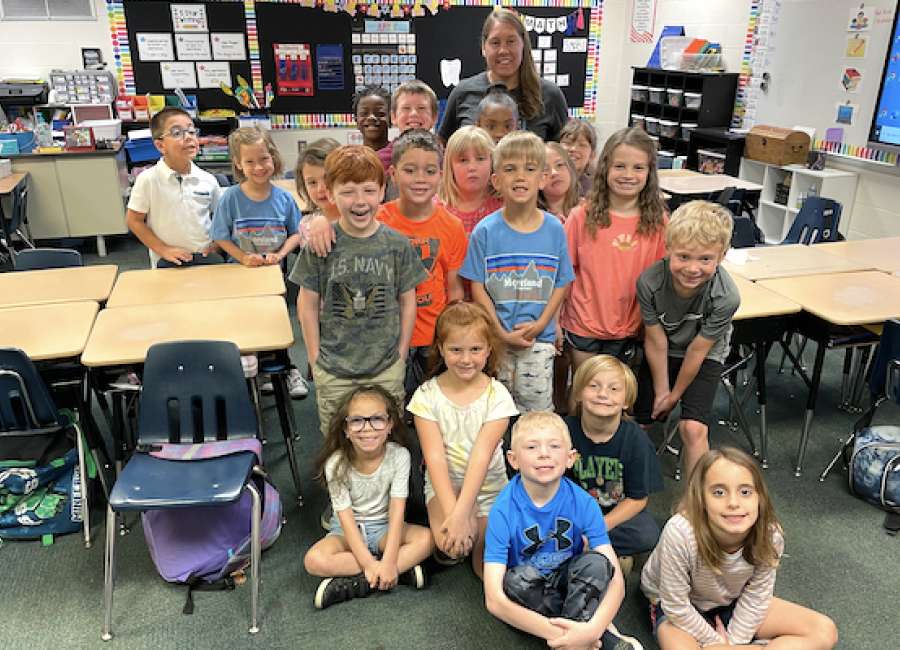 (First grade classes at Moreland Elementary School learned about newspapers during Career Day Friday. Below are the stories they wrote about their teachers while practicing being reporters.)
Mrs. Hill teaches first grade
Mrs. Tabatha Hill teaches first grade at Moreland Elementary on school days.

Mrs. Hill likes all the kids. She likes to make kids smart. She likes to teach math so they can get smart at math. She wants the kids to learn. When she was in school, her teacher taught her, and she wants us to be smart so she's teaching us what her teacher taught her.
She is a good teacher. For math, we learn to measure. She has a pencil and then she puts blocks to measure it. She plays a time game. She reads books. We do activities, like we quietly learn computer activities.
She's really smart. We like playing "Around the Room." She lets us do really fun activities. We like when we go to specials after lunch, at the end of the day, like PE.
•••
Miss Ashley Linch is a teacher
Miss Ashley Linch is a teacher.
She teaches every day in the classroom next door at Moreland Elementary. She wants us to learn. She teaches us so we can grow up to be really smart. She teaches us because we don't know stuff but she does so she teaches us that.
She helps us learn by doing science experiments, practicing sight words at calendar time, by using the iReady computer program, in small groups, by reading to us and through math quizzes and tests.
•••
Mrs. Rowe teaches kids
Mrs. Amber Rowe teaches kids on Monday, Tuesday, Wednesday, Thursday and Friday at Moreland Elementary.
She teaches so she can help kids learn and get smarter and to help them when they grow up.
She helps us with reading by telling us to spell it out and by reading to us in reading groups. She helps us by giving us Google Classroom assignments to practice our math skills. She helps us by singing learning songs. She teaches us by showing us examples of what she learned when she was little, like scribble books. She gives us tests to make us smarter.
•••
Mrs. Janet Johnson teaches the whole class
Mrs. Janet Johnson teaches the whole class and helps us with stuff like math and reading.
She teaches when we need help with something. She teaches from 8 a.m. until 2:30 p.m.
She teaches at Moreland Elementary School.
She teaches because she loves helping people learn and because she wants us to get smarter. She teaches us because we need to know things.
In math, she teaches us to add and subtract by using different items and strategies like tally marks, touch points and coins. She teaches us reading by reading together and by ourselves, and by reading to us. In math, we do "Number of the Day." We do iReady math and reading on our Chromebooks. We like to do unit studies on interesting things like sharks.