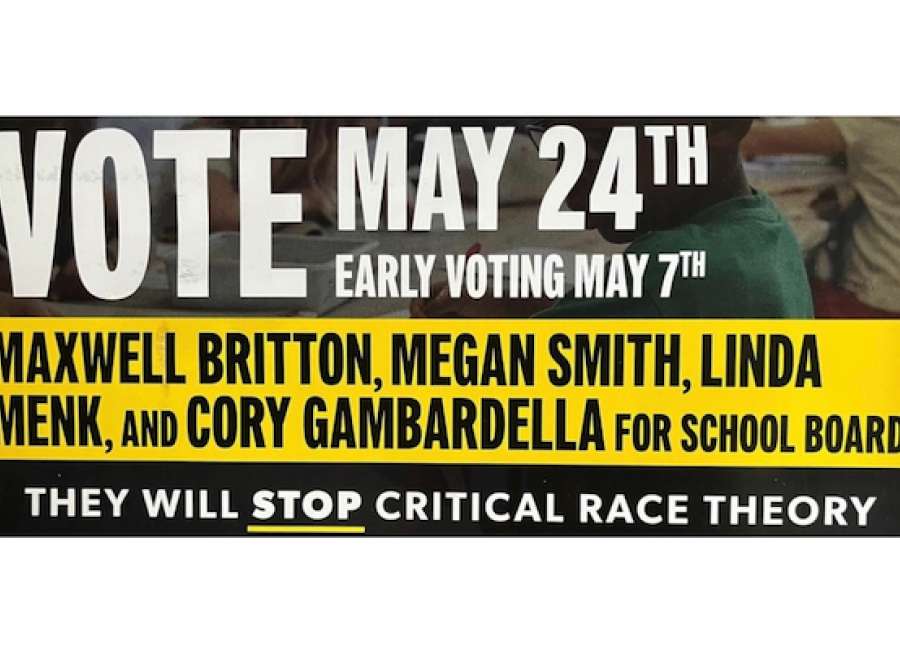 Four candidates for Coweta County Board of Education are getting campaign help from a federal political action committee formed specifically to take over local school boards.

"Critical race theory is in Coweta's schools!" declares a mailer paid for by the 1776 Project PAC, which claims District 4 incumbent Linda Menk and challengers Maxwell Britton, Cory Gambardello and Megan Smith "will stop critical race theory."
Coweta school officials have repeatedly said CRT is not now and never has been in the county's public schools, and that it is not part of the state's curriculum or standards.
And in June of last year – at Gov. Brian Kemp's urging – the State Board of Education adopted a resolution affirming it will work to prevent "the promotion of any divisive ideologies based on race or sex from being incorporated into Georgia's K-12 public education standards."
Still, "Ban CRT!" has become a common war cry at increasingly contentious school board meetings, which have evolved into ideological battlegrounds during the COVID-19 era. The public comment portion of Coweta's meetings usually consist of a barrage of accusations that board members are mishandling everything from mask mandates and school prayer to "inappropriate" books and materials in schools – mirroring similar complaints across the nation.
The mailer adds other supposed school board transgressions, including the distribution of transgender-friendly, anti-Second Amendment and anti-Pledge of Allegiance materials to students – all claims that peppered the campaigns of the 1776 Project PAC-backed candidates in the November 2021 elections.
A reported 75 percent of those endorsed candidates won seats on local school boards in seven states.
The four Coweta candidates, already endorsed by the Marjorie Taylor Greene-devoted Georgia Republican Assembly, now have the full financial weight of the 1776 Project PAC behind them as well.
The 1776 Project PAC exists primarily to elect school board members nationwide "who want to reform our public education system by promoting patriotism and pride in American history," according to the PAC's website, which includes a popup form encouraging visitors to report schools they believe are promoting CRT.
"A lot of people can't identify exactly what critical race theory is, but they kind of know it when they see it," PAC founder Ryan Girdusky said on "The Clay Travis and Buck Sexton Show" last November. "And they just need more examples of it, and we need to know which school districts are problematic."
An author and political correspondent for One America News Network, Girdusky has said not every school district is problematic where CRT is concerned. But he's been straightforward about the fact that regardless of their standing, his PAC aims to fund a nationwide takeover of local school boards.
"F*** you, we're taking over school boards whether you like it or not," he wrote on Twitter last October, responding to a Kansas public school advocacy group's post protesting the PAC's objectives and opposing its endorsed candidates.
The Federal Election Commission defines "Super PACs" like the 1776 Project PAC as "independent expenditure-only political committees that may receive unlimited contributions from individuals, corporations, labor unions and other political action committees" for "financing independent expenditures and other independent political activity."
Super PACs are allowed to accept unlimited contributions from any non-foreign source, and they are allowed to spend unlimited amounts to influence an election, as long as they don't contribute directly to a candidate or "coordinate with a candidate" on their expenditures.
That means a candidate may never have to contribute a dime to their own campaign as PACs duke it out on their behalf across multiple communication platforms – including social media and politically aligned news outlets.
But with broader attachment campaigning by PACs also comes the risk not only of incomplete or incorrect information about hotly contested political issues, but also about undisputed local election details.
Postmarked Cleveland, Ohio, the 1776 Project PAC mailer lists Election Day as May 24, with early voting on May 7.
Early voting for the May 24 General Primary Election, Nonpartisan General Election and Special Election actually is available for three weeks, May 2-20.
Voters can cast their ballots Monday through Friday from 9 a.m. to 5 p.m. during the early voting period, as well as on Saturday, May 7 and Saturday, May 14, from 9 a.m. to 5 p.m. both days.
Early voting locations are the Central Community Center at 65 Literary Lane, off Lower Fayetteville Road in Newnan, and the Coweta County Voter Registration Office at 22 Broad St. in downtown Newnan.
For more information, visit www.coweta.ga.us/government/departments-a-e/elections-and-registration .