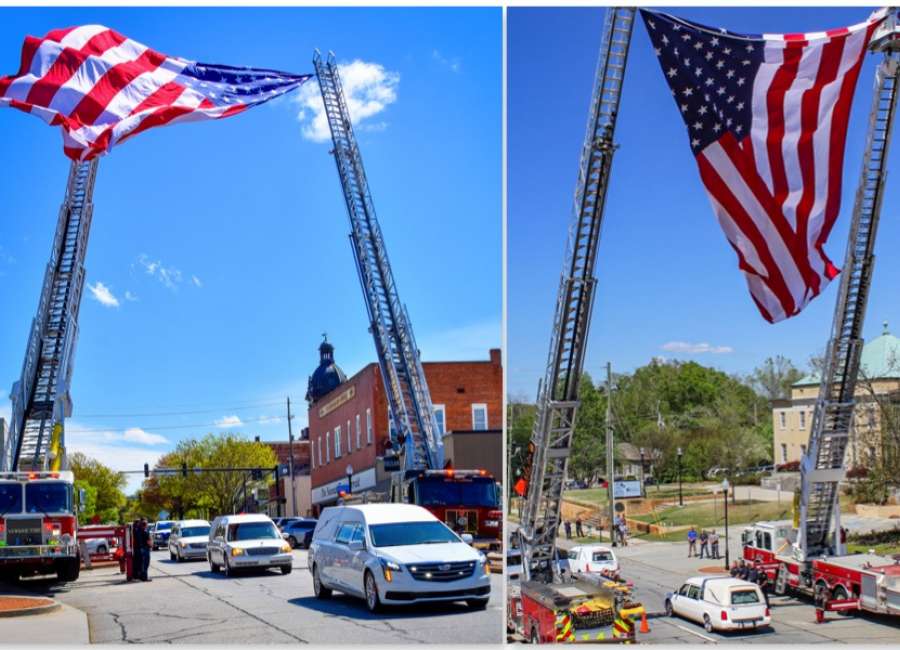 Coweta said "goodbye" by paying tribute to three members of the Hawk family on Thursday on their way to Forest Lawn Memorial Park after a funeral service held at Unity Baptist Church.

Thomas Richard Hawk Sr., 75, his wife, Evelyn Hawk, 75, and their 18-year-old grandson, Luke, were killed last Friday in a robbery at their family gun range in Grantville.
In a statement to the public, the Hawk family said they're grateful for the outpouring of love, prayers and support from the community.
"It is so meaningful that so many in our community cherished them as we did and want to help shine a light in the darkness," the family said.
Reward money is steadily increasing in an effort to incentivize those with information about the slayings to come forward.
On Monday, Gov. Brian Kemp issued an executive order approving the use of $10,000 for a reward to help solve the brutal slayings.
A previous reward of $15,000 is also being offered by the Bureau of Alcohol, Tobacco and Firearms, the City of Grantville and the National Sport Shooting Federation.
People who want to help add to the reward offer can donate to the Coweta County Sheriff's Reward Fund by mailing a check to the sheriff's office at 560 Greison Trail, Newnan, GA 30263, according to a statement from the family.
Donors should note the check with "Hawk Family Reward."
The family is asking, in lieu of flowers, donations be made to The Coweta Community Foundation, Hawk Memorial. Donations online can be made by visiting https://tinyurl.com/2vcfscev .
The Hawk family said donors are advised to check the box titled "donation in memory or honor," so the foundation can track who made a contribution.
In a statement, the Hawk family said other charitable donations can also be sent directly to two organizations.
The first is The Alexander "Luke" Hawk Memorial Scholarship at Abraham Baldwin Agricultural College. Memorial contributions can be made online at www.abac.edu/lukehawkmemorial or by check payable to the ABAC Foundation.
Contributors can mail donations to ABAC Foundation (13), 2802 Moore Highway, Tifton, GA 31793.
The second is the Ronald McDonald House. Contributions can be made online at www.armhc.org/donate or by check payable to the Atlanta Ronald McDonald House Charities at 795 Gatewood Road NE, Atlanta, GA 30329. People can also call 678-704-8082.
"Any gift made in honor of the Hawk family will be acknowledged," the family said in a statement.