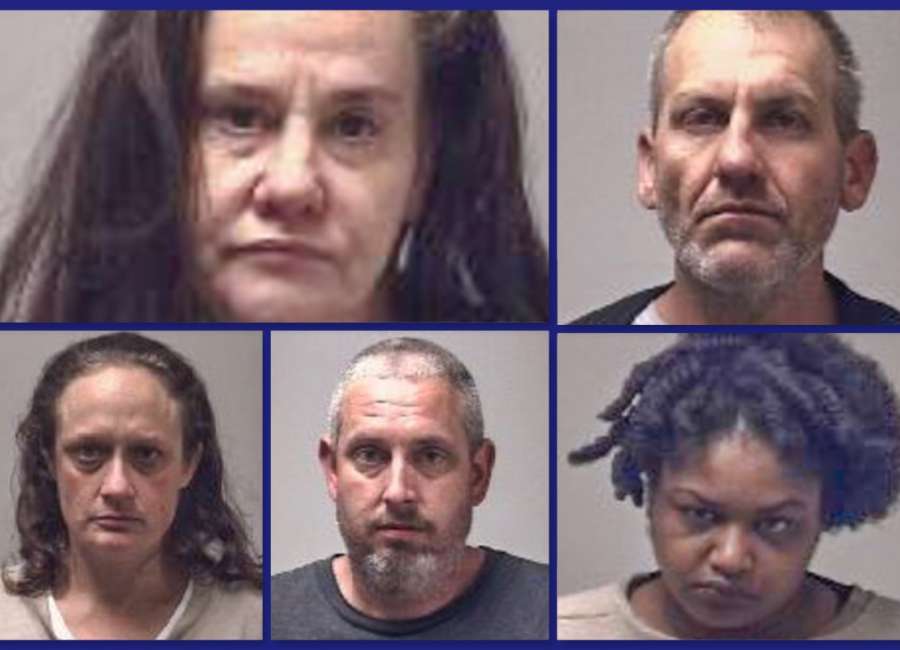 (Editor's note: Story updated 4/29 with comments from Rita White)
Five people were arrested after a string of thefts from local construction sites.

Authorities reported a number of thefts on Cline Road and pinpointed a specific house determined to be a "chop shop."
Several vehicles were located that were reported stolen out of multiple jurisdictions, as well as various vehicle body parts in different locations around the property, according to Toby Nix, public information officer for the Coweta County Sheriff's Office.
A few days later, investigators arrived at a separate residence on Cline Road while investigating a string of stolen equipment from construction sites when they reportedly discovered vehicle body parts from vehicles stored at the original location.
A lookout was placed for a white work van that had recently stolen an excavator from a construction site.
Later that evening, a deputy located the van which led investigators to the residence on Cline Road. There, they found several other pieces of construction equipment which had been stolen, Nix said.
All the equipment located by investigators reported had the VINs removed and had been hotwired.
Among those arrested on Wednesday was Densha Latrice Thompson, 39, of Moreland, who was charged with owning, operating or conducting a chop shop, along with theft by receiving stolen property.
Casey Scott White, 35, and Rita Natasha Michele White, 43, were charged with two counts of narcotics possession, theft by receiving stolen property, marijuana possession (misdemeanor) and drug-related objects.
James Allen Simms, 40, of Sharpsburg was charged with theft by taking, and Ellen Clemente Lind, 54, of Sharpsburg, was charged with theft by receiving stolen property.
In comments made to The Newnan Times-Herald on Friday, Rita White declared her innocence in regards to the stolen property on her property and connection to the chop shop.
"We were unaware of the stolen equipment at our house and we're in no way connected to the property operating the chop shop," Rita said. "(Simms) was living on our property, but was not aware of what he was bringing here, coming and going."
Prior to his arrest, Casey White was out on bond after his 2020 arrest for reportedly stealing a 1927 Ford Model T truck and a 1925 Ford Model T Roadster that was recovered at a body shop in McDonough, Georgia.