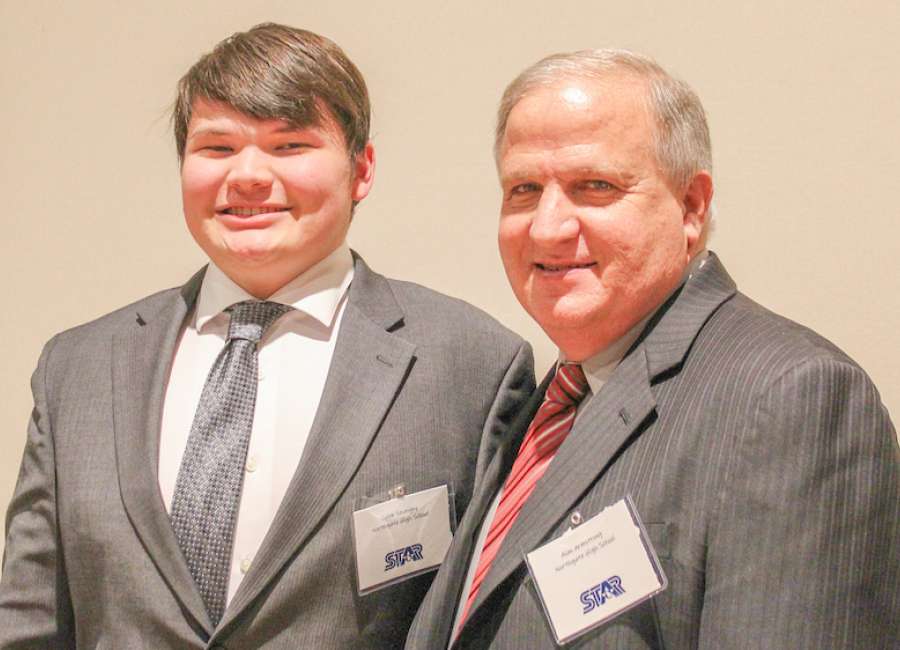 Coweta County's STAR Student and Teacher were honored at a ceremony on Tuesday evening at the Nixon Centre in Newnan.

Caleb Sevigny of Northgate High School is Coweta County's STAR Student, and his selected teacher is Alan Armstrong, the director of bands for the school.
The two were honored as part of a ceremony where STAR Students from 10 counties – Coweta, Butts, Clayton, Douglas, Fayette, Henry, Lamar, Pike, Rockdale and Spalding Counties – were featured as part of the Professional Association of Georgia Educators' Region 3B Student and Teacher Recognition.
The event was also a contest to see who would represent the region at the Georgia STAR Student contest. The winner of that contest was Wonuola Abiodun of Union Grove High School in McDonough, in Henry County.
"Honestly, it's pretty surprising, because I didn't expect it personally, but I'm so glad I am," Sevigny said. "I worked hard and I got a result that I was very pleased with, and that was the biggest motivator for me, was to hear I got advanced to the next level."
After graduating from Northgate, Sevigny will go to Auburn University, where he will major in mechanical engineering and minor in music technology.
"I was able to get into the school I wanted, whether or not I had gotten my transcript, which is pretty much what I was hoping for to begin with."
Sevigny's mother, Holli, spoke of her pride for her son, thinking back to his academic successes throughout his time in school.
"Caleb has been our star student since he was a little kid," Holli said. "It was always the end-of-year programs where he would rake in every single award that was available to him. He's a driven kid. He's developed this passion for music, and really wants to tie in the academic piece of life that he also is really successful in with that passion piece. We're super excited for him to continue his education at Auburn, and hopefully be a part of the marching band."
Armstrong, who has served as band director for Northgate High School since the school opened in 1996, said Caleb has been "a joy to watch."
"It's awesome to be recognized," Armstrong said. "We get to tag along on the accomplishments of our students. Caleb certainly is a shining example of what can happen when a kid applies themselves and does the things that they want to do."
Caleb said Armstrong has taught him many things, including "trying to keep my stress low and my confidence high."
"Whenever I have some sort of problem, I always think, 'What would he tell me?'" he said. "That has gotten me through high school."
The PAGE's Student Teacher Achievement Recognition, or STAR, program is in its 64th year, and is sponsored, administered and promoted by the Professional Association of Georgia Educators.
The program has honored more than 28,000 students and teachers selected as most influential to their academic achievement since the program was started in 1958, according to a release from PAGE.
To be eligible for STAR nomination, high school seniors must have the highest score on a single test date on the SAT, and be in the top 10 percent or top 10 students of their class, based on grade point average.
The program begins each year in participating high schools across the state, when the STAR Student is named and chooses a STAR Teacher to share in the recognition. The students and teachers are honored by their schools and receive special recognition in their communities from more than 170 statewide civic organizations and businesses that serve as local sponsors of the STAR program.