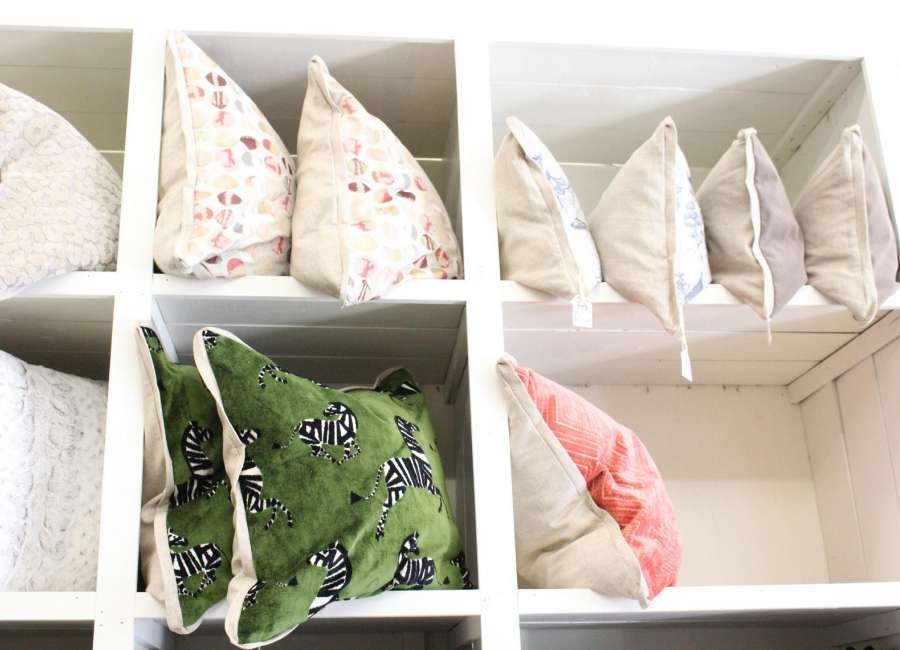 If it's time for a home makeover, you may be at a loss for what is popular today for a trendy living space.
According to a survey of interior designers from 1stDibs, an interior design company, greens and blues, bold patterns and plants are among the recent popular styles for homes.
Lori Duncan, owner of Blue Fern Merchant, an interior design company in Newnan, said peacock blue, dark green and charcoal gray are popular colors for walls. She added that light grays are out and considered a little mundane.
The popular colors are something the interior designer said are classic and never get old.
Duncan added that "bold, colorful, big print wallpaper," is making a comeback.
In addition to wallpaper, herringbone wood wall treatment is becoming more popular, according to Duncan.
However, shiplap wall treatments are on the way out, Duncan said, because it's been overdone.
When it comes to pillows, Duncan suggested having a variety of colors and textures.
"All different types of pillows are good, and they can be different textures and colors in space. It doesn't have to be white and neutral," she said. "Colors make people happy."
Duncan said not everything has to match. A room doesn't need to be cohesive when it comes to textures, colors and style, but the different pieces all need to make sense together.
"It's boring when it matches. It's okay for you to have different styles in one space. Not everything needs to be traditional or modern. You can mix your pieces with all different eras," she said. "But it needs to make sense. It needs to work well together … It needs to feel like it was meant to go together."
For furniture, Duncan said camel colored leather, green velvet, terracotta and peacock blue are popular colors.
Velvet, linen and leather are good fabrics for furniture, too.
Rounded barrel chairs and swivel chairs are popular furnishings, Duncan said, and mid-century modern upholstered chairs are seeing a rise in popularity, as well.
Just like the textures of pillows and wallpapers, the textures of furniture can be mixed and matched, too. Duncan suggested mixing multiple textures together in a space, so wooden and metal pieces of furniture can occupy a room.
"Not everything needs to be wood. You want multiple textures. Everything that is the same type of look and feel can be boring," she said.
Smaller decorative pieces and plants can add life and character to a space.
Decorative items that look aged or used — well-traveled pieces are what Duncan calls them — always look great.
These pieces can include family heirlooms, items from estate sales and thrift stores or something bought while traveling.
Adding some greenery to a room is an easy way to add refreshing energy to a room. Indoor plants are currently popular, Duncan said, and while live plants are best, if you have to go with a faux plant, there are some good fakes available.
"Plants make you happy," she said. "They make the space look fresh and clean."
How a room is lit is an important part of decorating, and a good way to make a statement.
Light fixtures that are brass or black are popular, according to Duncan.
She said if a room is large, then it should have big lighting fixtures. They can even be a little oversized because they'll end up making a statement, and they may light a space better than smaller lights.
Light fixtures can be any style, Duncan said.
"It's okay for them to be different, so a little more modern or a little bit more vintage or a little bit more eclectic," she said. "Try something new and different that might be out of your comfort zone, rather than staying away."
In addition to lighting fixtures, Duncan said matching lamps on nightstands on both sides of a bed are a good way to create some symmetry in a bedroom.
For bedrooms, Duncan suggested having a light color rug with a cowhide on top of it or a vintage Persian rug with a lighter color on top of it. Blankets and several pillows in the bedroom were also highly recommended.
"Pillows are huge for a bedroom. Men hate pillows; women love pillows," she said. "The more pillows you have, the better it is."
At the end of the day, Duncan said, you shouldn't always chase trends because if a space is too trendy, you may not like it in a couple of years.
Instead, you should decorate your home in a way that will make you happy for a longer period of time, so its styling and decoration should reflect what you like.
"It's okay to be different, but it just has to make sense," she said. "Your house is your home, and it needs to make you happy."