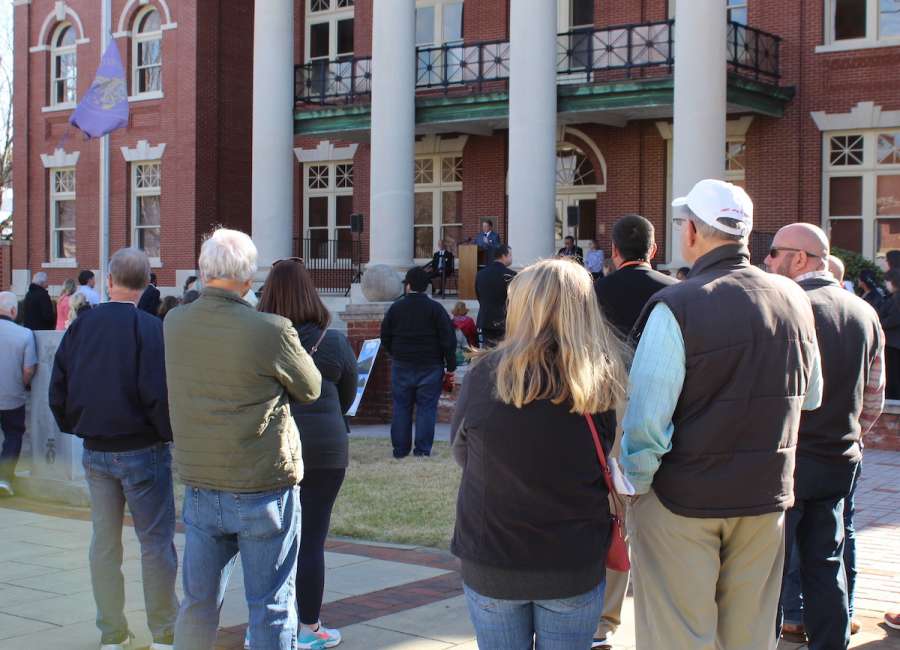 One year ago Friday night, the residents of the City of Homes were rudely woken by a gigantic tornado, possibly the toughest disaster the city has ever faced.
And in a matter of seconds and minutes, it had passed, dissipating as it made its way into Fayette County. But it had left its mark.
When first light shined on the city of Newnan the next morning, the impact that tornado had left on Newnan was more than evident. Lives were turned upside down in a second.
Homes that had been part of families for generations were demolished. A high school that parents, children and grandchildren had attended and graduated from was heavily damaged and will be replaced.
Only one person lost their life in the tornado. Barry Martin, 56, passed away from a heart attack as he rushed to aid his daughter, whose house had been leveled in the storm.
His memory was honored during an event on Friday, as speakers remembered the storm and its immediate aftermath.
Hunkering down and getting ready for the storm
In the late night hours of March 25, 2021, many Newnan residents had gone to bed. It was a Thursday night and much of Newnan had work or school the next day.
All throughout the day, Michael Terrell, the 911 Emergency Management director for Coweta County, and his crew were watching the storms as they struck Mississippi and Alabama.
A number of tornadoes struck the southeast that day, including multiple EF-3 tornadoes in Alabama.
"A year ago, we were in our Emergency Operations Center, monitoring the storms that day. Throughout the day, we saw storms come and go, come and go, and finally, later that afternoon, in the evening, I made the decision, we were safe, we're good, we're going home for the night."
But they were not good. That night at 10:30, Terrell, who was still monitoring the weather, saw a storm flare up in Mississippi that worried him. So he called everyone back to the EOC.
"Unfortunately, as the storm kept progressing and moving across the state of Alabama, it was very evident that it was putting out tornadoes. Three tornado warnings were issued on this storm before it ever got to Georgia. We knew it was coming, unfortunately."
While that was going on, Newnan City Councilwoman Cynthia Jenkins had been awakened by alerts and messages from her mother, letting her know that a tornado was coming.
"On the evening of March 25, I was doing my usual storm prep," Jenkins said. "I cleared out the bottom of the closet I was going to get in case something happened, secured the yard from things that would fly around, put my bicycle helmet and flashlight in the closet, and I went outside and did my normal prayer, asking God to protect us. Then, I went to bed."
When she woke up, she checked the news and realized that Newnan might actually get hit.
"So I got in my closet. As the power went out, one of the people on TV said if you live in Newnan, take shelter right now. When I got out of that closet, everything was still. Very eerily still."
Jenkins' property was fine, making her think that maybe she had dodged a bullet, but they most certainly had not.
Terrell said that they watched the local news and their own radar showed the tornado go through Newnan, before they had to stop 911 operations to take cover, as the tornado headed their way.
"We had to hunker down in the hallway for 10-15 minutes to make sure we were safe," Terrell said.
But after they took cover, the 911 center went to work. After the first eight hours, the center received 895 911 calls in that period of time. By comparison, Terrell said that on an average day, the 911 center receives 108 calls for service.
Newnan High School: A generational home for so many
The tornado took aim at Newnan High School that night, a school that has educated so many of Newnan's population.
When the tornado had passed, the school had been severely damaged, impacting a student body that had to deal with an unusual high school experience. As students came back to class before the tornado, Beth Barnett, who represents the 3rd district in the Coweta County Board of Education, said it felt like the worst had passed.
"As we rolled into the final nine weeks of school, there was a feeling the worst was over, and we would soon be celebrating the end of year rites of passage that are so important to all of us in this community."
Newnan High School, along with Atkinson Elementary School, had to close for the remainder of the school year, which Barnett said was a "devastating blow to our teachers, administrators and the students who had worked so hard during the school year to keep students face-to-face."
Atkinson Elementary students went to West Georgia Technical College's Newnan campus for the remainder of that school year, and while Atkinson would be repaired for students to return, the same could not be said for Newnan High School.
"All 13 of the main buildings that comprise the campus were severely damaged. Students and staff were unable to return to school, and much uncertainty surrounded the future of the school that has become a landmark to this community. Our superintendent, Dr. Evan Horton, is to be commended for the excellent job he has done, not only with the pandemic, but also with the response to the tornado and the plans he made and implemented for the short-term and long-term future of Newnan High."
A new Newnan High School campus will be constructed, replacing the old campus. The rebuilding, Barnett said, will start in May.
"It will be built to reflect the traditional architecture of Newnan High, but it will also represent the future of Newnan," Barnett said. "It will serve to educate generations of Coweta County students to come. The legacy for those future students won't be the tornado itself, but the response of students, teachers, families and the larger community to the adversity faced."
#NewnanStrong: Community spirit came out in the aftermath of the tornado
During the aftermath of the tornado, many of Newnan's residents came out to help their fellow man who may not have been as fortunate.
"Despite the emotions of that moment, many left their yards to go next door, or make their way across limbs or power poles or debris in the street to check on their neighbors," said Dean Jackson, public information officer with the Coweta County School System. "People across the county and across the country called on friends and family that night whose homes had been impacted or destroyed. Many called the person next door."
Jackson said in what seemed like only minutes after the storm subsided, a steady progression of people came into the neighborhoods that had been impacted.
"The morning after the tornado, I drove, I got as far as Newnan Chapel United Methodist Church, which was damaged along with the other churches in the Chalk Level neighborhood," Jenkins said. "One thing I won't forget, is there was a woman who had her children with her in a truck that just took off and decided she'd take her chainsaw in the flatbed of her truck. She tried to help. She didn't ask anyone what needed to be done, she just started cutting up limbs."
Jenkins said she didn't remember her name, but she did remember her kindness and her willingness to help people.
"That kindness will never be forgotten," she said.
"People from all across our county who came to the damage, often finding roads impassible to their trucks or cars, they came on foot or on ATV. Newnan policemen, Coweta County Sheriff's deputies, Coweta and Newnan firefighters, emergency personnel, linesmen, medical personnel, public officials, neighbors, with flashlights and tools going into damaged homes throughout the night."
Jackson said that where there were hundreds after midnight that night, there were thousands the next morning.
"A great flow of human decency, kindness and grace in the streets of Newnan and Coweta County," Jackson said. "Churches rallied their parishioners, charitable organizations mobilized volunteers, civic clubs, motorcycle clubs, students, teachers, retirees, people from every point in Coweta County and from all walks of life, they came with food and water, blankets and toiletries, gift cards they had purchased themselves. Chainsaws. Shovels. They offered shelter and aid in support."
And for that, the best of humanity came out in the aftermath of the worst of times.
"One year later, it still seems terribly odd to me that so terrible a thing would result in so many reasons for gratitude by so many people," Jackson said. "Gratitude for the sparing of life in our community and the many kindnesses rendered over the past year."