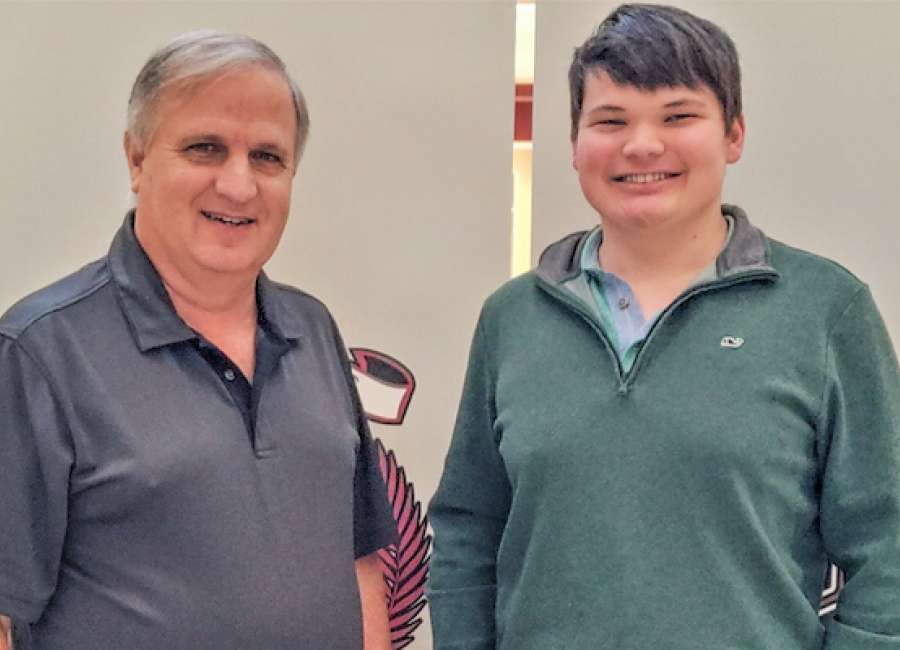 Northgate High School senior Caleb Sevigny has been recognized as Coweta County's STAR Student for 2022.

Northgate High School Band Director Alan Armstrong was selected as his 2022 STAR Teacher, and he shares the county-wide honor with Sevigny.
Sevigny and Armstrong were honored along with other STAR Students and STAR Teachers from Coweta's public and private high schools recently at an annual luncheon hosted by the Newnan Rotary Club at the Newnan Country Club.
STAR Students from East Coweta High School, Newnan High School, Northgate High School, the Heritage School, Central Christian School and Trinity Christian School are recognized each year at the event, along with their chosen STAR Teachers, parents and school representatives.
This year's STAR Students and Teachers from Coweta County's six participating schools were:
Northgate High School: STAR Student Caleb Sevigny, STAR Teacher Alan Armstrong (Band Director)
Trinity Christian School: STAR Student David Cox, STAR Teacher Quinsetta Forde (AP U.S. History)
East Coweta High School: STAR Student Nathan White, STAR Teacher Lynette Hanus (Math – Central Educational Center 8th Grade Academy, formerly of Lee Middle School)
Central Christian School: STAR Student Ansley Reed, STAR Teacher Michelle McDaniel (Assistant Head of School and Counselor/Algebra II)
Newnan High School: STAR Student Haden Archer, STAR Teacher Shirley Wold (NHS Assistant Principal – formerly AP Biology)
The Heritage School: STAR Student Jalen Cunanan, STAR Teacher Alden Marchman (AP Physics and Multivariable Calculus)
Sevigny and Armstrong will attend the Region 3B STAR Student honors celebration on March 29 at the Nixon Centre for Performing and Visual Arts in Newnan as a candidate for regional STAR Student.
The Student Teacher Achievement Recognition (STAR) Program recognizes top academic students in Georgia high schools each year at the school, county, regional and state levels. To be named STAR, senior class students must have the highest score in their school in one sitting on the SAT taken through the November test date of their senior year. They must also be in the top 10 percent or top 10 students of their class based on grade point average.
STAR students are asked to honor the educator who most influenced their academic achievement by naming them as their STAR Teacher. STAR teachers introduced the Rotary members to their students at the luncheon, citing their scholarship and high character, as well as their extracurricular and civic accomplishments.
The Newnan Rotary Club serves as the local sponsor for the statewide STAR program, which recognizes top-achieving high school students each year.
The STAR Program is organized by the Professional Association of Georgia Educators, Georgia Chamber of Commerce and Georgia Department of Education.