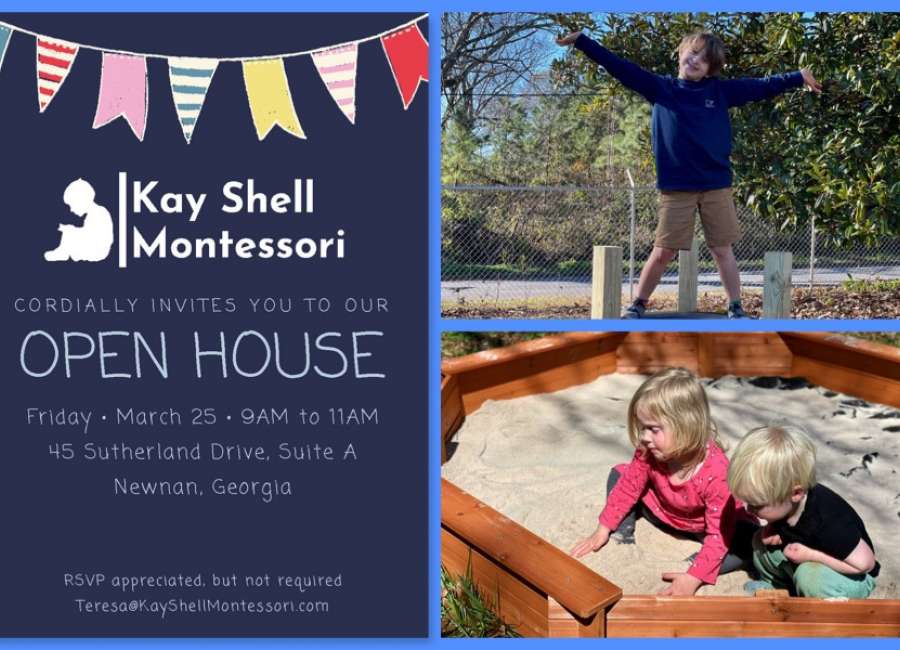 Based on a child-centered method of education and named for a beloved Cowetan, the Kay Shell Montessori School will host an open house celebration on Friday, March 25.
The Kay Shell Montessori School was founded with one purpose - to build a space for all students to grow, learn and create with each passing day. "Pre-school children possess a remarkable ability to absorb the world that surrounds them," says Teresa Shell, who founded the school. "Maria Montessori believed that the years from birth to age 6 are the most critical period for nurturing a child's natural curiosity and for laying the foundation for all future development. We are thrilled to offer our children a thoughtfully prepared environment in which to explore and maximize their independence."
The school's namesake, Kay Shell, was a life-long resident of Coweta County and a graduate of Newnan High School. She and her husband, Jerrel, raised their two children on her family's farm in Sharpsburg. Kay was known for her unquestioning love of others and her radiant smile. It is this love and brightness that the Kay Shell Montessori school hopes to emulate.
Located at 45 Sutherland Drive in Newnan, Kay Shell Montessori seeks to foster independence and to support children into moving towards a mastery of self and the environment. Shell explains, "Our classroom is a prepared Montessori environment designed to encourage children in their self-directed discovery of the world. Interest-based activities encourage children to develop a love of learning and a trust in their own ability to learn."
The Montessori method of education, developed by physician Maria Montessori, is designed to teach children to observe, to think, and to judge. It introduces children to the joy of learning at an early age and provides a framework in which intellectual and social discipline go hand-in-hand.
"Dr. Montessori believed that the goal of early childhood education should not be to fill the child with facts from pre-selected courses of studies, but rather to cultivate the child's own natural desire to learn," claims Shell. "In the Montessori classroom, you will notice the absence of loud and flashy toys. Rather, you'll see an environment designed to allow each child to experience the excitement of learning by his or her own choice, to explore freely, to respect him or herself, and to engage in the world around them."
Kay Shell Montessori School invites the community to its Open House on Friday, March 25. For more information on enrollment, or to schedule a private tour, please contact the school's Director, Becky Salvanera at BSalvanera@KayShellMontessori.com or visit kayshellmontessori.com