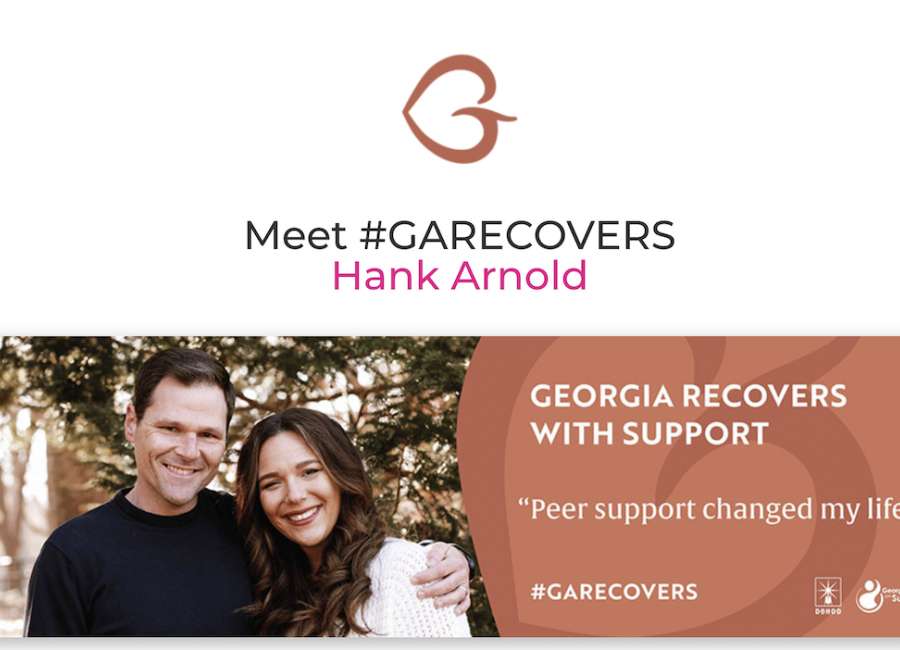 For years, Cowetan Hank Arnold has told the story of his recovery from drug abuse, and has helped others find recovery as the founder of Coweta FORCE.
Now his story, and those of others in Georgia, are being seen on billboards around the state, as part of the Georgia Recovers project.
The billboards feature photos of 16 people in long-term recovery, often with their friends or family members, and a key statement about their recovery.
The billboards are just part of the story. For each of the 16 ambassadors, there is a short-form video telling about their journey on the Georgia Recovers webpage, https://gasubstanceabuse.org/georgia-recovers/ .
The ambassadors are a diverse group from around the state and all are deeply immersed in the recovery community, Arnold said. "It is people that are loud and out front in public about their personal recovery."
There's currently not a Georgia Recovers billboard in Coweta, but there are several in Columbus and one in LaGrange with Arnold and his wife, Shelly, on them. The one in Lagrange is on Georgia Highway 109 just past the mall, and is a digital billboard with rotating images, Arnold said.
The Georgia Council on Substance Abuse is partnering with OutFront Media, and there are only two OutFront billboards in Coweta, Arnold said.
Peer Support Changed My Life
Arnold's quote is about the importance of peer support, which he found in 12-step programs. Peer support is a major part of what Coweta FORCE does.
Being able to talk to people who had been through what he was going through was so helpful when Arnold first began to seek recovery.
Seeing people who had gone through it and found success in recovery "painted a picture of what my life could be like – when I had no idea it could be what it is today," he said in the video.
"We use the word peer because it comes from a place of equality. There is also a lived experience perspective," he said. A peer support model is different from a clinical model, though Coweta FORCE often refers people to clinical treatment.
"Peer support is community based, and it is equality and it is coming from a place of compassion and understanding, and from a place of hope," he said. Most clinical assessments are needs assessments, he said – an assessment based on deficiencies.
"We do strength assessments. Our assessments are based on what your strengths are," Arnold said. "We believe everybody has something to offer." That doesn't mean they don't identify what a person's needs are – they do. "But we feel like we can use our strengths to pull up the other parts of us that maybe need to be addressed," he said.
"I feel like there is a lot of hope in the way we approach things," he added.
The Georgia Recovers campaign shows people that recovery is real and is available in every community. Getting those stories out also helps with stigma reduction.
Telling the stories is so important, Arnold said. "If these people weren't up front about their recovery, nobody would ever know. Nobody would ever know if we didn't tell people what our lives used to be like," he said.
With peer support, it's also important to let others know about the lows they might experience in early recovery. Those lessons were crucial to Arnold.
"I wasn't that committed to being in recovery my first day. It wasn't like – day one, I made a decision that I'm going to blaze this trail, I'm never looking back. Nobody does that," he said.
That's why support from peers in early recovery is so vital. "If we aren't doing a better job of reaching people in early recovery, they'll never get to 12 years in recovery," said Arnold, who celebrated his 12th year in January.
Substance abuse hit Arnold early, and hard.
He tells that story in the video. He was in treatment at 15. By the next year, he was in juvenile detention. At 17, he was in the county jail and by 18, he was in the state penitentiary. He did multiple stints in prison and had multiple felonies.
"Those were really tough years, " he said in the video. "I hurt a lot of people that cared about me."
He got to a point where he felt there were three choices before him: "I'm going to continue to use and just see how this plays out, I'm going to kill myself, or I'm going to get sober. That was really the beginning of my recovery journey," he said.
And in recovery, "I found what I was looking for in the substance the whole time – the entire time."
His second year in recovery, Arnold went back to school and got a degree in addiction counseling. In 2014, Arnold received a full pardon, and not long after began working on what would eventually become Coweta FORCE. The organization provides peer support and assistance to those in recovery, hosts meetings and provides outreach at the Coweta County Jail. Coweta FORCE can also work with the families of those who are struggling with addiction and help families make a plan and figure out how best to support their loved ones. Because oftentimes, families don't know how to support their loved ones struggling with addiction.
A safe place to be in community
Coweta FORCE also provides a safe space for people to come and do life in a community of others seeking recovery.
Last year, the organization bought its own building, and is currently working on remodeling so that they can move into the new, much larger space.
When people find recovery, "they get their lives back and they start contributing not only to their families and to society, but they impact big change in the community," Arnold said. "Most people do because we feel this sense of like – oh my gosh, this sense of purpose – now that I know that recovery is available to me, I have to do something with this gift," Arnold said.
For the vast majority of people who are in long-term recovery, "there is some sort of real service element," Arnold said.
For Arnold, even though he had horrible experiences in his addiction, it is very meaningful to be able to connect with people who are going through similar things. He said that experience is most valuable when he brings the message of recovery to inmates in the jail, through an education and support group and peer check-ins.
Inmates have the choice to participate in the groups. When they make that choice, "even for that moment, there is hope," he said.
Coweta FORCE closely tracks that data and "we have some outstanding data and stories from people we have met in that jail," he said. In 2020, out of 997 that Coweta FORCE interacted with in the jail, 14 percent came to the organization on a regular basis upon discharge, he said.
Arnold said that no other state has put together a campaign like Georgia Recovers, and no other state has put the kind of state funding toward recovery that Georgia does.
Arnold recently visited the state capitol with Georgia Recovers campaign ambassadors and met with Gov. Brian Kemp. "It was really cool to be able to do that – he's the one that approved this in the budget," Arnold said.
He recalled, "One of the things (Gov. Kemp) said was, 'Y'all are about the happiest group I've met all day and probably about the happiest group I'll interact with all day.'"
At Coweta FORCE, they see the changes when people's lives are restored – both through the data they collect and the people they see. "I see people that we interact with here on a daily basis, and I can look back on where they were a year or two ago," he said.
"They're doing it! Recovery happens in our communities, with appropriate support and opportunity. It requires that. We don't recover somewhere else," Arnold said. "We live here; we recover in our communities. But if I don't have the appropriate support and I don't have opportunities, how do I expect to grow?"
Coweta FORCE is located at 48 E. Washington St., Newnan, and is open 9 a.m. to 5 p.m., Monday through Friday. People interested in recovery – or who just want more information – can drop by, or go on CowetaFORCE.org and sign up for a peer check-in appointment.
For more information visit CowetaFORCE.org or call 678-633-5688. See the Georgia Recovers stories at https://gasubstanceabuse.org/georgia-recovers/ .