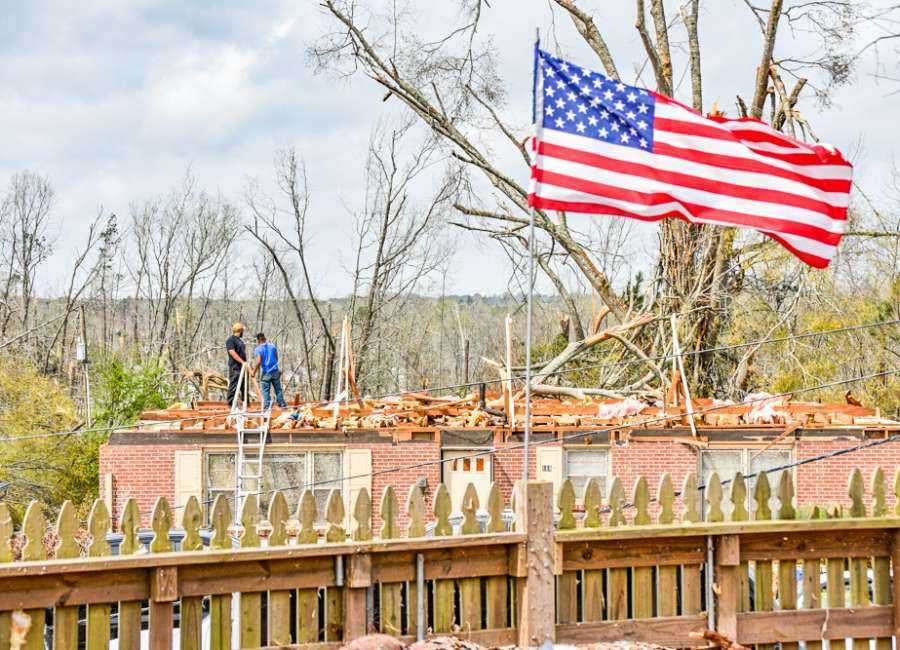 In observance of the first anniversary of the EF-4 tornado that damaged over 1,700 homes last spring, the Coweta Community Foundation and Long-Term Recovery Group will hold a brief commemorative service on the Historic Court Square in Newnan on Friday, March 25.
The ceremony on East Court Square will begin at 10 a.m. and will feature speakers from the city of Newnan, Coweta County Public Schools, Coweta County's Emergency Management Agency and the Coweta Community Foundation. Members of the Newnan High School band are also scheduled to perform.
Plant Newnan, a nonprofit initiative to restore the city's tree canopy from the tornado, will also be on hand at the event to distribute seedlings to attendees.
Since the March 26 tornado, individuals and organizations in our community and from around the state and nation have responded with help for local Coweta citizens as they seek relief and recovery from this disaster. Local volunteers, churches and charitable agencies have worked hard to carry out the needed response.
The Coweta Community Foundation is proud to be a part of these efforts, and is working with local partners to ensure that donations go to support our local citizens and the local nonprofit agencies who are working towards recovery.
In 2021, the Coweta Community Foundation was able to disburse approximately $660,000 in tornado relief through their allocations process, donor-advised funds and grants provided to individuals and 501(c)(3) partners.
This includes 52 grants totaling approximately $440,000 to nonprofit organizations, churches and schools, and $137,000 in direct grants to families who have requested support.
Unfortunately, despite the overwhelming generosity displayed by our community following the storm, many residents are still displaced nearly a year later. FEMA estimates that it will take the City of Newnan and Coweta County approximately three years to recover completely.
The Foundation will need significant financial and volunteer assistance for years to come as we work together with our Long-Term Recovery Team and nonprofit partners to meet both the immediate and long-lasting needs of tornado survivors.
The Coweta Community Foundation is a publicly supported 501(c)(3) organization that helps focus local philanthropy on our community's changing needs. The Foundation manages individual gifts and bequests as an endowed pool of assets, distributing grants to a wide variety of organizations that enhance and support the quality of life in Coweta County, while maintaining the charitable intent of our donors.
For more information on how to help those affected by the storm, contact Rich DeWees, the Coweta Community Foundation's Long-Term Recovery Director, at LTRD@cowetafoundation.org .