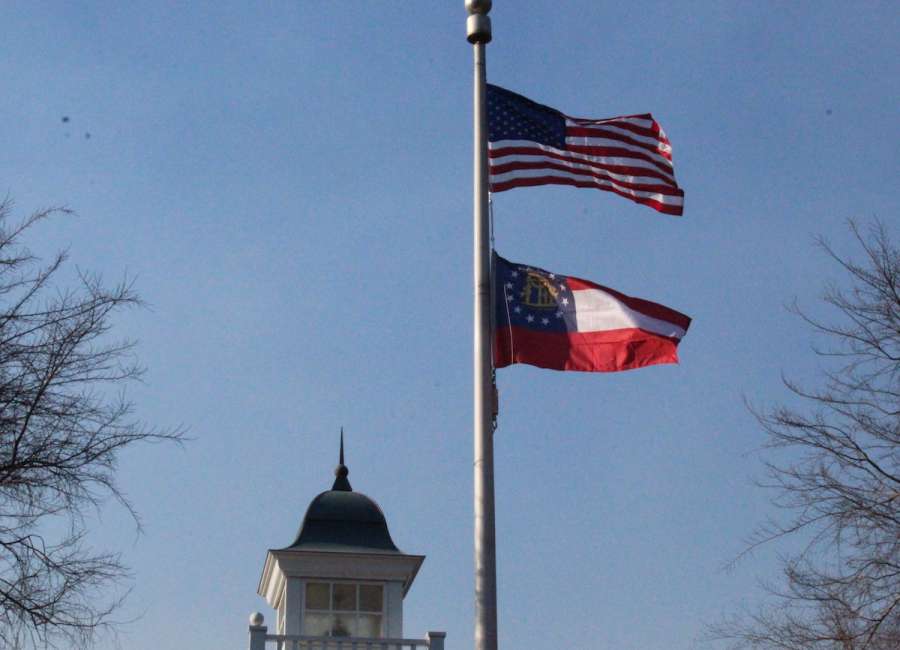 Coweta County's Citizen of the Year was celebrated on Friday with flags that have flown over both the U.S. Capitol and the Georgia State Capitol.
Norma Haynes, this year's Coweta Citizen of the Year, received the flags from U.S. Congressman Drew Ferguson and State Sen. Matt Brass, both of whom represent Newnan.
Haynes, seen as the driving force behind the Newnan Coweta Public Safety Foundation, is well known for her commitment to the men and women of public safety in Newnan and Coweta County.
The ceremony took place at Wesley Woods of Newnan, and involved the new flags replacing an old one that had flown over the facility. The old flag was retired by the Coweta County Sheriff's Office honor guard during the ceremony, before the new flags were placed on the flagpole in the front of Wesley Woods.
"When I was at the award banquet, I said to Sen. Brass, our flag is tattered, and I really wish we could get a new flag," Haynes said. "Little did I know, this was going to evolve, and Drew Ferguson's aide was standing there, and she said, 'I'll get you a flag from the United States, that's flown over the Capitol.' I was beside myself, because I cannot wait to see those two flags. God bless America."
"Today, as we stand here, this is as much about honoring the individuals that are here serving us and keeping us safe as it is our great flag," Ferguson said. "To all of you that put your life on the line to make our community safer, to protect us and improve our lives, we owe you a debt of gratitude and say thank you very much for that."
Ferguson also gave thanks for the veterans of the armed forces, as well as those serving right now.
"What a remarkable lady," Ferguson said of Haynes. "For all that she's done to raise awareness for what our first responders do, Mrs. Norma, we're grateful."
Ferguson presented two U.S. flags on Friday — one to Haynes and one to Terry Bancroft of Wesley Woods. Both flags have recently been flown over the U.S. Capitol, and the flag that now flies over Wesley Woods is in Haynes' honor.
"I was raised to love my country and love my state and love my community," Brass said. "I think I do that, and I wasn't taught that just at home. I look out in the crowd, and I see a lot of y'all that instilled a lot of that in me. From a young child to where I am now — to where we get emails and calls — and that passion comes through for a love for all of that. And that's one thing I love about Coweta County and the state of Georgia, and that's one thing I love about my country. We've got to keep that passion and keep honoring the men and women that go out there and fight for us and fight for our freedom, the men and women that keep us safe on a day-in and day-out basis."
Brass said it is very important to continue to honor the flag "so we can honor each and every member of our law enforcement, our first responders and our military that keeps us all safe."