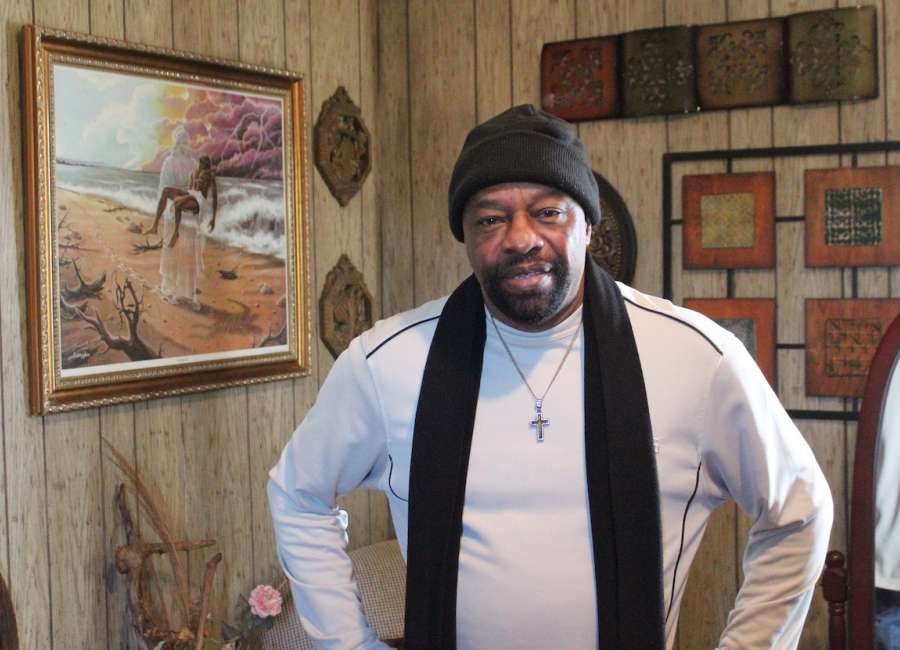 On March 26, 2021, Bruce Favors, like so many others in Newnan, saw a massive tornado heading his way. The tornado alarms went off, and Favors took cover between a wall and his sofa.
When the storm rolled through, it did serious damage to his house on Calhoun Street in the Chalk Level neighborhood, a house that has been in his family for over 80 years.
"I took cover, turned everything off and got right there," Favors said. "Then it came through like a little freight train, and by the time it died out, my two windows popped out and I thought, what kind of storm is this? My windows never popped out like that before."
Favors stepped out of his house and realized the extent of the devastation that the tornado had left behind.
"That's when I saw the shed out there in the field, trees all around the house and my next door neighbors, it just demolished their house," Favors said. "They were out there crying. I told everybody to calm down, we're gonna try to see what we can do, and we just stayed outside for an hour and a half looking at the devastation out there, and I told them around 1 a.m., everybody go back, we'll try to clean up in the morning."
"It looked like Ground Zero around here"
When the sun rose the next morning, the extent of the damage to Chalk Level and to other parts of Newnan became apparent. Many homes in Chalk Level were seriously damaged or demolished.
Favors said he recalled seeing tarps all over the place as residents of Chalk Level worked to cover their homes in the immediate aftermath of the storm.
Favors' home suffered from blown out windows and roof damage. The roof damage led to his house also suffering severe water damage, including a daybed in his house that was replaced by volunteers.
As time went on from the tornado, however, volunteers walked the streets of Chalk Level, offering to provide their services to those whose homes had taken damage from the storm.
"Volunteers were coming over, and they were telling you how to get together with certain organizations," Favors said. "So they told me to call this church, and I started calling them, and they started coming over. When they got through, they relayed me to someone else, Jennifer with Bridging the Gap, and that's how everything started to fall in place."
As time progressed from the storm, those in Chalk Level found that the federal government was unsympathetic to their plight.
"They were waiting for FEMA to kick in, because half of the neighborhood out here didn't have insurance, and I didn't have any either," Favors said.
That individual assistance from FEMA never came, in spite of the efforts of those in the community. When FEMA denied individual assistance, the organization claimed that the EF-4 tornado "was not of severity and magnitude to individuals and households to warrant a declaration" of individual assistance, although residents in the Chalk Level neighborhood would probably disagree.
As a result, those in the neighborhood whose homes had been damaged or demolished, and had not been insured, were unable to get assistance from the federal government to help pick up the pieces.
Work on the Favors house didn't get started until July or August, he said, as a result of all the work that was being done all across the city of Newnan to help pick up the pieces from a devastating tornado.
"They started helping us, and cleaning up around here. That's how they started really improving the damages in and around the house."
Cutting the ribbon: A community event to celebrate the rebuilding of the community
Recently, the ribbon was cut for his repaired house, work that was conducted by the Coweta Community Foundation and other organizations and volunteers in Coweta County and Newnan that have worked to repair the community in the aftermath of the EF-4 tornado that struck that day.
"People that helped me, just about everyone that was out here helping me was out here. They had a good time up here."
Favors said he got emotional when he saw the people that had helped him out, and was amazed when he found out that two of Atlanta's major news channels were on-site to witness the occasion.
Upon recalling the occasion, Favors said he had never felt so blessed to have so many people help him out, and to see so many come out to celebrate the rebuilding of his house.
"This was my mother's house. She willed it to me, and I made a promise that I would get my mother's house in order."
Favors said that thanks to the community and to volunteers that came out to help him in his time of need, he was able to fulfill that promise. He said that now, with his house in perfect working order after the repairs, he can live in the house for another 20 years.
Coweta Community foundation working on long-term cleanup
Rich DeWees, the long-term recovery director for the Coweta Community Foundation, said the Favors home is the first completed case for the group as they work to clean up from last year's tornado.
"We are here long-term to address the needs that those affected by the tornado are facing," DeWees said.
DeWees said the Coweta Community Foundation is focused on safe, secure, sanitary housing for those that have been impacted by the storm.
Helping them out are a number of charities such as Riverlife and Serve Coweta, who are working to address damaged trees and debris removal, DeWees said.
"We are so grateful for those that have donated to the long-term recovery efforts," DeWees said. "Some of that money has come from big things like the Alan Jackson concert or from corporate donations, but so many individuals have given from March 26 to today. Thank you to every person who has donated to this process."
In total, the Coweta Community Foundation has been working on 43 cases that are going on in construction management.
Those looking to assist the Coweta Community Foundation can do so by visiting cowetafoundation.org . Donations can be made under the "Give" tab on the top of the page. Further information on the Coweta Community Foundation's long-term recovery can be seen under "Community Resources" in the "CCF Resources" tab.