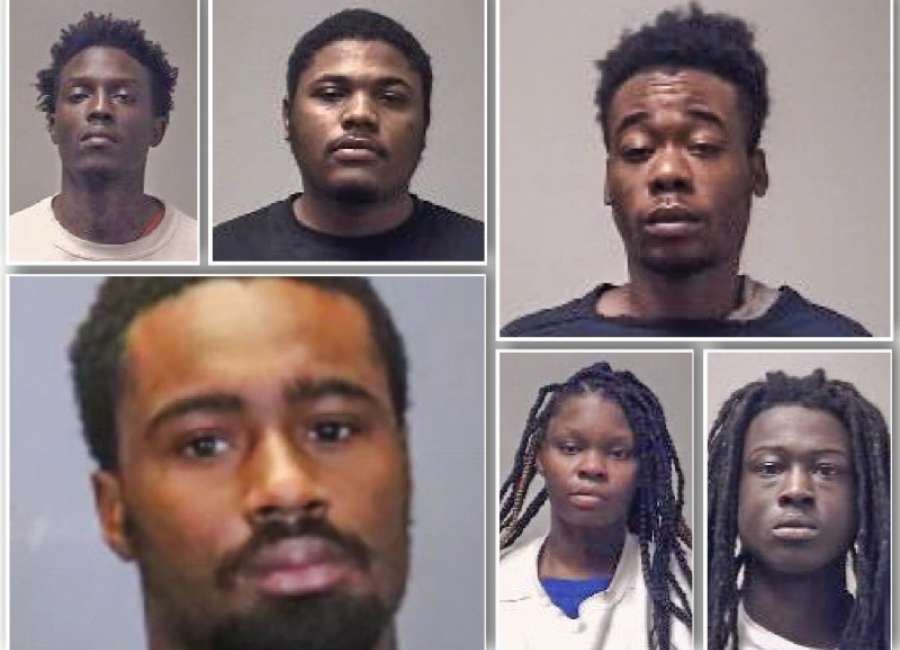 While all suspects in the Pilot truck stop homicide are now in custody, that hasn't stopped some of them from potentially harming those on the outside, investigators said.

Dremar Bell, Alcido Barmore, Kyjawn Hall, Stephan Stewart, Brendashia Richardson and Jaleen Mathis are charged in the shooting death of Patrick Ballew at the Pilot Truck Stop in November of 2021.
Earlier in February, investigators monitoring jail phone calls discovered several suspects involved in the murder case were attempting to harm a potential witness for the District Attorney's office.
While conducting a search of the cell of Bell, investigators located a note indicating the work schedule of the witness, citing they needed the "bizness followed thru urgent (sic)," according to the police report.
Investigators were able to contact the witness and inform them of the potential plot and advised them to be vigilant about going to work. They also advised the witness to stay with a friend, if possible.
The case has been ongoing since the evening of Nov. 5, 2021, when witnesses reported seeing two men arguing in the parking lot of the Pilot truck stop near exit 41.
Witnesses said one of the men was shot several times by the other, and the victim made his way into the store before collapsing on the floor, authorities said.
The gunshot victim, identified as Ballew, later succumbed to his injuries at Piedmont Newnan Hospital.
Witnesses reported seeing a white van with "Assured Conveyance" written on the side fleeing the parking lot and heading north on Highway 29 toward the interstate.
The van was abandoned and located at a residence on Yeager Road. Inside the van, authorities reportedly found approximately 300 pounds of suspected marijuana and over 20,000 suspected THC cartridges.
Authorities have been busy since that night back in November.
On Dec. 2, authorities arrested Alcido Jasper Barmore, 26, on charges of murder, armed robbery, aggravated assault and conspiracy to commit a murder.
Dremar De'Shawn Bell, 20, was arrested on Jan. 3, 2022, and charged with felony murder, armed robbery, conspiracy to commit a felony and aggravated assault.
One week later, authorities arrested Brendashia Aleshia Richardson, 22, on two counts of conspiracy to commit tampering with evidence, conspiracy to commit arson and conspiracy to commit trafficking marijuana.
On January 20, Jaleen Tyrese Mathis was arrested when authorities found contraband linked to the murder inside a residence in Russell County, Alabama.
Inside the home, investigators seized 12.2 pounds of marijuana, 906 tablets of MDMA, 512 THC vape cartridges, $23,864 in cash and several stolen firearms, according to Inv. Christian Spinks with the Coweta County Sheriff's Office.
On Feb. 2, Stephan Stewart was arrested in Columbus by Muscogee County Sheriff's Office Drug, Gang, and Fugitive Task Force and the United States Marshal Services on charges of possession of a firearm during the commission of a crime, possession of marijuana with intent to distribute and possession of a drug-related object.
On Feb. 17, Kyjawn Anthony Hall, 28, was arrested and charged with murder, armed robbery and conspiracy to commit a felony.
While all suspects are currently in custody, officials stressed the case remains ongoing and other suspects are being investigated.