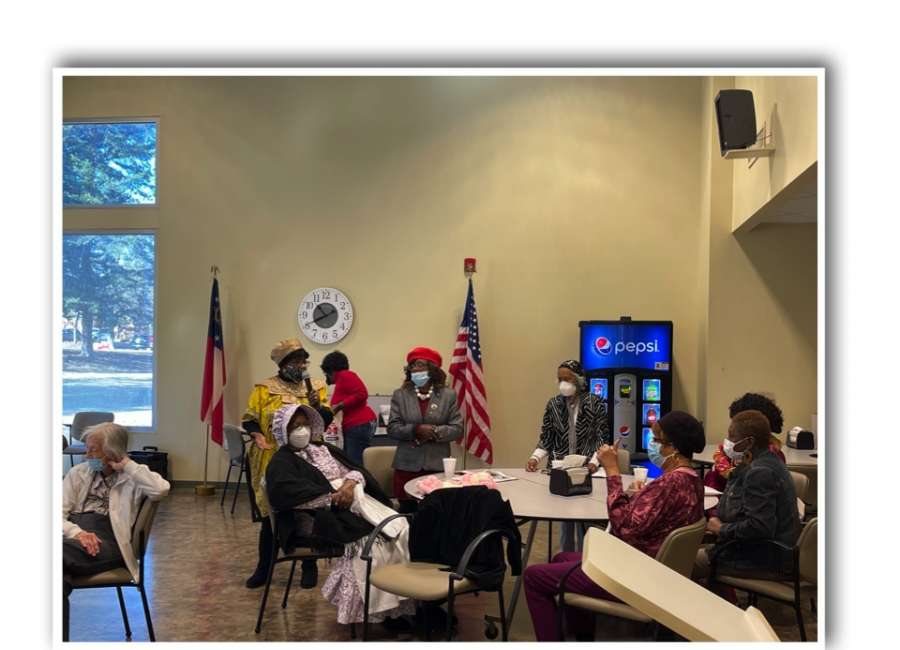 Coweta Seniors learned about notable African Americans and Coweta County history during the Black History Program at the Tommy Thompson Senior Center on Hospital Road in Newnan, Wednesday, Feb. 9.
Program Chairman Henri Jean Stewart has been spearheading the Black History Program.
According to Stewart, she was the first African American to work with the Census in Coweta. She highlighted monumental African American school teachers, churches, pastors, hospitals and doctors.
"Blacks have played a major role in our country's progress and achievements, but they have not been given proper credit," Stewart said. "We are standing on their shoulders. There used to be 'white only' signs for the water fountains and other things, but now things are different."
Stewart also spoke about the other effects of Jim Crow laws in the South and how African Americans are able to pick their seat on the bus, or even at the lunch counters.
"Think of your parents, grandparents and forefathers," Stewart said. "Don't let it be in vain. It's a blessing. We should be thankful. Black churches also play a vital role in keeping Black history alive. I have a lot to say, but not enough time."
Other participants read poems and short readings on influential African Americans, such as Booker T. Washington, former President Barack Obama, Mary McCloud Bethune, Dr. and Carter G. Woodson. A representative from Coweta County 911 was also present to discuss how the center can support seniors.
Ida Johnson, former center director, spoke about the history of slaves in Coweta County. In fact, Lena Horne, an African American dancer, actress, singer and civil rights activist, has ancestors from Coweta County.
According to The Coweta County African American Heritage Museum & Research Center, the first slaves mentioned in the Coweta History were slaves of Dr. A.B. Calhoun and Silas Reynolds: Henry and Sinai Reynolds. The couple had six children. According to Mrs. Gail Buckley, daughter of Lena Horn, one of Henry and Sinai's children was sold to a Mississippi slaveholder and another who was sent to colonize Liberia. Around 1839, Sinai and her son, Felix, were sold to William Nimmons, according to the museum website.
Sinai eventually earned enough money selling items to purchase freedom for herself, her husband and their sons. In 1859, they moved to Chicago where Sinai died 10 years later.
Sinai's son, Moses, moved to Atlanta after the Civil War and married Mary Fernando. Their daughter, Cora, married Edwin Horn, according to the museum website. Cora and Edwin's son, Edwin Jr., married Edna Scottron, who are the parents of Lena Horne.
Johnson said, "We are no longer slaves. If you are still a slave today, it's on your own account."
Leila Heptinstall, center activities director, shared a story and what Black history meant to her. Heptinstall said she grew up in Jonesboro in the 1960s. Her mother worked in Atlanta. She and her brother had a babysitter, or a "mamie," named Sophie.
"She took care of me and my brother; she actually raised us," Heptinstall said. "She was the sweetest Black lady. We loved her dearly. I actually thought she was my mom. She took care of us. She washed our clothes, she cooked our dinner. Our house was the cleanest house on the block."
Heptinstall said she and her brother would often travel with Sophie to her house on the weekends.
"She lived in a certain section of town," she said. "We played with all of the Black children. People just thought we were part of the family. We were very much accepted."
Heptinstall said when Sophie passed it away, it was devastating.
"It liked to have killed me and my brother," she said. "She took care of us from day one."
She said Black history is part of history.
"I love doing programs like this," she said.
The Coweta County Museum will be at the Tommy Thompson Senior Friday, Feb. 18 at 10 a.m. for another program about Black history.
At the conclusion of the ceremony, the crowd sang a verse of "We Shall Overcome," a staple song of the Civil Rights Movement.