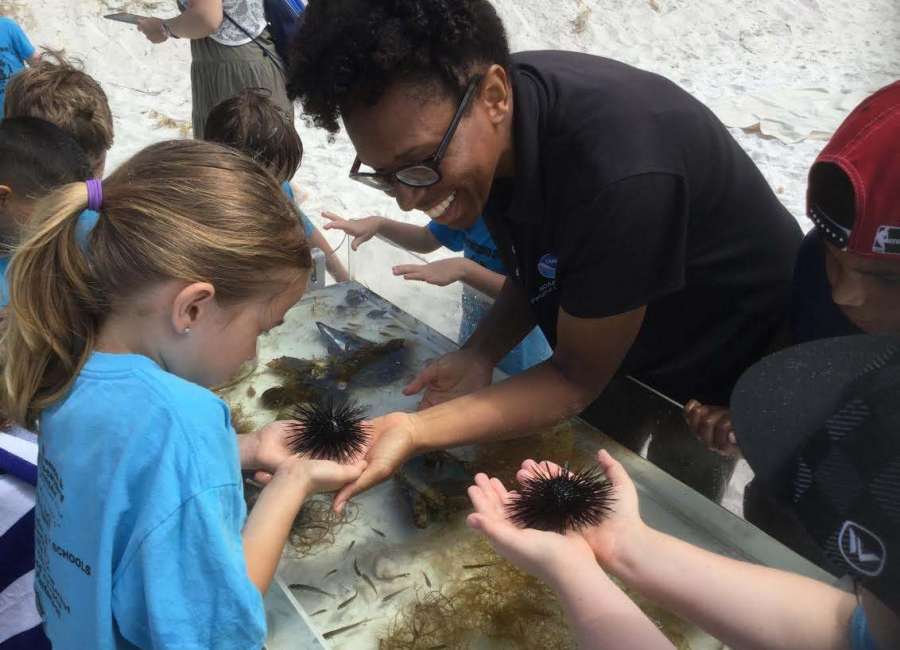 Michelle Duncan grew up on her family's cattle farm in western Coweta, far from the sea.
But a love for manatees led her to study marine biology, and an opportunity from the National Oceanic and Atmospheric Administration led to her master's degree in fisheries.
Duncan is now a fisheries biologist and education specialist with the NOAA Fisheries Southeast Fisheries Science Center laboratory in Panama City, Fla.
At the Panama City lab, where Duncan has been since 2003, she studies spawning of red snapper and groupers and other commercially important fish and serves as an education specialist, working with school students and the community.
Marine biologists are often focused on their research and publishing in peer-reviewed journals, but that information isn't palatable for kids, Duncan said.
Showing kids what's in their own backyard
"We weren't getting in our schools and saying – hey, we have an office right here in Panama City and we work on fish and work on sharks," Duncan said. The lab has been there for 45 years and "still people don't know they have a NOAA office in Panama City," she said.
So for the last 10 years, Duncan has been bringing information to the community. That includes teaching school children about how the things they do and don't do can impact marine life – such as littering.
"It's bridging the gap between us and the schools," Duncan said.
Before Covid-19, she would go into schools and do dissections, including shark dissections, and bring in a "touch tank" for the students.
"I'll go out, drag a net through the grass, and bring it into their classroom," she said of the creatures for the touch tank. Often children who live in Panama City rarely go to the beach. When she brings the sea creatures to the classroom, for some students it's the first time they've seen them.
"They see a spider crab and they just freak out – they have never seen it before," she said.
Sometimes, she's able to meet with groups on the beach, go out with drop nets or a seine, and collect creatures for the children to learn about.
"I'm showing them in real time, what is out there and why it is here," she said. It gets them hands on experience, which is so much different than just reading something in a book.
With COVID-19, she's not able to go into the schools, but they have had some virtual events. There was a large virtual event at the end of last school year and she talked about the lab and fielded questions from the students.
"Hopefully it got them thinking, and put it in their heads – this is how I can make an impact. Just making small changes, reusable totes, reusable water bottles," Duncan said. Something she makes sure to always tell the students is to pick up their trash – especially at the beach. Pick up any trash you see on the beach, even if you didn't put it there. Because the trash can strangle birds and endanger fish, whales and dolphins.
Studying snapper and grouper growth and reproduction
Her research on snapper and grouper, as well as the research of other teams around the Gulf, are used to assess the population of the various fish, and to set limits and seasons.
Commercial fishermen as well as individuals fishing on chartered boats might encounter port agents at the dock, and those port agents are there to gather information about the catch. They'll typically use tools to quickly remove the otolith from the fish, and sometimes the reproductive organs.
An otolith or "ear stone" is made of calcium carbonate and is found underneath the gill plate. Much like the ring on a tree, the otolith has a ring for every year of a fish's life. Scientists can examine the otolith to determine the age of the fish and sometimes gather other information.
Each year, Duncan said her lab might receive 30,000 otoliths from red snapper in the region. They'll examine about 5,000 of those. The research can help determine at what age the snapper are maturing, and whether they are maturing faster or slower than they used to.
Minimum size limits are enforced to make sure fishermen are only keeping mature fish that are already of reproductive age, and that ensures that the species are not overfished. The research can also determine when fish are spawning and what may have triggered that spawning.
Fisheries biology tends to be a male-dominated field, and that's something Duncan faced in graduate school.
After completing her degree in marine biology at Savannah State University, Duncan found that there were very few jobs available for scientists who want to study manatees. So many people love manatees and other "charismatic macrofauna" such as dolphins, that they are willing to work with the animals as volunteers.
"Everybody wants to hug a manatee and they're willing to do it for free," Duncan said. "I couldn't find a job working with manatees, so I had to pivot into fisheries because job opportunities were more available in fisheries."
She received a scholarship through a NOAA partnership program with minority serving institutions, and studied for her masters in Fisheries Biology at Clemson University in South Carolina.
A male dominated field
Duncan was the first Black female in the fisheries department there, and said it was very much a male-dominated space. Her advisor was recruiting students specifically to try and diversify the field and the department, and there was a funded project, so Duncan took the plunge.
"In that moment, I would have never chosen sturgeon fisheries. But the opportunity came up and I was very thankful," she said.
Her research was to determine whether or not a particular dam was negatively impacting the sturgeon spawn. She did most of it on her own and recalled going out each day, launching the boat and heading out.
"Every day without fail I would get to that boat ramp and there would be some old man that would just sit and watch me and he would holler out 'baby, you need some help?'" she said.
She enjoyed the work. Part of it consisted of taking large pads used in floor buffer machines, strapping rebar and weights to them and dropping them in various places in front of the dam. Then she would winch up the pads and see where surgeons had laid their eggs.
While the research work was enjoyable, most of graduate school was not. She finished in a year and a half, when most people take two. "I was ready to go," she said. "There was a lot of racism and resentment… that's why I was like get in, get out," she said.
She was glad for the experience. "It's one of those things where you get tested, and you stick with it," she said. But Duncan said if she hadn't been on scholarship and had been paying out of pocket, she would have withdrawn from the program.
"I'm not paying thousands of dollars to come up here and be harassed," she said. Her advisor was very supportive and helped her get through, she said.
"The journey of being a female in a male-dominated world has been quite interesting," Duncan said. "I have had some interesting interactions with men who – this is their world and they don't take kindly to women coming into their world, especially Black women," she said.
Breaking down barriers, having a passion
Because of her experiences, it's now her mission to help remove those barriers of racism and sexism for others who want to enter the field.
"It's my mission to not have Black females experience what I experienced 20 years ago. Which is still happening, unfortunately. It is breaking those barriers down," she said, or encouraging people to persevere despite them because the field is very rewarding.
A lot of Duncan's outreach is letting people know that the lab and the programs exist. Many people don't even realize working in fisheries is a career. "If you don't see it, you don't know it is something you can do," she said. Duncan recommends all students get an internship to make sure they like the field. In high school, she wanted to be a veterinarian. A job at a vet's office quickly changed her mind.
"I tell all of the students, in order to be in this field, to stick with it, you have to have a passion. To go through the racism, the sexism, the low pay, the working for free – you have to do a lot of internships – to have to go through all of that you have to have that initial passion."
Because it is worth it. "I love investigating and finding solutions to the problem," she said.
"Being in marine science and fisheries – I love it. And I want other Black females, other students of color to also see that side of it and not be deterred by any sort of microaggressions, any racism that they experience and be turned off, to get past that and stick with it," she said.
NOAA has a diversity and inclusion component and takes it very seriously, Duncan said.
She wants to see the barriers removed that make it hard for women and people of color to get into the field. "We want any sort of barriers removed from you pursuing this degree," Duncan said. That can include bringing in supports and seeing other people who look like you in the field.
NOAA offers scholarship programs and internships to get students of color into the field, and scholarships to help its employees further their education. In 2021, Duncan completed her doctorate in educational leadership at Florida A&M University, with the assistance of NOAA's Advanced Studies Program scholarship.
In the years since Duncan started, more women have joined the field. In fact, women outnumber men at the Panama City lab, and have for a while. The shark research team is all female.
Duncan said she loves seeing an all female crew going out in the boat to research sharks. They catch them, measure them, tag them and release them. If they catch an already-tagged shark they can compare its growth rate and sometimes even see where the fish has migrated.
There's been a marked change in the makeup of the fisheries field over Duncan's 20 years. She remembers going to conferences years ago. "You'd see maybe 10 or 15 women out of hundreds of people. Now, it's like women are everywhere," she said. "We still have things you'd like to see more of, but it is a marked change… and really making strides to be more inclusive of all communities, of all backgrounds," she said.
While she's fallen in love with fisheries biology, Duncan still has a special place in her heart for manatees. "When I retire that is where I'm going to be – down in Crystal River hanging out with manatees," she said.