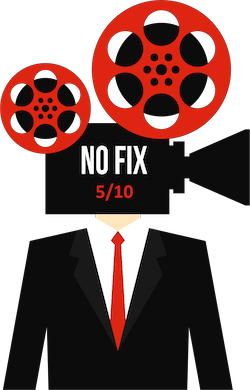 Review by Jonathan W. Hickman
The interesting, even provocative ideas explicitly put forth in "Who is Amos Otis?" get marred by hammy and unrealistic courtroom theatrics. Writer/director Greg Newberry appears to have done legal research by watching reruns of "Matlock." He should have read Capote's "In Cold Blood" and consulted with a trial attorney instead.
In this courtroom drama, a divisive United States President is assassinated by a man claiming to be Amos Otis (Josh Katawick). Arrested for the crime, he's assigned the sensitive and experienced attorney Jason Johnson (Rico Reid) as his public defender. But when it is discovered that his client isn't Amos Otis, Johnson is confronted with a dilemma: how does he represent a man who does not exist?
While some viewers may dismiss "Who is Amos Otis?" as a liberal fantasy, Newberry's script, adapted from his Pulitzer Prize-nominated play, attempts to be a little more nuanced. However, the subtle moments are overshadowed by scene-chewing stereotypes that are hard to reconcile. The actors are all talented, but it's challenging to sell the over-the-top characters when everything is played so somberly. A little more camp might have helped keep me engaged.
The courtroom sequences that dominate the film are the product of bad television. In an actual trial, attorneys ask questions of witnesses and don't make random and rolling closing arguments during direct or cross-examination. And leading questions are asked on cross, an objection of "leading the witness" on cross-examination would be laughably improper.
Anyone casually familiar with the justice system will roll their eyes while watching "Who is Amos Otis." And in this day and age in which high-profile trials are broadcast to the public, Newberry would have done well to more carefully place his action in an environment that more closely resembles one familiar to his viewers.
The performances are uneven with the flavor of a filmed play, but the leads, particularly Reid, are strong.
The narrative is understandably stodgy and stilted but paced well enough if also delivering a blatant message that doesn't capitalize on its initial incendiary premise. Stock footage of protests in the streets of a major city is used well to add production value to this indie. And it's an excellently shot movie that belies its tiny budget.
JFK conspiracy theorists might find it charming. Newberry does a lot with a little but is betrayed by distracting story leaps that make this courtroom-bound, science fiction-tinged drama hard to swallow.