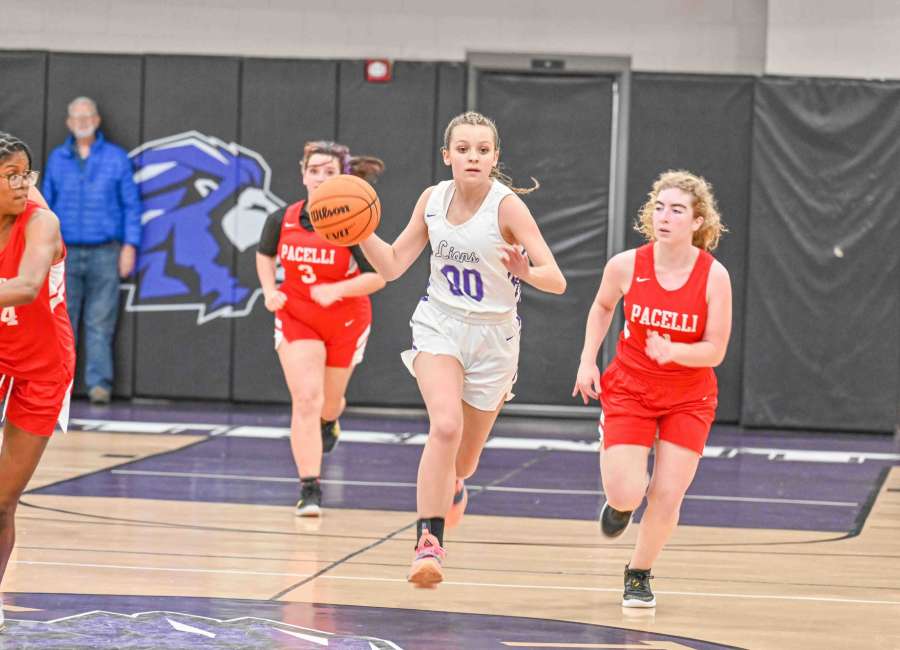 On Friday night, the Trinity Christian Lions opened their 2022 Region 4-A Private schedule with two wins at home.

For Girls Head Coach Joe Daniels and the Lady Lions, the 73-8 victory over St. Anne Pacelli was the first step in repeating as region champions.
The win improved the seventh ranked Lady Indians to 9-5.
This season, Coach Daniels has the luxury of a deep bench and big-time post player in Kansas Jayhawk signee Zsofia Telegdy. But it has been the play of senior guard Madison Morge who led the Lady Lions with 21 points.
Telegdy also finished in double digits with 15 points, while McKinley Heiden and Kendell Wells added eight.
The 2021-22 season has been a continuous lesson of hard knocks for the boys. Head Coach Will De La Cruz lost almost the entire roster from last year's Sweet-16 team. Of the players who took the floor on Friday night, only Shawn Braxton and Ethan McDowell saw playing time last year.
But the Lion's den is not devoid of talent; it is just young. And it is getting better every game.
Trinity Christian got off to a strong start and slowly pulled away from the reigning boys' region champion St. Anne Pacelli Vikings 49-35.
Emerging star Ernesto Almonte, a 6-foot-4 wing player, led the Lions with 12 points and six rebounds. Justine De La Cruz and Lewis Robertson each had nine in the effort.
On Saturday, the girls team traveled to Atlanta to play the Banneker Lady Trojans from Class 5A in the She Got Game Classic. Once again, Morge led the way with five 3-pointers to finish with 17 points in their 59-29 win.
The Lady Trojans came into the game with a record of 8-5, including impressive wins over Newnan, Wheeler, Tri-Cities and Milton.
Wells had nine points and six rebounds, while Telegdy finished with seven points, six rebounds, and four assists.
The win improved the Lady Lions record to double-digit wins with 10.
Both teams will be back in action on Friday night when they travel to their county rival The Heritage School, for another region contest.