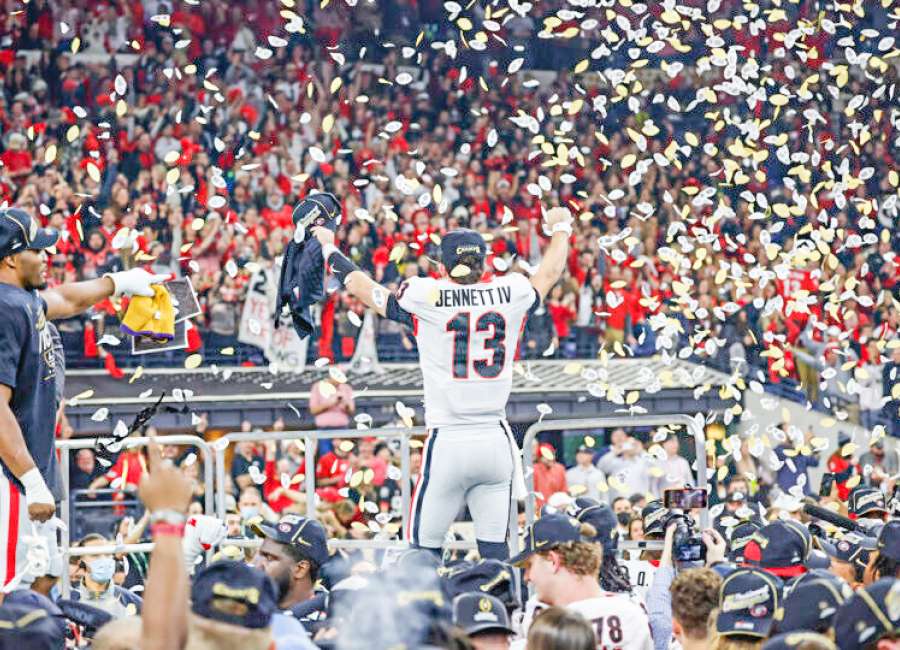 It's been a long time coming.

The last time it happened, Ronald Reagan became our 40th President, "Dallas" was the #1 show on television, and Venus Williams was still wearing diapers.
The last time it happened, Herschel Walker was running out of the Bulldog backfield – and not for a seat in the U.S. Senate.
The last time it happened was on Jan. 1, 1981. After defeating Notre Dame 17-10 in the Sugar Bowl, the Georgia Bulldogs – led by head coach Vince Dooley and a future Heisman-winning running back – won college football's 1980 National Championship.
Since then, neither David Green, Matthew Stafford nor Jake Fromm could do it. Neither could Todd Gurley, Knowshon Moreno nor Nick Chubb. Nor Ray Goff, Jim Donnan — not even Mark Richt, for that matter.
Yes, it's been a long time coming. Finally, the 41-year drought is over. The 2021 Georgia Bulldogs are college football's National Champions, earning the title in grand style by beating the top-ranked team in the country and defending National Champions, the Crimson Tide of Alabama, 33-18. In doing so, they denied Alabama its 19th National Championship and head coach Nick Saban his eighth. More importantly, Georgia – and their head coach Kirby Smart – finally got the crimson monkey off their backs.
It didn't come easy. Georgia overcame 369 passing yards from Alabama's Heisman-winning quarterback, 10 penalties and a fumble that led to what would turn out to be their opponent's only touchdown of the game. Bulldog quarterback Stetson Bennett – the first walk-on to lead his team to a National Championship – threw two touchdown passes immediately after his aforementioned fumble and effectively put the game away late in the fourth quarter. Incidentally, Bennett's 17 completions were 16 more than 1980 Georgia quarterback Buck Belue had against the Fighting Irish 41 years ago.
A lot can be said for the Georgia Bulldog defense. I mentioned several times throughout the course of the season in my weekly columns about college football that the defensive unit in red and black was more deserving of the Heisman than any individual player. I was only half kidding, and their performance against Alabama indicated that perhaps I wasn't kidding at all. Throughout the game, the Dawg defense was – well, I guess you could call it "rabid." They were viciously quick to make tackles on running plays, and stuck to Alabama's receivers like glue.
The game was an incredible display of determination, effort and desire – and keep in mind, all of these compliments are coming from a diehard Florida Gator. Before now, the nicest thing I've ever said about the University of Georgia is that the vast majority of their fans never attended class there. (This is not a proven fact; merely a hunch of mine.)
But now I'm going to lighten up a bit by admitting that, without a doubt, the 2021 Georgia Bulldogs were the best football team to take the field this year.
So I offer my congratulations to the University of Georgia.
They deserve to be our National Champions.
Scott Ludwig lives, runs, and writes in Senoia. His latest book, SOUTHERN COMFORT is his second collection of 101 columns. His first, SOUTHERN CHARM, and all of his other books can be found on his author page on Amazon. He can be reached at magicludwig1@gmail.com