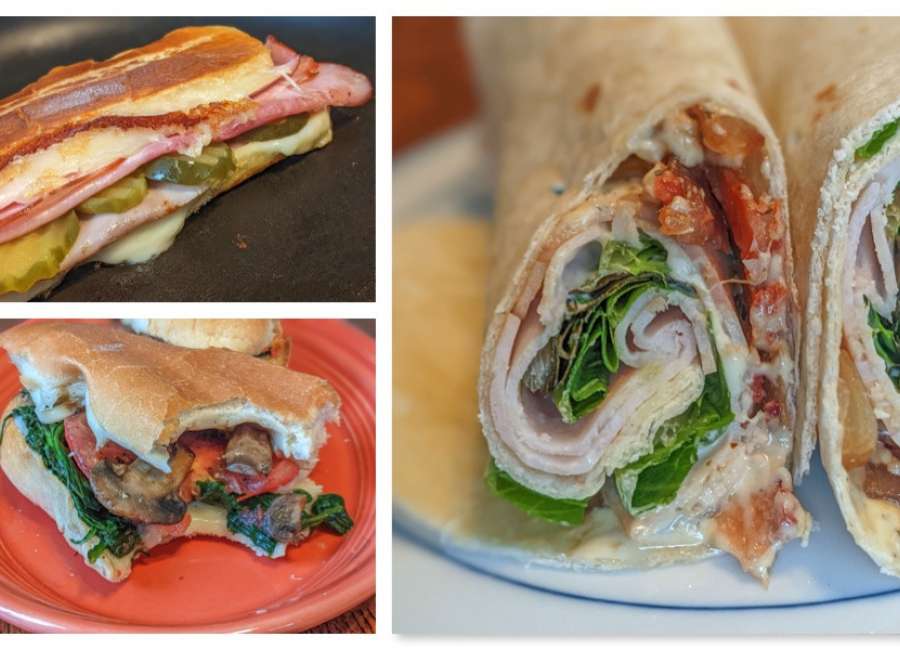 By Gail McGlothin

The holidays are over, and hopefully for you, most of the holiday food is eaten or stored in the freezer for another meal another day.
Some people are thinking "salads every day," but some people, mostly the cooks in our house, are thinking "the heck with cooking; it is time for sandwiches!"
The Earl of Sandwich did not want to leave his card game but needed to eat. Clever servants placed the meat of the day between two pieces of bread and voila! – the sandwich was born. These days a sandwich can be made out of just about anything on any kind of bread, although the dictionary says it must be meat or poultry. Where does that leave the tuna salad lovers? An on-going discussion at our dinner table is, "Is a hot dog a sandwich?" And when that is worn out: "Is a taco a sandwich?" You may be wondering if Z and J just don't have enough to think about.
Living and traveling around the country and parts of the world has given me an opportunity to eat a variety of sandwiches. About the only place where I did not eat sandwiches was Japan, with one exception. One day in Yokosuka, I bought what looked like a filled doughnut. Even though I was never sure what I was getting at the roadside stands, I took a bite and was surprised to feel an octopus tendril hanging off my lip – further surprised that it was pretty tasty.
The amount of meat, cheese and other fillings in these sandwiches is up to the cook and/or the diner. The pork roast in the Havana Cuban Sandwich came from the Publix deli. The sandwich is even better with the leftover pork roast from your oven. The bun is squashed and grilled crispy to resemble Cuban bread, not found in our area. On the Mushroom Melt sandwich, be sure to cook the spinach dry or dry it in a paper towel to keep the bread from getting soggy. I've served the Smoked Turkey Wraps to a number of groups and always received compliments. They are also easy to make and take anywhere.
Favorite sandwiches at our house is ham and salami on Italian bread (no condiments): turkey, tomato, lettuce and cucumber on sub roll (no condiments): bologna, cheese, Doritos and mustard on whole wheat bread; and my "go to" sandwich is peanut butter and homemade jelly. Requires no recipe.
Havana Cuban Sandwiches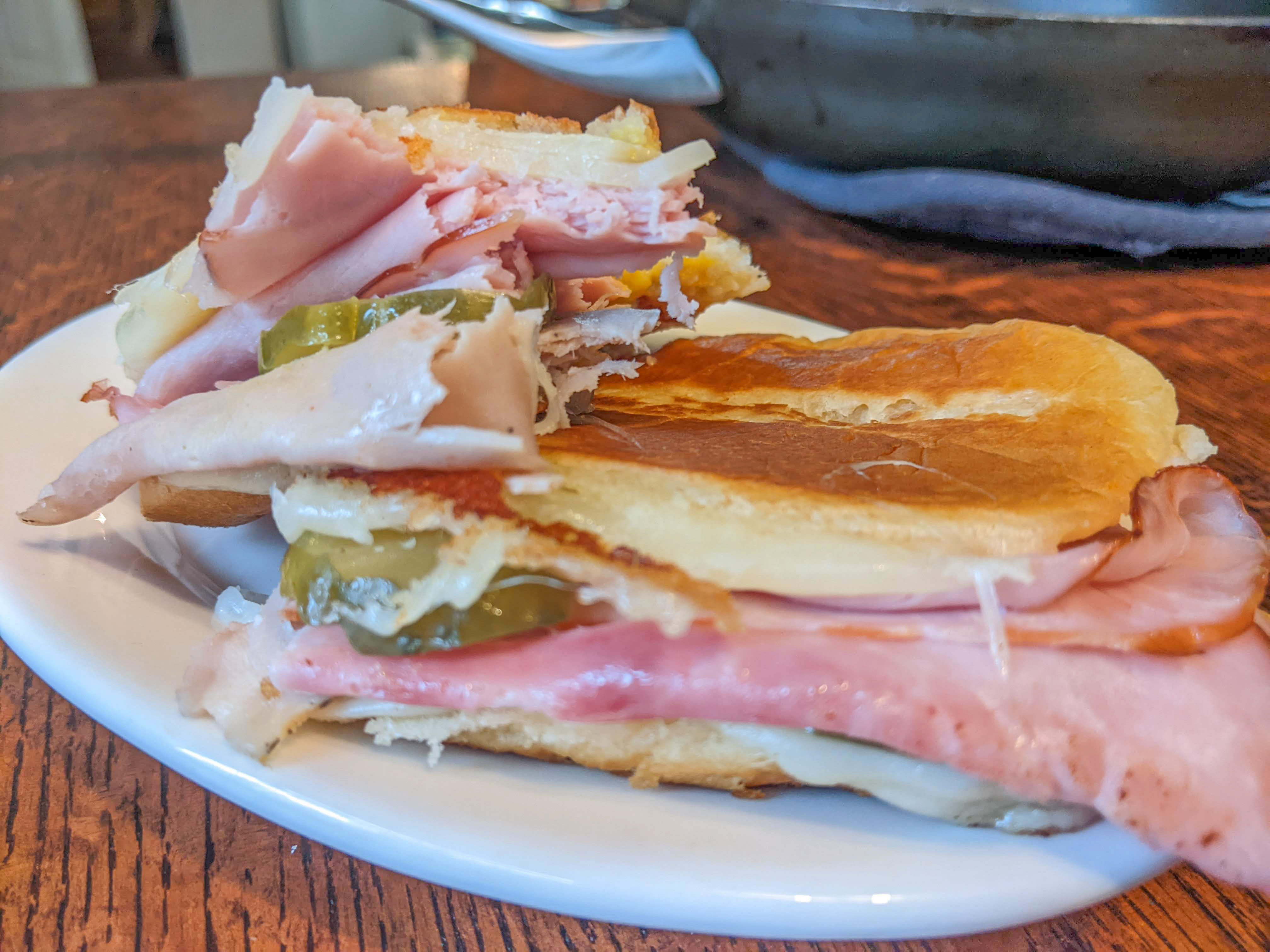 4 hoagie buns
½ pound sliced pork roast
½ pound sliced ham
½ pound sliced provolone cheese
Dill pickle slices
Yellow mustard
Butter
Cut open all the buns. On one side, spread with mustard.
Layer onto the bottom of each bun 1 sliced provolone cheese, 2 ounces sliced ham, 2 ounces sliced pork roast, 1 slice provolone cheese, and 4-5 dill pickle slices. Close buns.
My technique for grilling a Cuban sandwich is to melt butter in a skillet or grill.
Place sandwich on the butter. Top with a piece of wax or parchment paper.
Top with a heavy pan or cake pan, adding canned food to the pan to weigh it down. Press the sandwich several times to make it thin.
When the bottom is brown and crispy, remove the paper and pans.
Pick up the sandwich with a spatula. Add more butter if needed.
Turn the sandwich over onto the top and add wax paper, pan, and canned food to continue to compress the sandwich.
When brown and crispy, remove the pan and paper. Move the sandwich from pan to cutting board.
Slice in half diagonally and serve hot.
Mushroom Melt Sandwich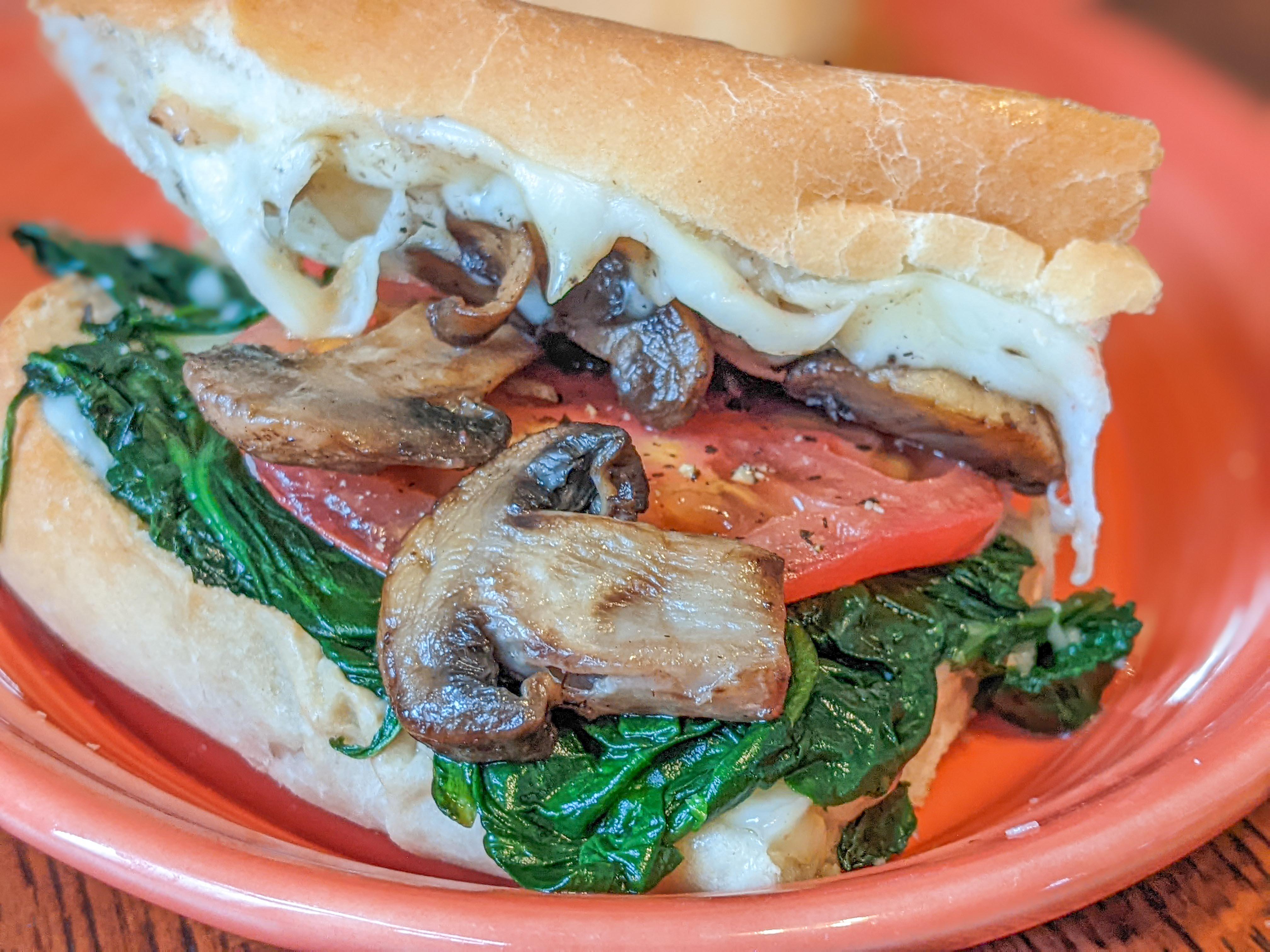 For each sandwich:
1 hoagie bun
2 slices mozzarella cheese
Mushrooms sautéed with garlic
Spinach sautéed and pressed in a paper towel until dry
2-3 slices tomato
Preheat oven to 400 F. Open hoagie bun and lay parchment paper on an oven baking sheet.
Place 1 slice mozzarella on each side, trimming to fit the bun.
On the bottom side, spread the spinach evenly over the cheese.
Distribute the mushrooms on top of the spinach.
Add tomato slices, salting and peppering as desired.
Place in oven for 5-10 minutes or until cheese melts.
Remove from oven, close sandwich, cut in half to serve.
Smoked Turkey Wraps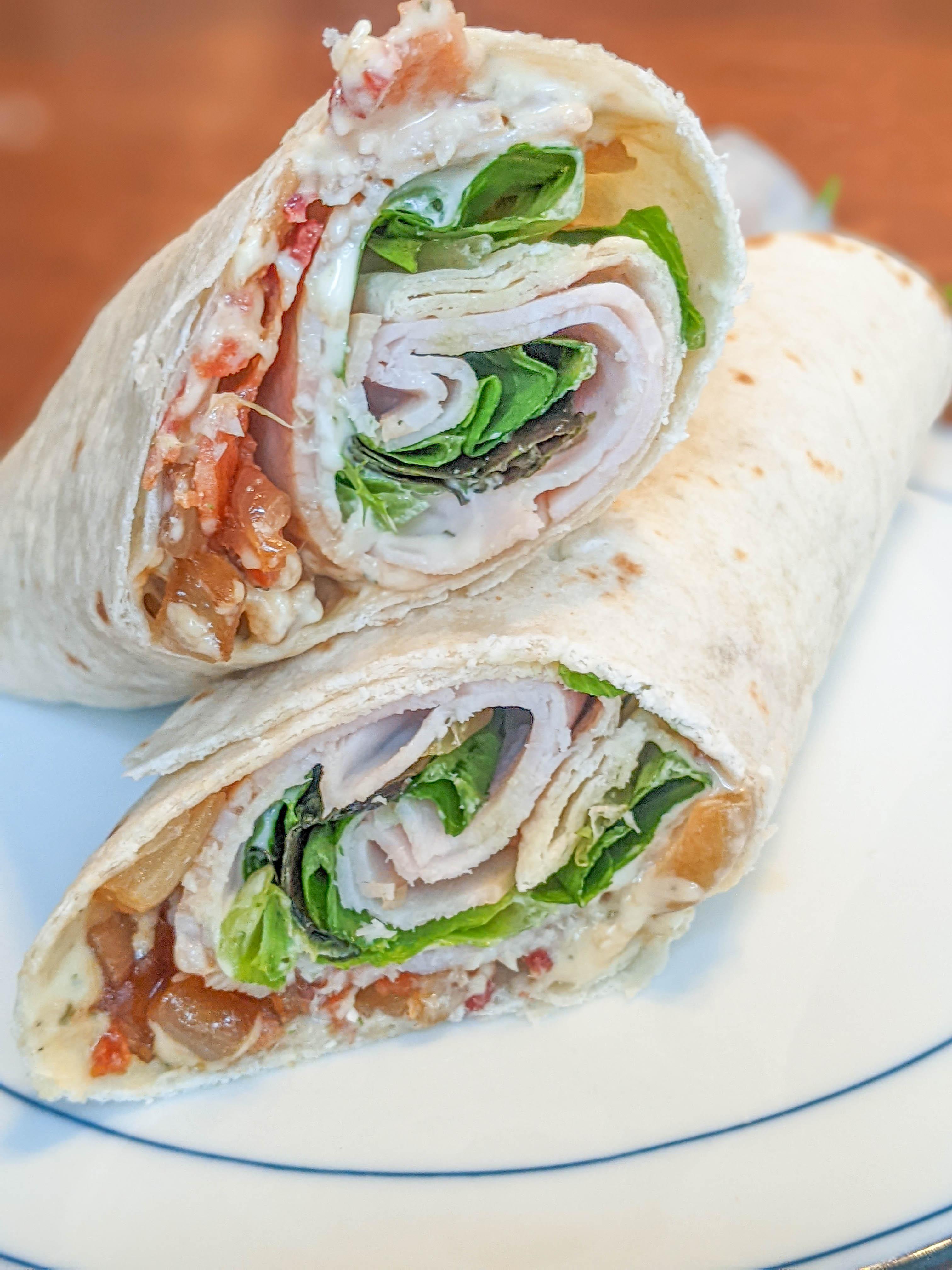 2 (6.5 ounces) packages garlic and herb flavored cheese, softened
8 (10 inch) flour tortillas
Caramelized Onions
2 large sweet onions, diced
1 tablespoon sugar
2 tablespoons olive oil
2 teaspoons balsamic vinegar
1 ½ pounds thinly sliced smoked turkey
16 bacon slices, cooked and crumbled
4 cups loosely packed mixed baby salad greens
Prepare Caramelized Onions and refrigerate:
Cook diced onion and sugar in hot oil in a large skillet over medium-high heat, stirring often, 20 minutes or until onion is caramel colored. Stir in balsamic vinegar. Cool.
For sandwich, spread softened cheese evenly over tortillas.
Top cheese evenly with sliced turkey, Caramelized Onions, then bacon and baby salad greens.
Roll up and wrap. Chill. Cut in half to serve. Serves 8.
Gail McGlothin is a resident of Sharpsburg and an excellent cook. She is a non-profit consultant and writer specializing in grants for small to medium non-profits. April McGlothin-Eller is her daughter, food stylist, and photographer. Email Gail at gailcmcg@gmail.com if you have any questions or suggestions.