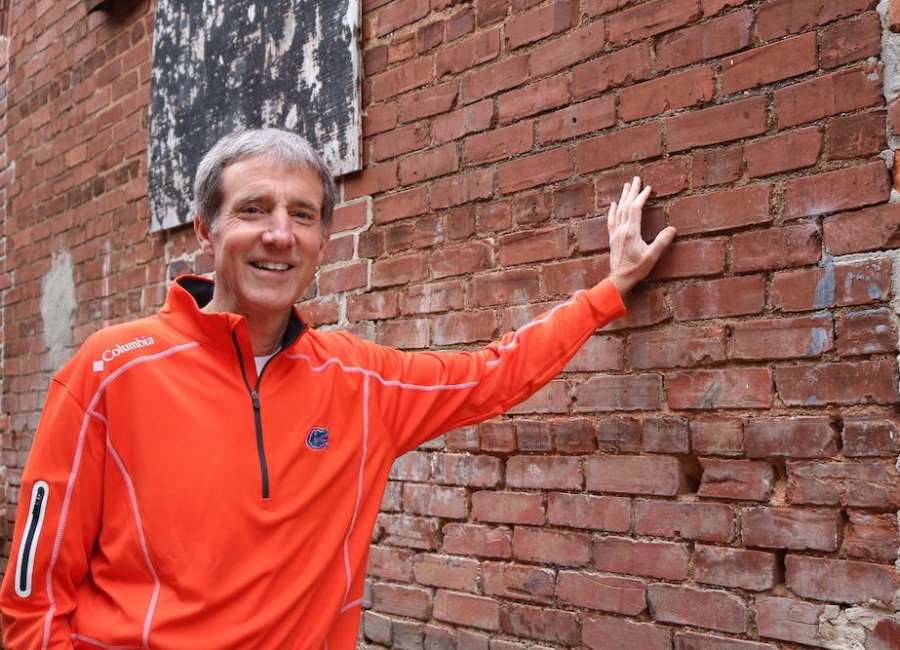 "FDR came to Warm Springs as an aristocrat; he left here as a common man.
We didn't cure his polio; we changed his heart.
And that changed the world."
–Robin Glass, Site Manager
Roosevelt's Little White House Historic Site
Warm Springs, Georgia
***
In 1921, 39-year-old Franklin Delano Roosevelt was stricken with poliomyelitis. From that day on, he would never walk again without the benefit of aid. By the late 1940s, an estimated 35,000 Americans annually were affected by the terrible and sometimes fatal disease known as polio.
Roosevelt first came to Warm Springs, Georgia, in 1924 after hearing that its warm waters were reputed to have curative powers. Hoping to find a cure for the polio that affected both of his legs, he began swimming immediately after arriving and immediately felt an improvement – and for the first time in three years, he was able to move his right leg.
Inspired by the restorative powers of the 88-degree spring water, Roosevelt formed the Georgia Warm Springs Foundation in 1927, a therapy center for the treatment of victims of infantile paralysis – the first of its kind anywhere in the world.
In 1932, 11 years after contracting polio, Roosevelt – forever to be known as FDR – was elected as the 32nd president of the United States. His administration, as any historian will tell you, was one of the most prolific of any president in our history.
Franklin Delano Roosevelt and Friends
Within 100 days after taking office, he signed the New Deal into law that helped end the Great Depression. The New Deal created 42 new agencies designed to create jobs, allow unionization and provide unemployment insurance. Many of the programs still exist today, including Social Security, the Securities and Exchange Commission, the Tennessee Valley Authority and the Federal Housing Administration.
In 1938 FDR initiated work on the National Foundation for Infantile Paralysis to foster research and treatment of polio. That led to the formation of the March of Dimes, which ultimately provided the funding that enabled Dr. Jonas Salk to find a cure for the disease.
On April 12, 1945, several months after being elected to a fourth term in the Oval Office – and less than five months before the end of World War II – FDR took his last breath in Warm Springs. Sadly, he did not live to see Salk develop and test the first successful polio vaccine in 1955 – a vaccine that would prevent future generations from catching this deadly and highly contagious disease. (Incidentally, there have been no reported cases of polio originating in the United States since 1979.)
FDR will be remembered – not for his affliction, but for the many accomplishments he was able to achieve through his undeniable self-confidence and uncanny ability to overcome adversity.
***
'Mama's crutches are an inherent memory of my entire life.
The distinctive clicking sound that they made when she walked brings a smile to my face
if I hear something that sounds similar. She always told me that when she died,
she wanted us to give her crutches and brace back to the Warm Springs Foundation
because she knew I would want them for sentimental reasons. She was right.
But now, because I work at Roosevelt's Historic Pools museum, I still get to see them,
touch them, and demonstrate what a strong, amazing woman she was and how
she never complained that she had to walk on those crutches for 70 years.
That mentality is the 'Spirit of Warm Springs' – and the spirit of my dear Mama.'
–Carol Ann Estes Blynn, Tour Guide
Roosevelt's Little White House Historic Site
Warm Springs, Georgia
Right around the time of FDR's death, an 8-year-old girl in south Georgia was stricken with the same disease that had crippled the president. From that day forward, Bainbridge's Billie Jo Ann Donalson would never walk again without the assistance of her crutches – her trusty companions for the rest of her life.
Billie Jo thought she might have contracted polio by swimming in the Flint River, or perhaps from hugging her father, the conductor of a passenger train, who may have brought the disease home with him one day. Billie's 12-year-old brother came down with polio next, then her 7-year-old sister after that. Billie and her brother spent a year at Grady Hospital in Atlanta – a long way from Bainbridge before the days of the interstate – because the hospital in Warm Springs was, coincidentally, filled up because of the polio epidemic. Although not stricken with the disease personally, the stress of raising three children with polio still took its toll on their mom and dad, as neither one lived to be 60.
Billie Jo's polio resided in her lower back and right leg. She was told by doctors that because of the former, she would never be able to have children, and because of the latter, she would never be able to walk on her own. What her doctors failed to realize is that polio had not found its way into Billie Jo's heart.
Billie Jo Donalson
She came to the Warm Springs Foundation in 1946, just one year after the passing of FDR. She never had the opportunity to meet the man whose fierce determination and indomitable independence she would mirror throughout her life. Her push boy, the young man assigned to – literally – push Billie Jo in her wheelchair from place to place, was Donald Carroll Estes. Before Billie Jo turned 18, she had taken on his last name. Then, despite doctors telling her it wasn't possible, she gave birth to four children: three boys – sadly, one died shortly after birth – and one daughter.
Billie Jo always wanted a girl. When her wish came true, she named her daughter Carol Ann, giving her a name reflecting a little bit of both parents: "Ann" from her own middle name, and "Carol" from the middle name of her husband – only with a more feminine spelling.
A broad smile crosses Carol Ann's face when she talks about her "mama," whom she lost in 2018. She proudly says her mother began using crutches to get around at the age of 11. Despite never being able to walk without the assistance of crutches or a wheelchair, not once did Carol Ann hear her mother ever say "a discouraging word."
'"Mama was voted the prettiest and friendliest in her senior class at West Bainbridge High School," Carol Ann says. "She went through life with an I-don't-need-your-help attitude, and always wanted to figure out things for herself." Carol Ann recounts that she grew up virtually unaware that her mother was any different from anyone else's mother, other than the pair of crutches she used to get around. "Mama always wanted to figure things out for herself. She was always saying, 'I can do this.'"
Billie Jo said it best in a story written about her in the LaGrange Daily News more than 20 years ago: "My polio hasn't kept me from having a most enjoyable life."
It's only fitting that Carol Ann would feel at home working in the place that had such a powerful impact on her mother's life. Every day Carol Ann is surrounded by the undeniable spirit of the woman who brought her into this world, and every visitor that walks through the door gives her another opportunity to share her mother's amazing story.
Carol Ann's favorite part of meeting visitors is showing them the pair of crutches her mother used for most of her life – those same two pieces of metal that helped Billie Jo become the guiding light and beacon of hope for not only Carol Ann, but for anyone who hears her story.
Like FDR, Billie Jo Donalson will be remembered – not for her affliction, but for the many accomplishments she was able to achieve through her undeniable self-confidence and uncanny ability to overcome adversity.
***
While it's true that FDR and Billie Jo never crossed paths, it's apparent that Warm Springs had a profound impact on both of their lives. Each in their own unique way, they were able to change the world in which they lived.
Robin Glass sums it up nicely: "Warm Springs – it gives us hope."
Franklin Delano Roosevelt and Billie Jo Donalson: two people who were able to see good in the world despite being deprived of the full use of their bodies by a crippling disease.
Today, they share a common legacy – of a world filled with hope.
***
At this time, the swimming pools of the Warm Springs Rehabilitation Center are in dire need of repair. Once filled with 88-degree, buoyant and mineral rich spring water – the same spring water that allowed FDR to move his right leg for the first time in years – the historic pools will need a $6 million renovation to preserve and restore. For years, the pools have been one of the main reasons people come to the Little White House: they want to see where FDR swam to recover.
If you would like to contribute, visit www.preservethepools.org .
Saving the pools will ensure that future generations will have the opportunity to swim in the water of Warm Springs.
The water that changed the world.
****
Scott Ludwig lives, runs, and writes in Senoia. His latest book, SOUTHERN COMFORT is his second collection of 101 columns. His first, SOUTHERN CHARM, and all of his other books can be found on his author page on Amazon. He can be reached at magicludwig1@gmail.com