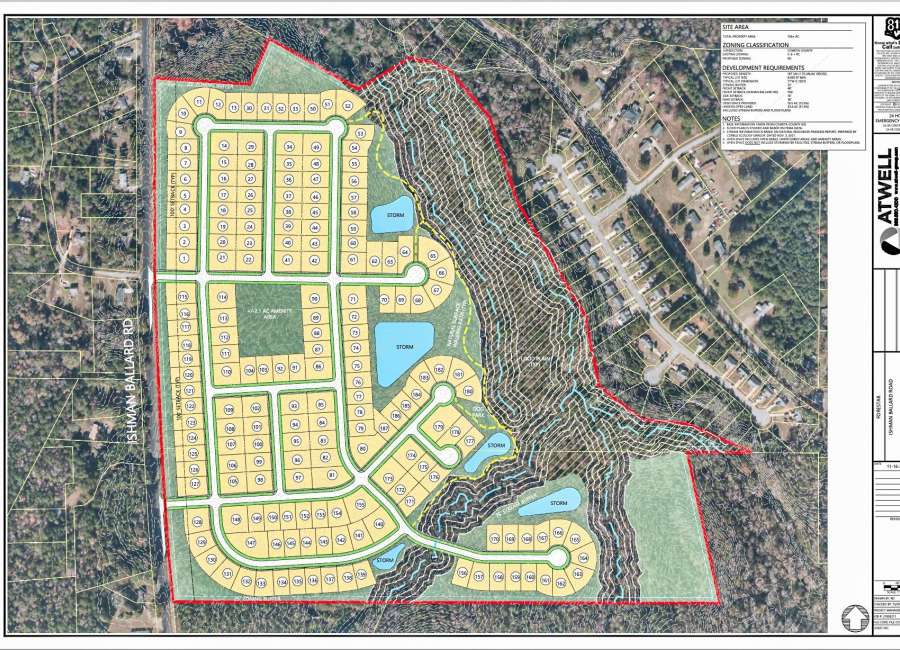 A development with 150 homes will be coming to 106 acres on Ishman Ballard Road following a rezoning vote by the Coweta County Board of Commissioners Thursday night.
The commissioners voted 3 to 2 to rezone the property to the county's RD-Two Family district, which allows a higher density. While RD allows for duplexes, this development will be single-family homes.
The applicants, Forestar, had proposed 187 lots for the property, but in approving the rezoning, Commissioner Al Smith added a condition to limit the development to 150 lots.
The land consists of two tracts. A 25-acre tract along Ishman Ballard is zoned C-6, commercial minor shopping district; an 81-acre tract is zoned RC-Rural Conservation.
Out of the 106 acres, approximately 33 acres is unbuildable wetlands, stream buffer and flood plain, Zoning Coordinator Lisa Eschman told the commissioners.
With the proposed 187 lots, the development would have an overall gross density of 1.76 units per acre.
The RD district allows lots as small as 8,500 square feet, roughly one-fifth of an acre. It also allows a minimum home size of 1,200 square feet, instead of the 1,725 square feet required under RC. RC requires a lot size of 1.6 acres, or a density of 0.625 units per acre.
The development will have two entrances, with one across from Deering Circle. It backs up to the Mineral Springs subdivision and is separated by one tract from the Hearthstone subdivision.
The higher density is possible because the property has grandfathered access to Newnan Utilities sewer, according to attorney Melissa Griffis.
Griffis said that in her 20 years of dealing with zoning cases, she had never dealt with the RD zoning district, because other properties didn't have that access to sewer.
Jessica Loya of Forestar said that the company is one the largest developers of residential lots in the country. Forestar owns portions of the high-density Poplar Preserve development on Poplar Road.
Loya said that Forestar believes the property is better suited to residential use than commercial use. She added that "it is a priority of Forestar to be a good neighbor."
The development would have an amenity area with a pool and playground, and there would be trails through the open space.
Two representatives from the Pentecostal Church of God across the street spoke in favor of the rezoning. Several nearby residents spoke in opposition.
A 190-home subdivision on Highway 34 and Wallace Gray Road was approved in 2019. It's zoned R-2, which is a similar district to RD.
That subdivision will have an entrance on Wallace Gray, and with those two developments, there is going to be an impact, said Jeff Binion of Smokey Road. It will impact fire service, the sheriff's office and animal control, as well as the school system, Binion said. There will also be traffic congestion. He's concerned that the property might later be developed with duplexes.
The rezoning was conditioned upon it being only single-family homes.
Audie Burks lives on Highway 34 West. "We're about full out there," he said. "Traffic – it backs up a mile." Burks said large trucks use Ishman Ballard Road to avoid downtown Newnan.
Griffis said that the county gave Forestar a traffic study, and there were no significant concerns. There will be right and left turn lanes for both entrances. The traffic from a residential development would be "significantly less than the 20-something-plus acres of commercial it's currently zoned for now," she said. As for the impact on county services, the development will bring in property taxes that can be used to help provide those services, Griffis said.
Some speakers had expressed concerns about rural preservation.
"We're trying to take over 20 acres of what is now zoned commercial and make it residential," Griffis said. "Single-family homes for homeownership, with extra greenspace, with walking trails, dog parks and other amenities," she said. That's something that hasn't been offered on that side of the county, she said.
According to the Community Development Department review, the project is not consistent with the Comprehensive Plan, which calls for lower-density residential in the area. It's also not consistent with the Comprehensive Plan growth strategy, which places the area in the "growth maintenance" tier, with homes on 1.6 acre lots or an equivalent density.
Because of that inconsistency, Smith said he wanted to reduce the development to 150 lots.
Commissioner Tim Lassetter said he appreciated that Smith was trying to reduce the number of lots. But based on the comments he heard, "I wouldn't think 37 lots less would make that much of a difference to the people that have spoken."