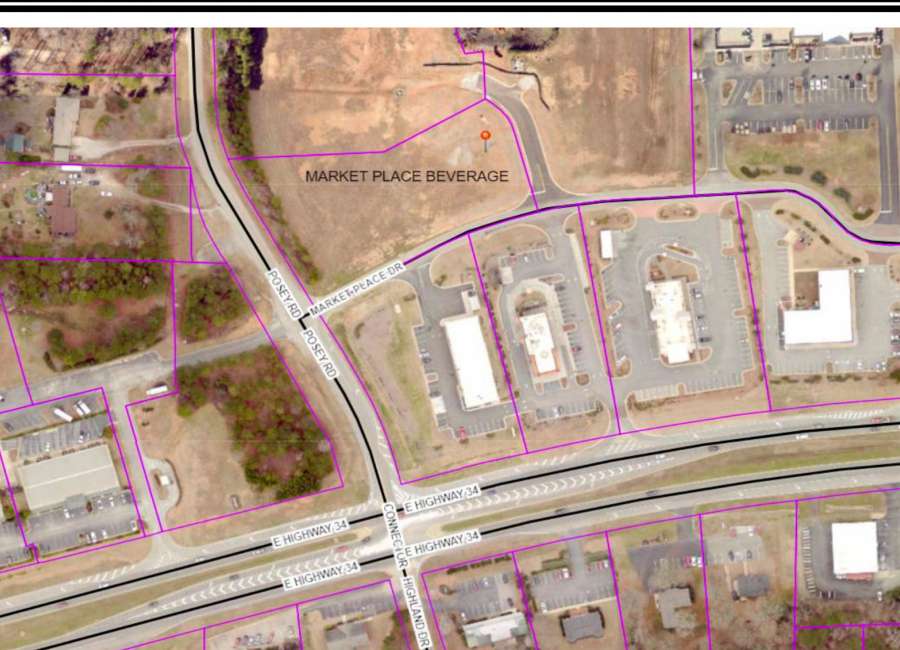 Coweta County has now issued its second license for a package liquor store.
Thursday night, the Coweta County Board of Commissioners voted unanimously to grant a package liquor license for Marketplace Beverage, to be built on Marketplace Way at Posey Road, behind Bojangles and Mavis Tire, near Tractor Supply.
Several residents of Posey Road and Posey Ridge Court urged the commissioners to deny the license because the store would be so close to their homes.
While the store meets the required separation of 300 feet from a home, there are homes directly across Posey Road from the proposed store.
The site was already zoned under the county's old C-Commercial district.
The owner and licensee will be Abid Khutliwala. Khutliwala currently operates the Popeyes at Fischer Crossings.
Attorney George Rosenzweig, speaking for Khutliwala, said he has 20 years experience as a business owner. But his dream has always been to own a liquor store.
Rosenzweig said he has been looking for an opportunity to open his own liquor store, and now that Cowetans have voted to allow liquor stores, he has that opportunity.
The current zoning would allow many high-intensity uses, Rosenzweig said. Neighbors have expressed concerns about traffic, but the property could be developed with several high-traffic uses already.
The store will be 7,000 square feet and will meet the county's Quality Development Corridor regulations for building materials, design and landscaping.
"I think we are very fortunate to have an applicant that is going to invest this type of money and this quality of business," Rosenzweig said. "I think this is just the type of license that we all envisioned when we voted overwhelmingly in support for this referendum."
Khutliwala said his father owned a liquor store in India, and he is very excited to be able to own his own store. "I feel like this is a very right opportunity for me and my family," he said. He said he will take similar business measures to what he has taken at Popeyes and will be a good employer and provide good training to his employees. And he will make sure there won't be any problems from his business.
Joel Anderson of Posey Ridge Court said he's not opposed to growth or to liquor stores, but he does have a problem with liquor stores that are close to residential areas.
"There are many locations in this county that are more suitable and that are not in close proximity to a residential area," he said. The area already has the county's only adult entertainment store, he said.
Anderson said the other two proposed liquor store sites, one off Highway 154 behind the Valero convenience store, and one on Highway 154 near U.S. 29, are both better suited to a liquor store. He said he looked at the stores in Peachtree City and none are in close proximity to residential areas.
The renderings of the store look great, he said. But what will it look like in the future? It could have bars on the windows and people loitering.
"You can put lipstick on a pig, but it's still a pig. It's a liquor store, gentlemen," Anderson said. "I'd ask each of you to think about having a liquor store close to your home and what your vote would be if that were the case."
Steve Minix of Posey Road agreed there has got to be a better location than one within walking distance of homes. Sherri Pate is concerned about traffic and property values.
Areas around liquor stores, smoke shops, thrift stores and adult businesses have a stigma for being in bad neighborhoods. "And for good reason," said Laura Swieringa of Posey Road.
Following the public hearing, Commissioner John Reidelbach stated "I've listened to the constituents in my district, and I'm going to have to go with a motion to approve."
Under the county's ordinance, applicants have 12 months to get a certificate of occupancy. Applicants can receive a six-month extension, but would have to go before the commissioners for a further extension.
The ordinance limits the number of package store licenses to three, and applications are being heard in the order in which they were submitted.
The third application, for Total Liquor, Wine and Beer off Acres Circle, is set for Feb. 8.
That store would be fairly close to Marketplace Beverage. The county's ordinance requires liquor stores to be at least 10,000 feet from each other, and the commissioners will have to consider that when voting on the next license.