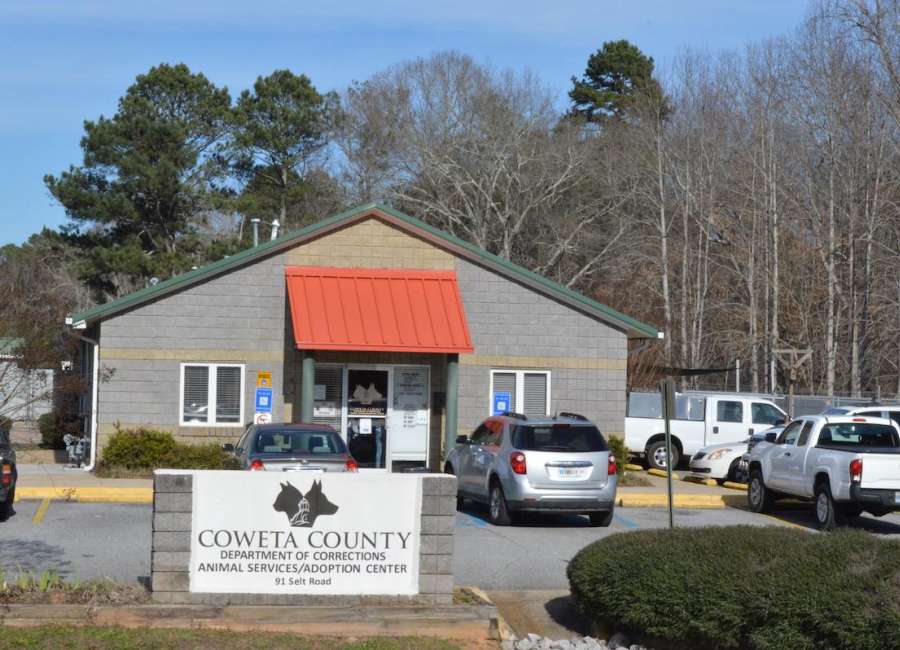 As Coweta County continues to grow, putting ever more pressure on animal services and local humane societies and rescue organizations, the idea of an "adoption center" is once again being discussed.
Adoption centers are different from animal shelters or dog pounds and are designed to be more welcoming to potential adopters.
Several local animal welfare volunteers recently appeared before the Coweta County Board of Commissioners to ask for support of a future adoption center.
It's not a new idea; having an adoption center has been discussed a few times in the past.
An adoption center was talked about during the 2021 Coweta County Commissioners work session.
During the work session, County Administrator Michael Fouts said that the county is outgrowing its current facilities, and that the county needed to have a conversation about creating an adoption center – possibly in partnership with the city of Newnan.
There could also be a public-private partnership.
Currently, the county is working on two major projects. One is turning the former AMC movie theater into the county administration annex, which would house election equipment, elections offices and a satellite tag office. The second is the long-awaited and long-needed expansion of the Coweta County Jail.
Once those projects are underway, "staff will seek the board's direction on the other facility projects, including an adoption center," said Coweta Communications Manager Catherine Wickey.
A more welcoming environment
Angie Whitlock, president of the Newnan-Coweta Humane Society, was the speaker at the recent meeting, supported by members of several different animal welfare groups.
"Coweta County Animal Services is one of the best in the state, in my opinion," Whitlock said. The current facility was built in 1999 and expanded in 2012. "However, it is not adequate for a county that is growing like this county is."
A few years ago, there was discussion of building an adoption center in the lower parking lot at the shelter, Whitlock said.
She asked the commissioners how many had walked through the shelter, and most had.
Because of the high dog population, walking through the dog area can be a very loud experience, indeed, with often overwhelming barking when a new person comes in. Other dogs are kept in the outside portion of the dog runs.
"It is very stressful; people don't want to go out there," Whitlock said. "It's clean, but it's depressing. An adoption center would not be depressing. It wouldn't be so loud, and therefore adoption would happen faster; they would happen more frequently," she said.
Local rescue organizations are overwhelmed, she said. She said the groups would like to start the discussion this year of moving forward with the adoption center.
"We believe we have the backing of the warden, and Coweta Animal Services. And we would ask for your backing also, and your consideration," Whitlock said.
Retired Warden Bill McKenzie was in the audience and Commission Tim Lassetter recognized him. "He and his staff have done such a great job with animal services over the years," Lassetter said. And the Holland Ware Foundation and others have helped to make the facility even better.
Commissioner Paul Poole recalled that, in his early days as a commissioner 17 or 18 years ago, the local humane organizations couldn't work together.
He remembered having to meet with four separate groups. "We've come a long way – a long way – from that," Poole said. Animal Services does "a great job with a tough situation and I appreciate all of y'all working together, because that makes the animals be a lot better off."
With an adoption center, adoptable animals who have already been spayed or neutered and checked out by a vet would be transferred to the center.
Some adoption centers are in shopping centers or other commercial areas, where people are more likely to be.
"This would be almost like a store with a manager and employees who are friendly customer service people," Whitlock said after the meeting. It's almost like an old-fashioned pet store.
Local organizations already hold regular adoption events at PetSmart and other locations. Often, "the public is more apt to visit PetSmart to adopt than they are to go to the pound," she said.
Whitlock said that NCHS and the other organizations would "work very hard to help with raising funds" and other things that may be needed to get the adoption center up and going. "Our mission is to support the animals that go through animal services – and to make sure that we don't go back to euthanasia lists like we used to."
Years ago, animals that weren't adopted were euthanized regularly. But these days, euthanasia of adaptable pets is extremely rare – though that means some dogs can spend years in the shelter.
There are numerous grants available for these types of projects, Whitlock said. "We think that the county should be looking for funding from various places, and not just rely on taxes or the public," she said. "We are hoping that they will see the benefit of this."
Taking the pressure off
The shelter hovers around 85 percent of its capacity most of the time, said Coweta Associate Administrator Eddie Whitlock. A few years ago, the shelter held even more animals, keeping some dogs in wire crates. But when the Georgia Department of Agriculture changed its rules in 2019, dogs could no longer be housed in crates.
The shelter is an intake facility more than anything else. "An adoption center could take some of the pressure and the volume off the intake facility," he said.
The adoption center would be a lower-stress environment for not only the people who visit it, but the animals themselves. The shelter often gets dogs who have shy personalities, and the loud and overwhelming dog areas can be tough for them, Eddie Whitlock said. "We work with the humane societies and rescues to get them out of that environment as soon as possible," he said.
Some dogs can handle the environment quite well, but others can't, and it often seems to be breed specific, he said.
Gail Lustig of Hearts 'N Homes Rescue said that Coweta Animal Services does more than any shelter in Georgia. "No shelter in Georgia has dogs for two years," she said. And the shelter recently began administering the "slow kill" heartworm treatment to heartworm positive dogs. "Nobody does that," Lustig said.
An adoption center would be a great additional step.
An adoption center could have someone whose job is to reach out to rescue organizations to find homes for dogs and reach out to the public.
At adoption centers, there can be staff or volunteers who will talk to people to find out what type of pet they are looking for and what their lives are like and help them find just the right pet that is suited to them and that they can take care of. "They're making sure it's a good match," Lustig said.
"You make it friendlier for people," she said. "It's a more welcoming facility."