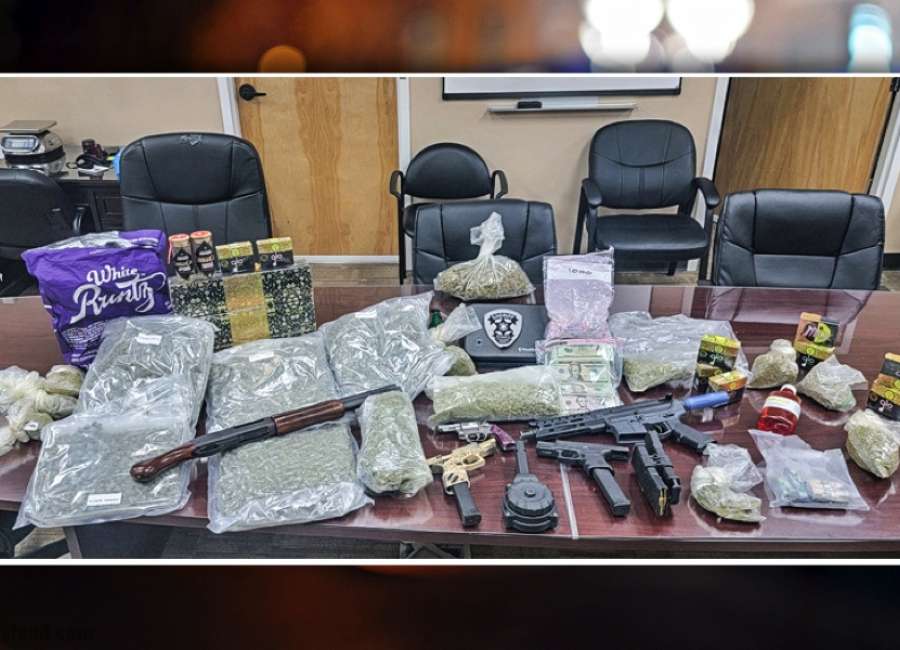 A man wanted in connection to the recent murder of a man at a local truck stop is in custody in Alabama on drug charges.

Investigators with the Russell County Sheriff's Office, Muscogee County Sheriff's Office and Coweta County Sheriff's Office, along with the U.S. Marshal's Fugitive Task Force, arrested Jaleen Tyrese Mathis on Thursday at a residence in Russell County, Alabama.
Inside the home, investigators seized 12.2 pounds of marijuana, 906 tablets of MDMA, 512 THC vape cartridges, $23,864 in cash, and several stolen firearms, according to Inv. Christian Spinks with the Coweta County Sheriff's Office.
Mathis was charged with marijuana trafficking, MDMA trafficking, possession of THC, and theft by receiving stolen property. He remains in custody in the Russell County Jail awaiting extradition to Coweta County, according to Spinks.
The marijuana and THC vape cartridges found at the residence are believed to have been taken from a van that was involved in the murder of Patrick Ballew, who was shot during an argument at the Pilot Truck Stop on Nov. 5, 2021.
Witnesses reported seeing two men arguing in the parking lot before one of the men was shot several times by the other, and the victim made his way into the store before collapsing on the floor, authorities said.
The gunshot victim, identified as Ballew, later succumbed to his injuries at Piedmont Newnan Hospital.
Witnesses reported seeing a white van with "Assured Conveyance" written on the side fleeing the parking lot and heading north on Highway 29 toward the interstate.
The van was abandoned and located at a residence on Yeager Road. Inside the van, authorities reportedly found approximately 300 pounds of suspected marijuana and over 20,000 suspected THC cartridges.
On Dec. 2, authorities arrested Alcido Jasper Barmore, 26, on charges of murder, armed robbery, aggravated assault and conspiracy to commit a murder.
Investigators made a second arrest on Dec. 17, charging Ryan Morris Fried, 39, with conspiracy to commit a felony and marijuana trafficking.
Dremar De'Shawn Bell, 20, was arrested on Jan. 3, 2022, and charged with felony murder, armed robbery, conspiracy to commit a felony, and aggravated assault.
One week later, authorities arrested Brendashia Aleshia Richardson, 22, on two counts of conspiracy to commit tampering with evidence, conspiracy to commit arson and conspiracy to commit trafficking marijuana.
The case remains ongoing and authorities are asking anyone with information to contact Investigator Christian Spinks at 770-253-1502 or cspinks@coweta.ga.us .
Anonymous tips can also be made by using the Coweta County Sheriff's Office app.