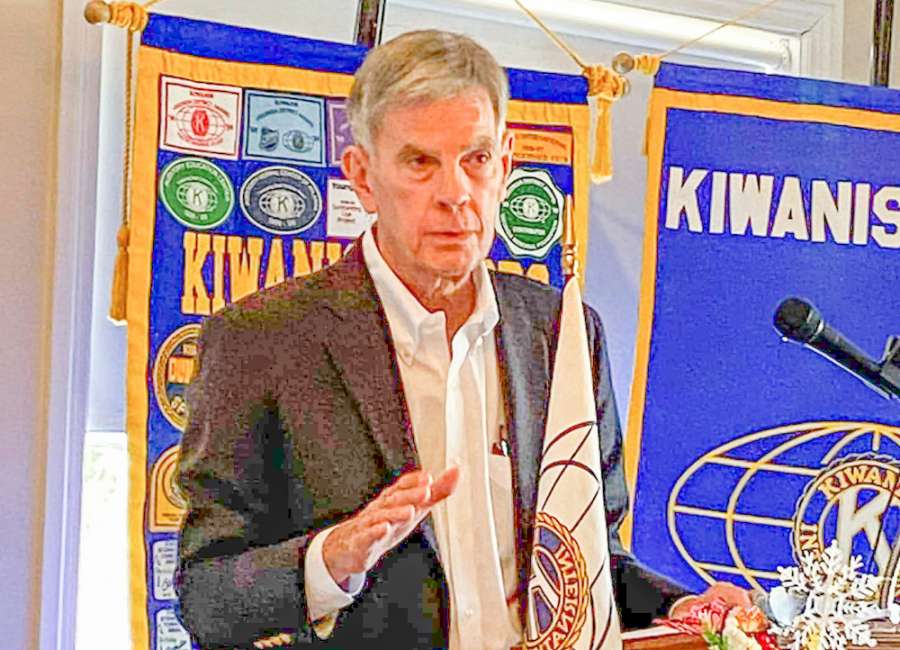 As a lifelong native of Coweta County, Joseph MacNabb used his roots to create his debut novel, "The Closet."

MacNabb provided a glimpse into the world of writing his debut psychological thriller during a recent appearance at the Kiwanis Club of Coweta County.
"The Closet" is set in the fictitious town of Catalpa, Georgia, but the parallels to Newnan are clear, including references to the Alamo, The Newnan Times-Herald, First United Methodist Church, Scott's Bookstore and the fairgrounds.
"It's about the same size as Newnan, 40 miles southwest of Atlanta, but it's not Newnan and doesn't represent anyone in our town," MacNabb said. "But when you're a writer, you can do anything you want; like move Sprayberry's to the court square."
But the piece of Newnan that carries the most weight with MacNabb is his childhood home at 15 Wesley St. — a home MacNabb says he dreams about on a weekly basis and serves as the primary setting in his debut novel.
While writing a mystery novel is a new chapter in the life of the longtime attorney and judge, MacNabb's love of mysteries goes back to the days of reading the Hardy Boys as a young boy.
"But enjoying novels and writing them are two entirely different things," he said. "When I began writing 13 years ago, I had no idea what I was getting into."
He was inspired after attending a creative writing course at Emory University where he wrote a small story about a tent revival.
"I thought I could write, but couldn't be more wrong," he said. "My debut had 140,000 words, and it needed to be around 90,000."
The road to being published was a long one, MacNabb said. He was caught in a catch-22 of needing an agent to be published, "but you can't get an agent without already having some published work."
MacNabb was rejected by "hundreds" of agents.
"I wasn't thin-skinned, but I was about ready to give up," he said.
He tinkered with the manuscript. He sent out his work to agents in England, Israel and Canada. Smaller publishers gave him encouragement but said they couldn't take him on.
Things turned around in summer 2020 when he found an agent, and "The Closet" was published a year later by Solstice Publishing.
In "The Closet," 10-year-old Annie Rowan is lured away from a small-town fair by a cunning and bizarre loner with a dark obsession.
Annie's father Will, a Methodist minister, still grieving the unsolved murder of her mother, is devastated. Who took her? Why? Was it random, or was she an intended target?
Baffled from the start, the police seem to be getting nowhere.
In a race against time, Will digs into the past on his own to discover the kidnapper's true identity while Annie is forced to star in an unthinkable role.
It's a deadly play that challenges the young pastor's faith, resilience and wits to the limit as he fights to find and save his only child. But no matter what Will does, the terrible truth still waits for him inside "The Closet."
MacNabb has recently finished up his second work, which also takes place in Catalpa, and will be sending out his manuscript shortly.
"The Closet" is currently available as an e-book and in print form on Amazon.