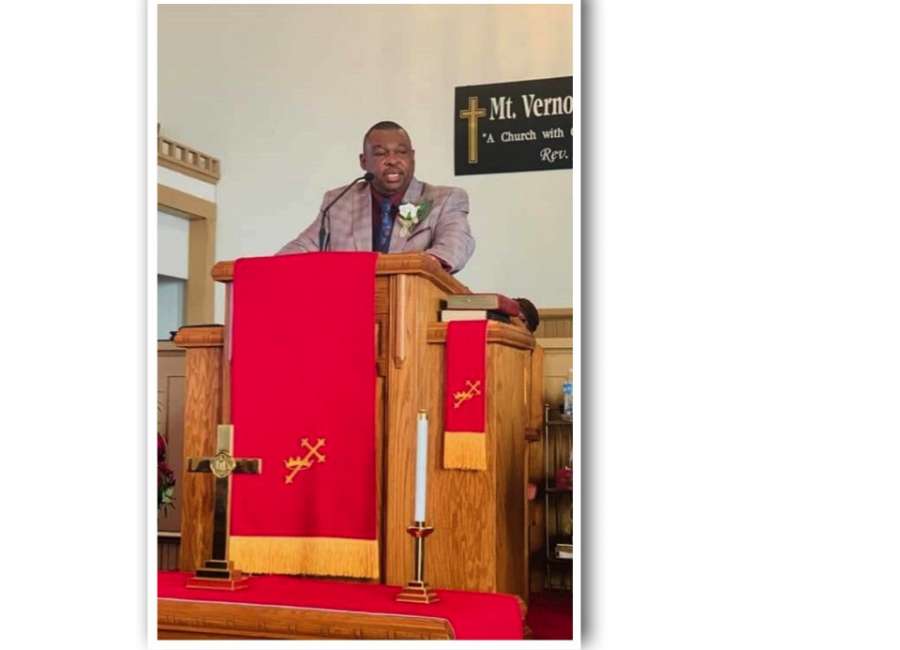 Pastor Jerome Spence suffered from a stroke in October.
Local pastor Jerome Spence and his wife, Tonya said they're faith has been lifted even more since Spence has been home since right before Christmas.
Jerome pastors Mount Vernon Baptist Church on Pinson Street in Newnan. He has been a pastor for over 30 years and pastoring at Mount Vernon for the past 10 years. He is also an educator at Poplar Road Elementary School. Spence suffered from a stroke in October and also had to undergo two brain surgeries after a tumor was found on his brain. Although life has not been the same, his wife said she is very pleased and amazed with her husband's improvement.
"He's doing great," Tonya said. "He started physical therapy this week and he will have to go twice per week right now. We live in a two-level home, and he's able to go up and down those stairs as well as me — better probably. We don't let him go by himself just yet. He's doing really well."
Jerome suffered from memory loss as well, but Tonya said his memories are coming back everyday.
"He still needs to heal some," Tonya said. "He does have some trouble articulating things sometimes. He knows what he's trying to say, it's just difficult saying it sometimes.
When he sits there and relaxes, it comes out how he needs it to."
Tonya said her husband amazes her and is a strong fighter. She said he can bathe himself and do other tasks that she did not expect him to be able to do just yet.
Tonya said she and her husband have not been able to attend service just yet. The Rev. Stanley Seldon has been filling in and preaching since Jerome has been ill. She hopes to return to church in about a month. She said she wants to give COVID-19 time to calm down and she wants Jerome to heal some more.
"That's the main reason," she said. "He's doing really well and could really go back right now, but I don't want him to get sick with anything else."
Tonya said the hardest part of this journey was when her husband was not home.
"It was hard for everybody," she said. "We're not used to him not being here. He is very instrumental in our family. He plans our vacations, he's our driver, everything. He handled all the bills and certain things around the house. When he went down, I went down. I found strength in God because I had to. He's the man that kept everything together."
Tonya and Jerome have four adult sons together and six grandchildren, whom she says are there almost every weekend. The couple loves children and have been foster parents for the past three years.
"We had four foster children, but one of them left right before Christmas," she said. "We've had our other three foster children for three years. We love kids, and he is the center of that."
She said she could see her husband possibly returning to work next school year. He's been teaching for over 30 years, and wasn't thinking about retiring within the next three years.
Alkina Avery works with Jerome at Poplar Road. She said the pastor is very humble.
"He's always willing to help where needed and lend a helping hand," she said. "He has a very pleasant personality and spirit, which is really needed in our schools."
Pastor Spence is most thankful for the help from the community, family and friends.
"We want to send our appreciation to the communities from here, our hometown and everywhere for all of the support and love," Jerome said. "We've had support from all over the world. There were candlelight vigils being held from California all the way back to Georgia. The way churches and pastors have reached out and shown love is amazing. Even my high school and college classmates have reached out. But most of all, we are thankful for our Lord and Savior. We are truly blessed."
Tonya said the couple still needs the prayers to keep coming.
A GoFundMe page was created to help the family with medical and other expenses. To donate, visit https://www.gofundme.com/f/to-... .