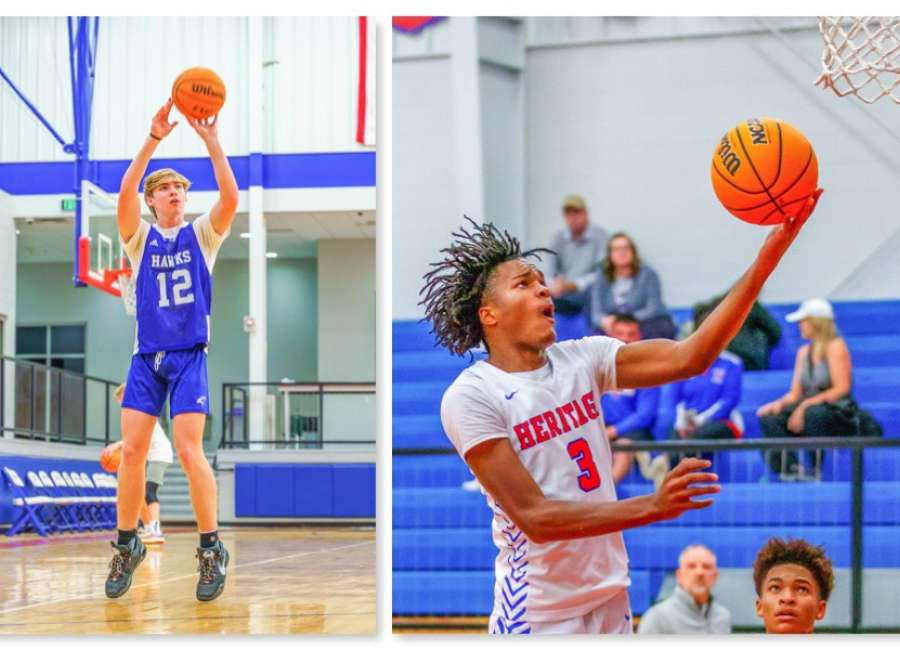 BY DERRICK TEAGLE
The 10-3 Heritage Hawks made a strong showing in their last two road games.
On Dec. 28, the Hawks faced a very tough Woodville-Tompkins team out of Savannah at The Tournament of Champions.
The (6-6) Wolverines led by shooting guard Alfonzo Ross were a handful early for the Hawks. The Hawks Class of 2024 Max Skidmore outside shooting was on display in the third quarter.
The Hawks erased a 10-point halftime deficit behind great team defensive efforts. The final quarter featured "The Closer" Senior Shaun Nichols displaying the total package at Wheeler High School.
The Hawks defeated the Warriors 62-57 as Shaun Nichols, one of the most underrated combo guards in Georgia, finished with 23 points. Max Skidmore (22 points, four 3-pointers) and dual-sport star Malachi Townsend (eight points, 10 rebounds), also contributed to the victory.
Their next game pitted them against the #2 ranked Sandy Creek Patriots at the Big Hoops Tournament in Tyrone.
The state-ranked teams went back and forth during the first half. The Hawks, led by Nichols 15 first-half points, were down 28-23 at the break. Skidmore's perimeter shooting kept the Hawks within striking distance (47-38) after the third quarter.
The very determined Hawks started the fourth quarter on a run to cut the lead to 53-49. But the Patriots, led by Aidan Bevrotte and Vic Newsom, outlasted the Hawks in the end, posting a 67-51 victory.
The Hawks were led by Shaun Nichols (21 points) and Max Skidmore (18 points). The (10-3) Hawks' next game is a non-region home game versus The Holy Innocents Episcopal Golden Bears.