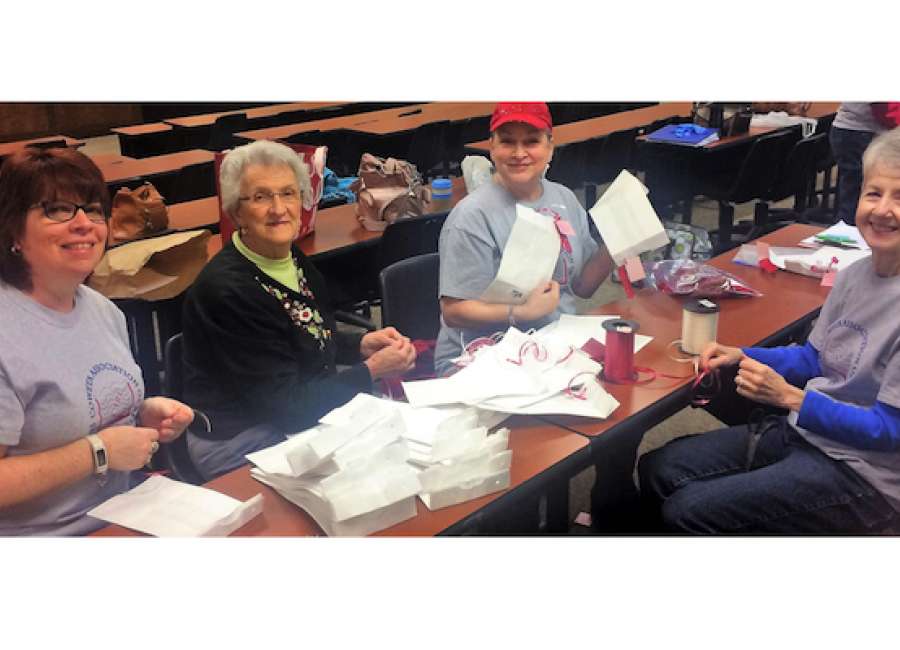 Retired educators group to meet Tuesday
The Coweta Association of Retired Educators will meet Tuesday beginning at 11:30 a.m. in the fellowship hall of Royal Baptist Church, 70 Mayo Royal Industrial Drive in Newnan.
CARE will open its new year with a special program designed to encourage mental and physical health. Retired teacher Pippi Rogers will lead the group in a session of "Laughing Yoga." Participants are encouraged to wear loose clothing and comfortable shoes.
Other business will include finalizing plans and preparing for a barbecue fundraiser to be held Feb. 8 in the Madras Park Community Center on Highway 29 North. The event will raise money for the scholarships CARE awards to graduating seniors who plan to pursue a career in education.
Members and guests should plan to arrive at 11:30 a.m. for a time of food and fellowship. The program will begin promptly at noon.
Blankenship graduates from Georgia Southwestern
Susan Blankenship of Newnan graduated from Georgia Southwestern State University during the fall 2021 commencement ceremonies.
Blankenship earned a Bachelor of Business Administration in accounting, graduating cum laude.
Georgia Southwestern announces academic honors
Several area residents have been named to academic honors lists at Georgia Southwestern State University for the fall 2021 semester. They include:
PRESIDENT'S LIST: Peyton Burge of Sharpsburg and Ansley Duffey of Newnan.
To be eligible, students must maintain a GPA of 4.0 for the semester while completing at least 12 hours of academic credit.
DEAN'S LIST: Ella Devers of Newnan and Emma Montgomery of Newnan.
To be eligible, students must maintain a minimum 3.5 GPA while completing at least 12 hours of academic credit.
Poling named to Troy U. Chancellor's List
Savannah Poling of Sharpsburg has been named to the Chancellor's List at Troy University for the fall 2021 semester.
To be eligible, students must maintain a 4.0 GPA for the semester while completing at least 12 hours of academic credit.
UNG commissions new second lieutenants
In ceremonies held Dec. 17 by the University of North Georgia, 25 graduating cadets were awarded commissions as second lieutenants.
The new officers included:
Zachary Byrom of Newnan, who commissioned in the Army's Infantry Branch.
Caleb Collis of Newnan, who commissioned in the Georgia Army National Guard's Ordnance Branch.
DECAL announces round two of POWER payments
For the second time in less than a year, the Georgia Department of Early Care and Learning is awarding $1,000 supplemental payments to all eligible early learning professionals and staff in Georgia.
Applications for round two of the POWER payments will be open from Jan. 18-Feb. 18. Payments will be funded through the American Rescue Plan Act of 2021 and are available to Georgia's early care and education professionals working in DECAL-licensed child care programs, Department of Defense programs, Early Head Start and Head Start programs, or Georgia's Pre-K Program lead teachers and assistant teachers in public schools.
For more information, visit www.decal.ga.gov or e-mail questions or comments to supplementalpayments@decal.ga.gov .
GaDOE to expand cybersecurity resources
The Georgia Department of Education is working to expand cybersecurity resources to every school district in the state.
At its December meeting, the State Board of Education approved State School Superintendent Richard Woods' recommendation to provide licensing for a nationally recognized cybersecurity platform to each school district, through a contract with the Georgia Technology Authority (GTA).
GaDOE is dedicating $970,000 in federal funds to the licenses. School districts will not be responsible for any of the cost.
The cybersecurity platform will give school districts the ability to view their technology infrastructure assets from an external perspective.
In addition to exposing any vulnerabilities and providing recommendations for remediation, the platform will also generate an industry-standard cybersecurity scorecard of each school district's technology ecosystem. Districts can use this scorecard to focus efforts for improvement.