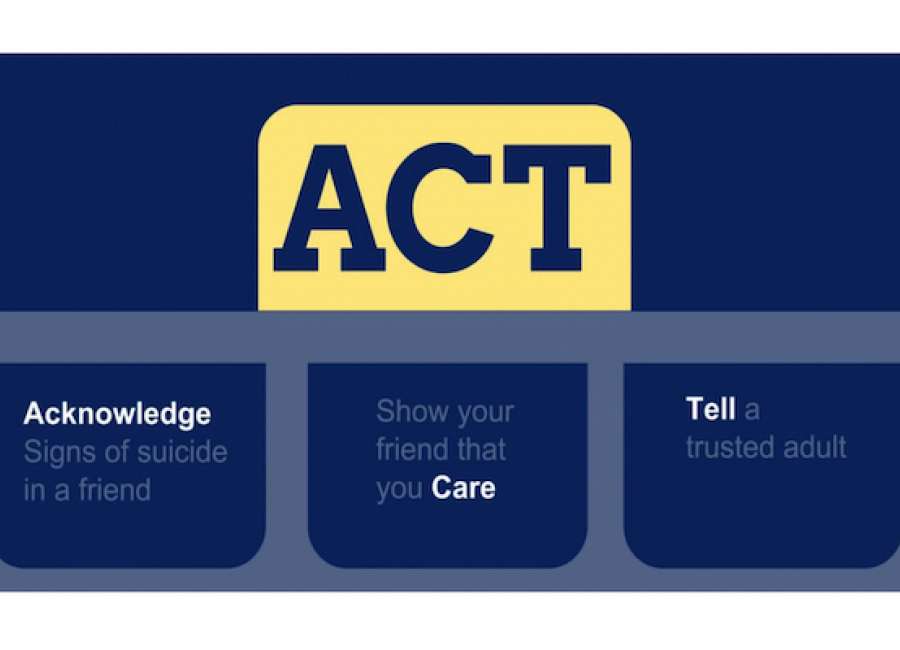 Over the past 20 years, education and safety precautions have drastically reduced the number of fatal car accidents involving young people.

Mental health experts say suicide – the second leading cause of deaths among U.S. youths ages 10-24 – is equally preventable.
Now that the Coweta County Board of Education has approved a suicide prevention curriculum for middle and high schools, it is imperative that the school system implement it as quickly as possible, Ruth Scott says.
"Kids' daily cup is filled to the brim with trauma, COVID-19, classes and all the stress of their day-to-day lives," said Scott, mental health coordinator for Coweta Schools. "Running over doesn't take much. It just takes one little thing – a breakup, an argument with a friend, a bad grade – when they're running on emotions."
Suicide is the 10th leading cause for all Americans. In 2019, more than 47,500 Americans died by suicide, and an estimated 1.38 million attempted suicides were recorded. More teenagers and young adults die every year from suicide than from cancer, heart disease, AIDS, birth defects, stroke, pneumonia, influenza and chronic lung disease combined.
As many as 4,000 middle and high school students in the U.S. attempt suicide each day, and the local community is not immune. During the 2019-20 school year, at least two Coweta County students were lost to suicide, and Scott said counselors frequently deal with students in distress.
"Daily, we have students from all grade levels who report thoughts of self-harm and wanting to die," she said. "There is no doubt that students struggle with feelings of depression and despair."
Georgia law already requires each school district to adopt a policy on suicide prevention, and all certificated public school personnel are required to undergo annual training in suicide awareness, including how to recognize at-risk students and how take appropriate action to prevent suicide.
Four out of five people who attempt or complete suicide reportedly express their intentions beforehand, either verbally or behaviorally.
Scott said students are usually the first to notice when their friends are struggling, and teaching them to specifically identify signs of depression and suicide has the potential to save lives.
"As much as our staff is trained to identify what those signs are, we are outnumbered by the kids in the building," Scott said. "We have to mobilize our kids to look out for their friends. They're the ones who see the Snapchats, who know what they're posting online, and that's why we need the help of this army of students."
Scott's recommendation to adopt the middle and high school Signs of Suicide curricula was approved by a 6-1 vote of the school board at its January meeting. The program teaches the "ACT" acronym: (A)cknowledge their friends' pain and symptoms; show they (C)are; and (T)ell a trusted adult or mental health professional.
Concern has been raised over students' role in the process both in person at school board meetings and online, with some objecting to the potential burden placed on children to be "therapists" and others complaining that the module – consisting of short video lessons and discussions over a single class period, once a year, with students given the choice to opt out – bypasses parents.
"This is a complete overreach by the school system," wrote one respondent to a survey about the curriculum, which was posted at www.cowetaschools.net for public review and comment from October through December. "These are conversations parents and guardians should be having with their kids."
Scott said parents already are an integral part of the school system's prevention protocol and are even more crucial moving forward.
"When there is a suicide threat, the first thing we do is contact parents and let them know what happened," she said. "It is a very important component. We can make referrals and recommendations, but parents are the ones who have to follow up."
Another respondent objected to additional responsibilities students would be expected to shoulder.
"I do not think it is a good idea to start training our children to be therapists and attempting to diagnose other children," they said.
Students are only asked to look out for their friends, not diagnose them, Scott said, with the burden on the professionals.
Following the SOS class presentation – which will be led by school counselors, not classroom teachers – students will be asked to complete a short survey in which they can request to speak to someone about themselves or a friend. Those who make that request will be assessed by a team of trained counselors.
Counselors will then recommend further intervention and mental health support to the student's parents, as well as develop an individualized safety plan addressing the student's needs in the school, if necessary, Scott said.
Another common fear is that open discussion about suicide might somehow "normalize" it for impressionable youth, but Scott said research has shown the opposite is true.
"Contrary to popular belief, talking and asking about suicide reduces, rather than increases, suicide ideation," she said. "The reality is that those struggling with depression are often relieved to have the opportunity to share their thoughts with someone else – including thoughts of suicide."
The Signs of Suicide program has already been successfully implemented in schools and youth organizations nationwide, and by other Georgia school districts – including Fayette County, Henry County and Fulton County – as well.
Research shows that students who received SOS training were approximately 64 percent less likely to report a suicide attempt in the three months immediately following training, compared with students who hadn't been through the program, according to the National Institutes of Health.
NIH research also revealed that students who reported suicide ideation in the pre-test, before receiving SOS training, were 96 percent less likely to engage in suicidal behaviors after completing the course.
Another study, published by the BioMed Central Journal, stated that exposure to the SOS curriculum resulted in "greater knowledge of depression and suicide and more adaptive attitudes toward these problems."
"(Signs of Suicide) has been researched and tested for efficacy," Scott said. "It is an evidence-based program."
Scott said she hopes to have the program in all Coweta middle and high schools this semester, and that long-term plans are to teach the course each September, which is National Suicide Prevention Month.
To view Scott's Signs of Suicide curriculum presentation to the Coweta County Board of Education, visit https://simbli.eboardsolutions.com/SB_Meetings/ViewMeeting.aspx?S=4046&MID=96381 .
•••
If you or someone you know is dealing with depression or suicidal thoughts, help is available at:
Georgia Crisis and Access Line – 1-800-715-4225
My GCAL app (Android or iPhone) allows texting and calling
National Crisis Text Line – text "Jason" to 741-741
Coweta Pathways Center – 678-423-4610
Coweta Cares mobile behavioral health unit – 770-683-2273