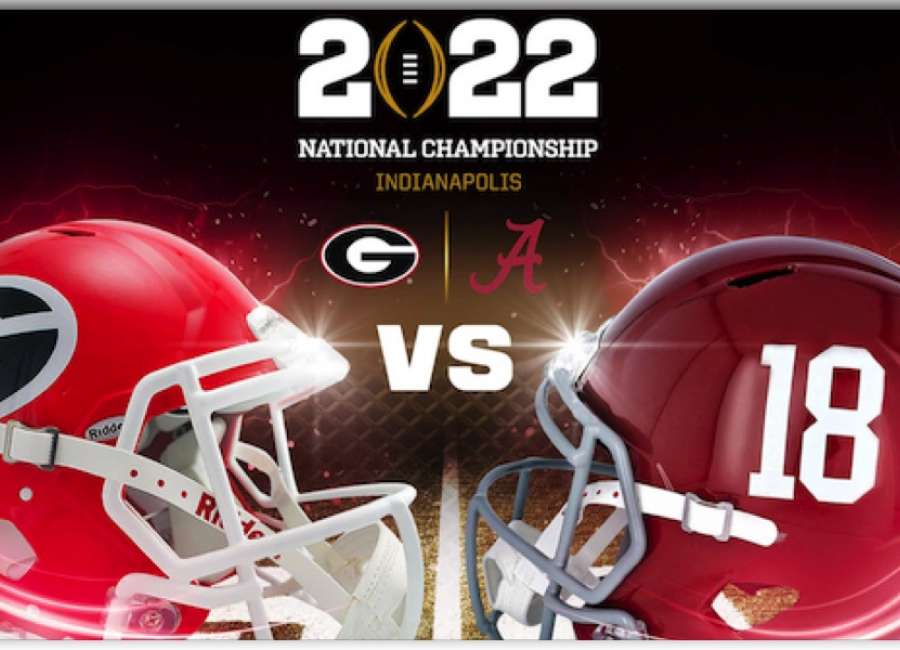 BY DERRICK TEAGLE
The SEC will once again be on display as the two best teams in College Football represent its conference.
The Alabama Crimson Tide (13-1), who easily won over Cincinnati, will roll into Lucas Oil Stadium in Indianapolis as a three-point underdog.
The Georgia Bulldogs (13-1) who beat up the Big Ten Champions Michigan Wolverines in the Orange Bowl will get their chance at revenge. The Bulldogs haven't won a national championship since I was drinking Similac. It's been a very long time since the 1980 Championship (14,980 days).
The Crimson Tide and Bulldogs played four weeks ago and the Tide dominated the Bulldogs in Atlanta. The Tide offense exploded for almost 550 yards of total offense and Bryce Young passing skills were on full display.
The Bulldogs had zero answers for the Crimson Tide receivers led by future NFL first-round draft pick Jameson Williams (six catches, 187 yards, two touchdowns). The Crimson Tide defense frustrated the Bulldogs' highly criticized quarterback, Stetson Bennett, and limited the Georgia running game.
I predicted that the Bulldogs would beat the Tide in the National Championship even after a (41-24) defeat a month ago. As I write this article this morning I am even more confident that the Bulldogs Nation will be celebrating across the State of Georgia on Jan. 10.
Four Reasons why UGA will win.
1. Georgia is just better — UGA features a NFL Draft expert Mel Kiper record 19 draftable players. Mel Kiper shared that every UGA defensive starter will be an NFL Draft pick. Kirby Smart has 19 (5 Star) players on its current roster.
2. Georgia will blitz more — UGA's second-half defensive performance versus Alabama was much better as they gave up less than 200 yards of total offense. The Bulldogs' defensive game plan (applying pressure from its outside linebackers) versus the Wolverines was very similar. The Bulldogs will not set back and let Bryce Young pick on its secondary.
3. Georgia skill guys vs. Bama defensive backfield — The Bulldogs will have a big advantage over the Tide in this matchup. The Tide health of its defensive backs versus the Bulldogs dynamic Running Back James Cook, healthy Wide Receiver George Pickens, and unguardable Freshman Tight End Brock Bowers will equal a one-sided advantage for the Bulldogs on Monday Night.
4. Stetson Bennett — The Bulldog Nation may never appreciate the heart of this young man but his quickness will keep him away from The Tide Will Anderson and his on-point accuracy will give The DAWGS a well-deserved National Championship.
The Expert Picks
Mike Duncan — Duncan Automotive
"I know that my picks are bold but I think UGA is the best team in the country and will get over the mental hump."
UGA 45-24
Keith Spear — Manifest Travels Destinations
"If Derrick says Georgia is going to win … then that settles it Alabama will win by 30."
Officer Edward Lee — Newnan Police Department
"Roll Tide!"