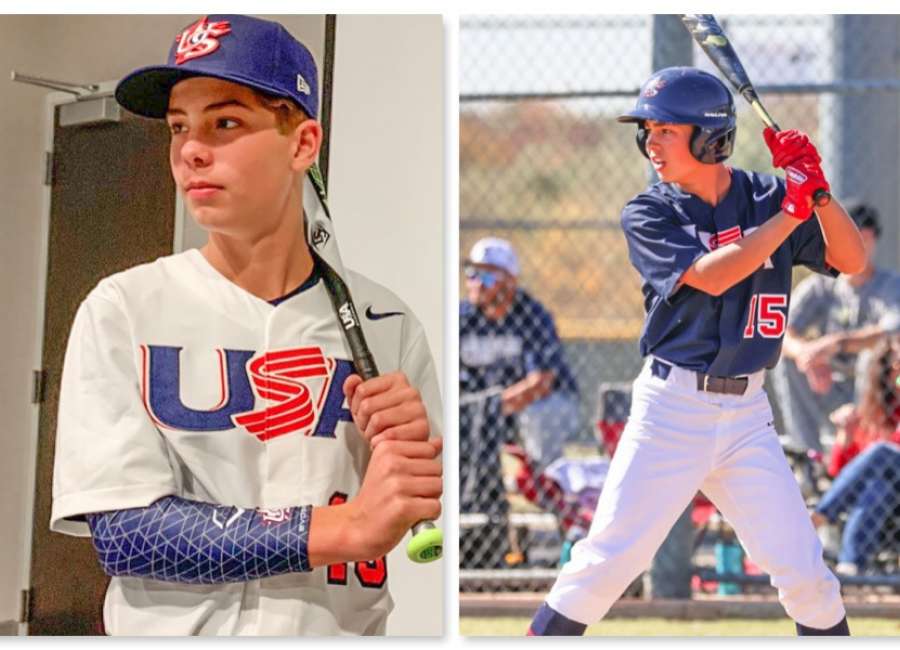 BY DERRICK TEAGLE / JARED BOGGS

At just 12 years old, 5-foot-11 Brodie Campbell is the classic All-American athlete.
A baseball star with national talent, Campbell's roots remain deep in his community. Indeed, the multi-sport athlete attends Evans Middle School, where serves as a shooting guard on the basketball team and the quarterback of the football team.
Campbell's deep faith further connects him to the community. The rising talent is a member of the Fellowship of Christian Athletes, as well as the First United Methodist Church. It's this faith Campbell believes makes his sportsmanship possible.
"His faith is very important to him," said Reid Brass, a Mercer University student who acts as Campbell's confirmation mentor in FCA. "Because you can't do anything without God."
Brodie's parents — Ansley and Brad Campbell — also affirmed their son's strong faith, noting that he attends every FCA meeting at Evans Middle School.
Campbell's faith has been rewarded with prestigious talent on the field. In June, the young athlete was selected to compete in the 11U Futures Invitational with over 100 players. Just five months later, he was invited to Flower Bound, Texas, for the USA trials to compete with 36 players for 18 spots on the 12U USA National Team — and got selected.
"It was a relief at first," said Campbell, who noted that the experience made him reflect on the hard work he put into training. This training, he says, will ultimately lead him to his goal of playing in Major League Baseball.
The selection to join the 12U USA National Team proved to be just the first step. Coached by RJ Ferrell, the squad faced off against other top 12U teams in three exhibition games and dominated their opponents. Campbell hit two homers during the games and allowed no runs during his time on the mound.
It's for this reason, perhaps, that his father, Brad, compares him to Texas Rangers shortstop Corey Seager.
"I knew he was different when I realized he enjoyed working to get better," said Brad, adding that his son's success also comes from the way he studies the game and other players.
Campbell and the 12U National Team received another offer to showcase their firepower in an international tournament in Taiwan; however, the match was ultimately canceled due to travel restrictions.
Still, the young star remains optimistic about his athletic career while continuing to put in work at Evans Middle School and for his Canes Southeast 13U baseball team.
In addition to his faith and family, Campbell has attributed his success to others around him.
"I love our principal, Ms. Vera Perry-Harris," he said. "She is very influential in my academic and athletic success."
Campbell also expressed kind words about his teachers, including Mr. Sikkelee, Mrs. Wyman and Coach Lucas. Along with his family, Campbell's Evans family continues to strive for the athlete's best.
As for Campbell, his motivation to succeed athletically remains clear.
"I want to be able to provide for my family," he said. "And I want kids to look up to me one day."