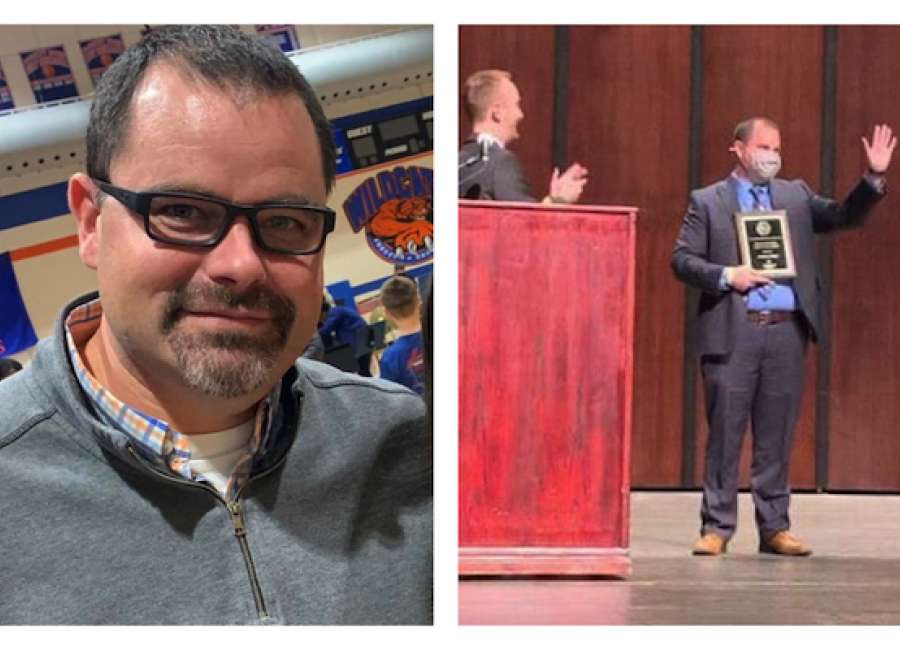 Dr. Josh Boyd, band director at Newnan High School, has been named 2022 Music Educator of the Year.

Boyd accepted the award Thursday at the Georgia Music Educators Association's annual conference in Athens, where he was honored as "both an exemplary leader and an outstanding member of his community."
"Every music educator in Georgia has gone above and beyond in the last two years due to the pandemic," GMEA presenters said. "(Boyd) did that and more when his school was ravaged by a tornado last March. His work rallying the community and building partnerships serves as a model for us all, particularly in the way he cares for students first and product second."
Boyd thanked well-wishers in a Facebook post and said the heroes are the Newnan band students and parents.
"I am who I am because I work with band students who inspire and challenge me to be a better person," he wrote Thursday. "Today's wonderful moment allowed me the honor of telling their story over and over. I have been sharing the story of 130 band kids who made a difference in our town."
Boyd acknowledged that band students, parents, faculty and administration at Newnan have "been through a lot" but challenged them to move forward with positivity despite the adversity.
"Do not let that be the story," he said. "The story is that #TeamNewnan is in the business of delivering hope."
Prior to the start of the conference, Boyd reminisced about GMEA members' response after the NHS band room – along with the hundreds of musical instruments, uniforms, sheet music, awards and memorabilia inside – was destroyed by the EF-4 tornado that ripped through the city last March.
"Only hours after (the tornado) struck our town, leaving behind … destroyed instruments, broken dreams and lost homes, the GMEA office was reaching out to find out how they could serve," he wrote. "The first instruments for affected students to show up … came from the GMEA office."
Northgate band directors Alan Armstrong and Chris Sink immediately launched a campaign during which hundreds of other GMEA members would donate instruments for students who'd lost theirs. Within 48 hours, Newnan's guard had a venue and the guard and percussion members had the necessary equipment to finish their indoor seasons.
Boyd said GMEA members helped feed, clothe and equip his students in the wake of the storm, and wrote personal notes of encouragement in addition to raising funds and collecting donations to stock local shelters. They also "replaced every lost horn, and then some."
"Just 30 days after the story, my students were able to play a spring concert," he said. "...We are doing band in a tent these days, but music is still alive, and with every note we play, GMEA is with us."
Boyd, who has lived in Newnan for more than 20 years and is a product of Coweta County Schools, has been band director at Newnan High School since 2019. He served as band director at Smokey Road Middle School from 2007-2015 and as band director at Point University from 2016-2018.