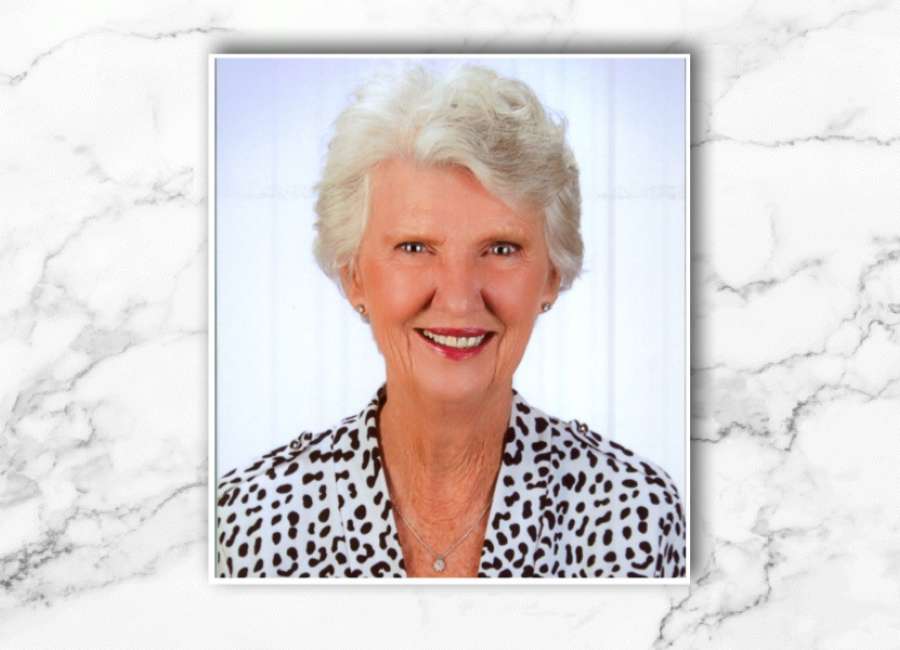 Anita Louise Stewart Headley, 83, of Newnan, Georgia passed away Friday, January 14, 2022, at Brightmoor Hospice in Griffin, Georgia.
She was born December 8, 1938, in LaGrange, Georgia to the late Olin Hearn Stewart and Lily Mae Stone Stewart. In addition to her parents, she was preceded in death by her sisters, Mae Dean Stewart Johnston and Janell Stewart Shreve.
Anita moved to Almond, Alabama when she was in the third grade and graduated as Valedictorian of her class from Wadley High School in 1957. Her ambition was to become a nurse, and she was awarded a full scholarship to attend Birmingham Baptist Hospital School of Nursing, from which she graduated in 1960. On April 16, 1961, Anita married William (Bill) Vaughn Headley, and in 2021 they celebrated their 60th wedding anniversary. Anita and Bill were blessed with four sons and ten grandchildren. During their early years of marriage, Anita and Bill lived in New York, Michigan, Iowa, and Oklahoma because of Bill's job with Goodrich Building Corporation. Anita was the unpaid field secretary and general helper to Bill during the "traveling" years. Additionally, Anita worked as a Registered Nurse in obstetrics and surgery in various hospitals and doctor's offices in Alabama, Georgia, Oklahoma, and New York. In 1971 Anita and Bill moved to Newnan, Georgia where Bill started his own construction business, Headley Construction Corporation. After taking accounting classes at West Georgia College, Anita performed the job of Accountant at Headley Construction starting in 1974. From 1986 to 1997 she managed The Commercial House on Perry Street in Newnan. She also managed Headley Properties for several years.
Service to her church and community was an important part of her life. Anita has been a member of Central Baptist Church since moving to Newnan in the early 1970s. Over her time at Central, she has worked tirelessly in many capacities, including serving as a Sunday School Teacher, a Nursery Worker, a Youth Leader, and a Deacon. Anita was a member of the Chancel Choir as well as scheduling and overseeing Wednesday Night Suppers for several years. Over thirty years ago, she was one of the founders of the Feeding Our Friends ministry at Central Baptist Church, which prepares and delivers over 150 meals each week to people in need. In addition to Anita's church activities, she was involved in multiple community organizations during her lifetime: She was a Den Mother and adult instructor for the Boy Scout troop; she was an active member of the local Republican party and served as editor of the Newsletter and as Treasurer; she was a charter member of the American Business Women of Coweta County and the Coweta County Tourism Board; she was a member of the Newnan-Coweta Chamber of Commerce and Main Street Newnan; she was a sustaining member of the Newnan Junior Service League; and she was a member of the Newnan-Coweta Historical Society Board and the Newnan Carnegie Library Foundation.
The funeral is on Monday, January 17, 2022, at 1:00 o'clock at Central Baptist Church, 14 West Broad Street, Newnan, Georgia, with Dr. Joel Richardson and Rev. Matt Sapp officiating. A reception will be held in the Central Baptist Fellowship Hall following the funeral service. Rather than flowers, the family requests any memorial contributions be given to the Feeding Our Friends Ministry at Central Baptist Church.
Survivors include husband, William (Bill) Vaughn Headley of Newnan; sons, Dr. William Headley, Jr. and wife Keri of Jesup, Mitchell Headley and wife Margaret of Newnan, Matthew Headley and wife Amy of Newnan, and Lucas Headley and wife Beth of Newnan; grandchildren, William Headley, III, Andrew Headley, and Robert Headley of Jesup, Madison Headley, Mary Beth Headley, and Mason Headley of Newnan, Megan Headley of Newburgh, IN, Caroline Headley of Newnan, Harris Headley and Grace Headley of Newnan.
Online condolences may be expressed at www.mckoon.com
McKoon Funeral Home and Crematory 770-253-4580