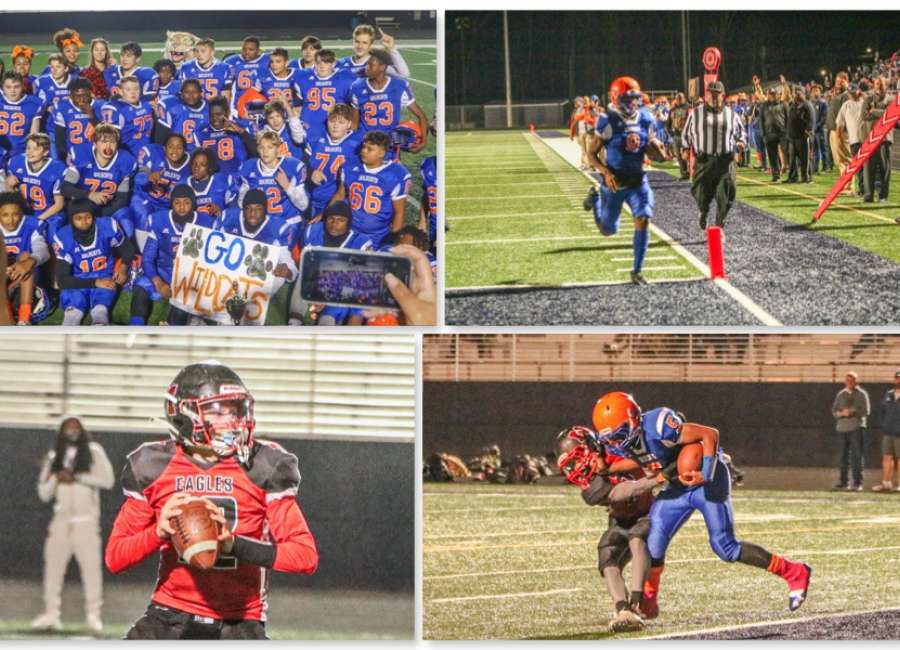 By Arvon Bacon / @baconnetwork

After winning convincingly in the semifinal, the highly anticipated matchup of Smokey Road Wildcats and the Madras Eagles came to fruition Wednesday night.
The Wildcats narrowly defeated the Eagles during the regular season, so the Wildcats entered the game with the proverbial monkey on their backs after losing multiple heartbreakers in previous championships.
Nonetheless, the epic battle of smash-mouth, run-it-down-your-throat football would once again clash against the nuance of the pro-style offense, and the heavy run scheme of the Wildcats proved to be too much to handle as they emerged victorious, 48-30.
Having a sense that Wednesday night's championship game may be a tight one, Wildcats head coach, Steve Black, wrote himself a note, stating, "If it's a dog fight, it's okay to grind it out on offense."
And a grind it was for the top-seeded Wildcats as they found themselves down two scores early after a shifty run by Malik Dixon and a passing touchdown from Dylan Barber to Tadarrion Turner.
Unfazed, and unwavering from their game plan, things began to swing in the favor of the Wildcats when Anthony Moss returned a kick off 32 yards, which set up Rodney Colton's 64-yard touchdown pass to Shawn Grier ensuing play.
Gathering momentum from the recently scored touchdown, Wildcats defensive back, Jaylen Britt intercepted Barber returning the in deep Eagles territory. However, despite forcing the turnover, the Wildcats struggled to gain a positive yard and turned the ball over on downs.
Standing tall on defense once more, the Wildcats regained possession and this time found the end zone on an Anthony Moss 2-yard touchdown run to tie the game 14-14 just before halftime.
Reconvening from halftime showcased a back-and-forth action; quarterbacks Rodney Colton and Barber put on a show as both were responsible for 40-plus yard touchdowns.
Colton took matters into his own hands, scoring on a 67-yard quarterback scamper, and Barber threw a beauty of a ball to the receiver, Braelin Crump, who hauled in a one-handed touchdown catch.
Facing some adversity in the third quarter, Rodney Colton voiced that he was experiencing some right hamstring discomfort after his scoring run, which led to a brief absence. Now being without the thought of being without their quarterback, Moss again answered in the return game darting past Eagles defenders for an 84-yard return, snatching the lead from the Eagles grasp.
Moss added a second touchdown and a two-point conversion as time wound down in the game. The Eagles answered Moss' score with a score of their own, cutting the deficit to six points, but the Wildcats' lead showed to be insurmountable.
To the victor goes the spoils, after the game Coach Black was asked how it felt to finally get his first Coweta County Middle School League Championship as a head coach.
"I told them at the beginning that I've won some championships when Coach Blankenship was head coach, and I wanted them to have that feeling," said Coach Black. "I wanted to see them with smiles on their faces, and know that hard work does pay off."
Suffering a tough defeat this Wednesday, Madras head coach, Coach Roy Hitchcock was still thrilled and proud of his team.
"The dedication and commitment of these young men were outstanding this season. Their attitude was always positive," he said. "They represented Madras extremely well in every game. It was an honor to coach them this season. I look forward to seeing these young men play in high school and college."
Photos by Greg Keith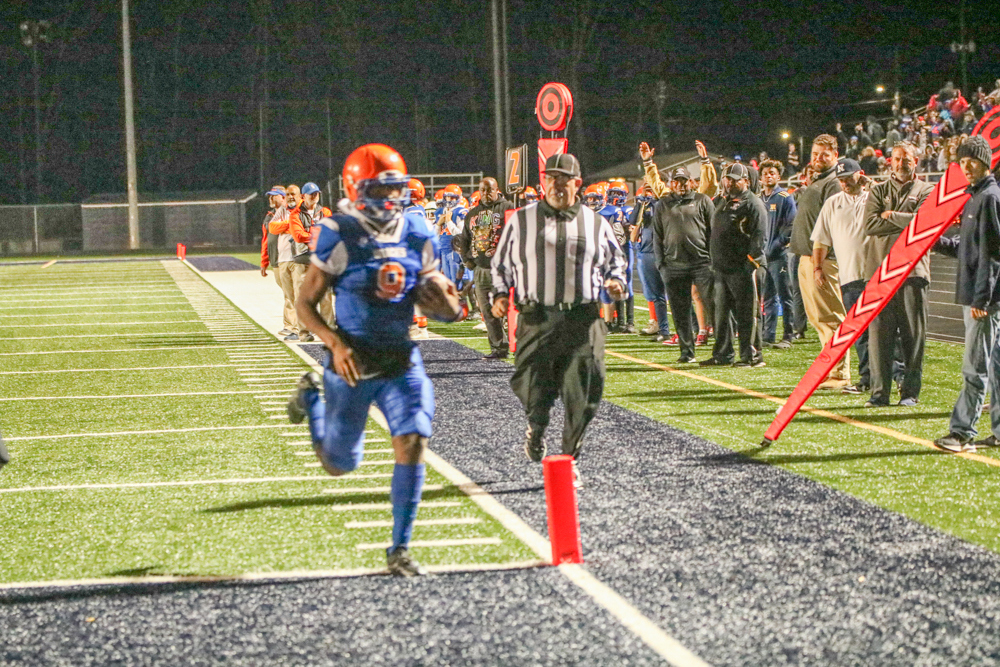 Wildcat Rodney Colton on his way to his second rushing touchdown of the night.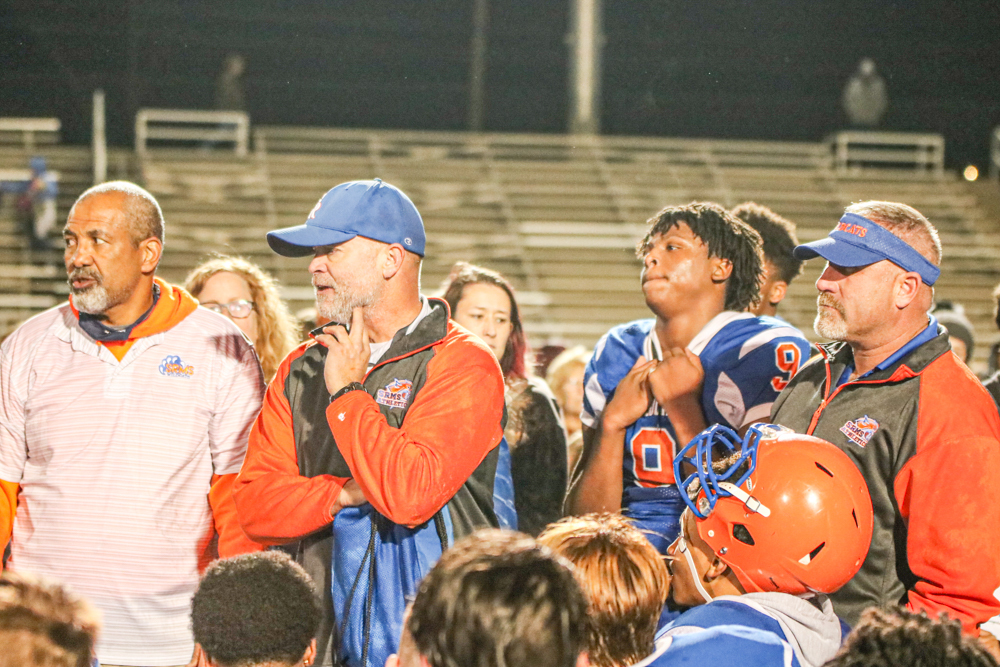 Coach Steve Black celebrates with his team after the win.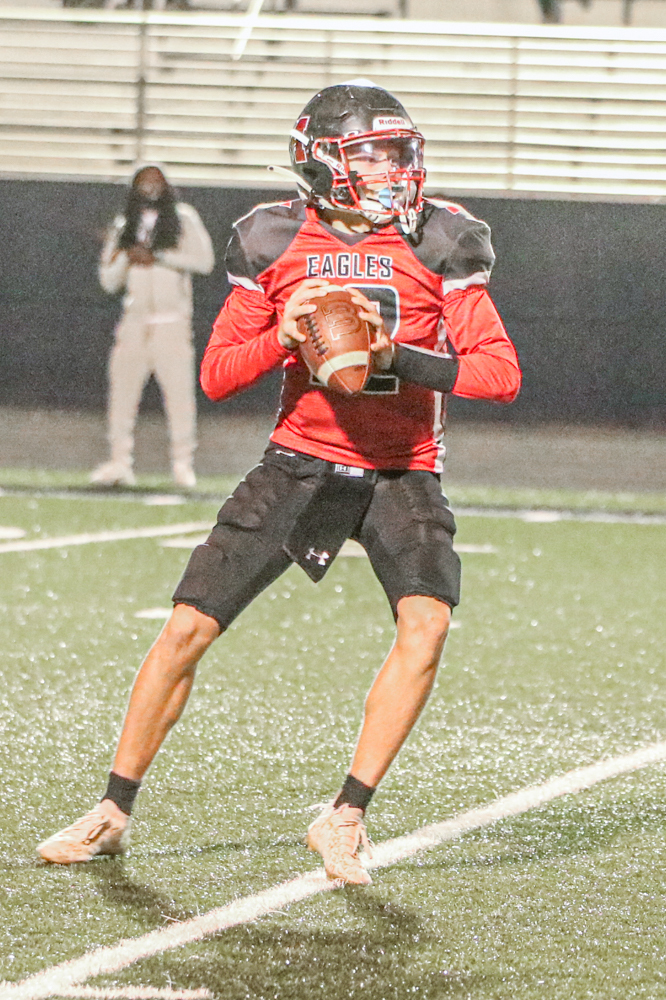 Eagle Dylan Barber scanning for open receivers.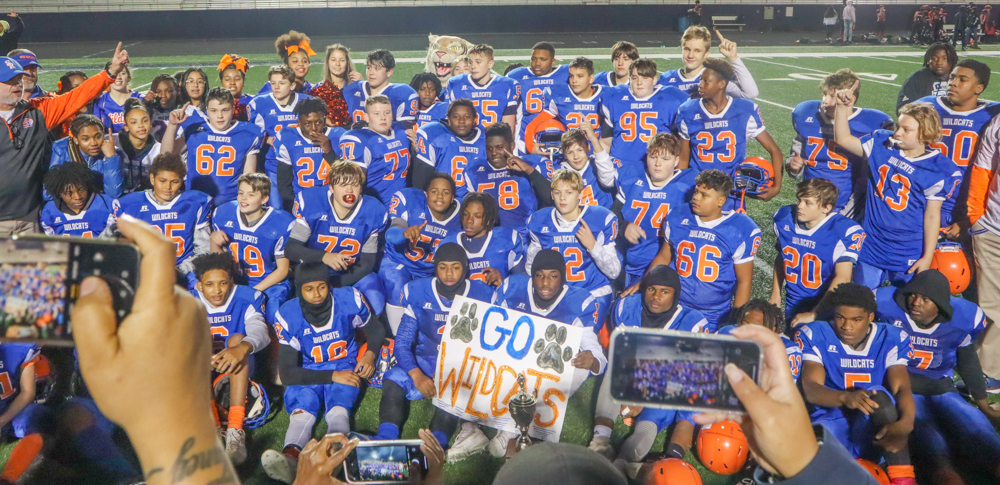 Smokey Road Wildcats are the 2021 CCMSL champions. (Photo by Arvon Bacon)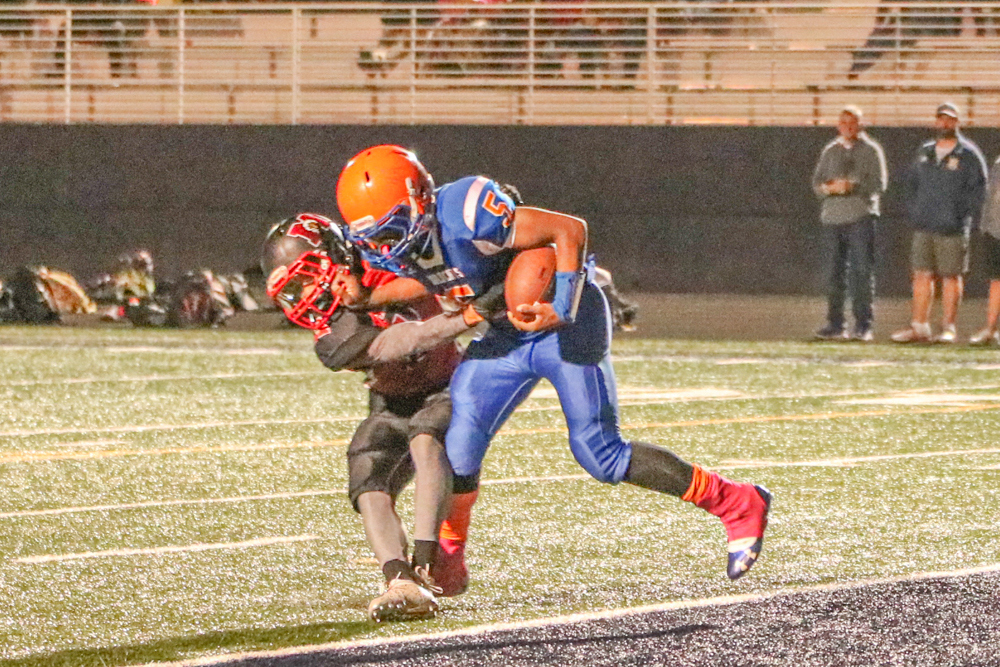 Wildcat Anthony Moss shrugging off an Eagles would-be tackler before entering the end zone.