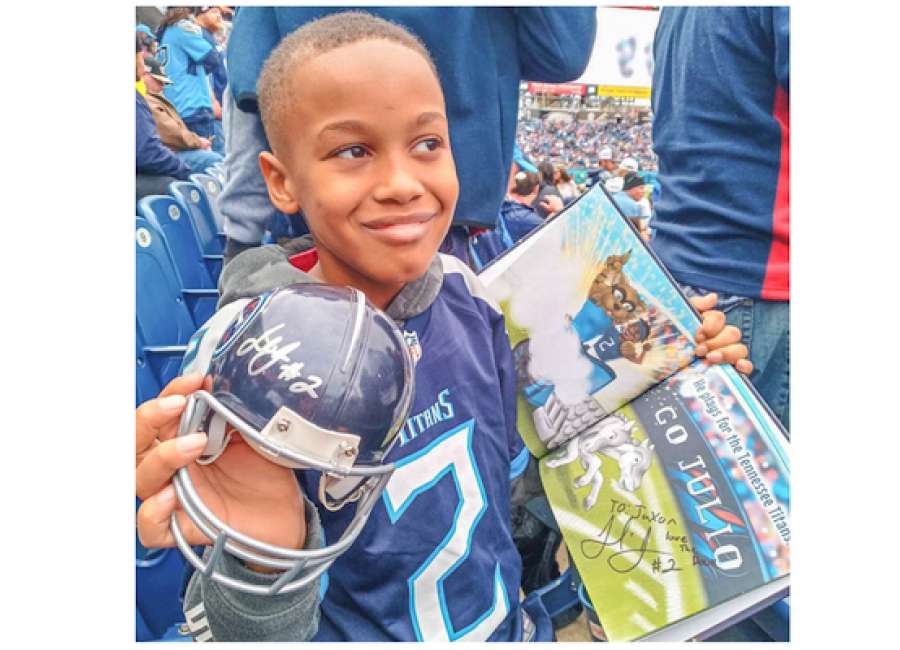 Jaxon Lee Styles had extra reasons to be thankful over his Thanksgiving break.

The Ruth Hill Elementary School third grader didn't know he had a big surprise waiting for him when his family headed for Nashville to watch the Tennessee Titans play the Houston Texans Nov. 21. He only knew that his favorite player, Julio Jones, plays for the Titans.
In fact, Jaxon is such a fan that he wrote an entire book about Jones called "If I Could Meet My Favorite Football Player," which was published by the nonprofit organization Leap for Literacy after Jaxon won its Share Your Story contest.
In his book – written when the young author was just 6 and in the first grade at Ruth Hill – Jaxon describes Jones' duties and abilities as a wide receiver, saying he is "super-fast" and that he "jumps higher than anyone I know."
"Nobody can catch him," Jaxon writes, adding that if he ever met Jones, he would ask his hero to race him and try his best to win, even though the football star "might be too fast."
Jaxon became a fan of Jones when he played for the Atlanta Falcons, and he wrote that although he was sad when Jones was traded to Tennessee, "He will always be my favorite player."
As he wrote the book, Jaxon dreamed of meeting Jones. The back cover of the book reads "Dreams do come true …"
Jaxon traveled to Nashville with his parents, Quinecia Styles Smith and Christopher Smith, and his little brother, Christian Smith, on the day before the game. Once inside Nissan Stadium, the family settled into their seats to watch the game – minus Jones, who had been placed on injured reserve after hurting his hamstring.
That didn't dampen Jaxon's enthusiasm one bit, according to his mother.
"We had the most incredible seats with the best view," Styles Smith said.
And at the end of the first quarter, Jaxon got a special surprise, facilitated by Leap for Literacy founder Stan Tucker. A representative from the Titans organization hand-delivered a blue bag to the young fan, and inside was a copy of Jaxon's book and a mini helmet, both autographed by Jones.
"Jaxon was ecstatic," Styles Smith said. "He screamed, smiled and jumped up and down."
But Tucker wasn't finished. At halftime, he moved the family to a suite to get them out of the rain.
"We walked up to the suite and everything got a million times better," Styles Smith said.
The family was met by a TV news crew from News Channel 5 in Nashville, which aired a piece on Jaxon's book and his trip to see the Titans.
"It feels like a dream right now that we are in Nashville and (Jones) signed (the book)," Jaxon said during the interview.
Tucker told News Channel 5 that seeing the reactions of children like Jaxon who become published authors through the Share Your Story program is rewarding.
"It's so heartwarming to see the support people are giving these young authors," Tucker said. "(To) have Julio Jones sign the gear and tell him he loved it was my whole dream for Jaxon."
Tucker started Leap for Literacy to address the lack of access to printed materials for children in at-risk and low-income communities, and to promote a love of reading. Jaxon said he is as big a fan of reading as he is of football.
"I think reading is important because it helps you learn new words," he said. "I like to read books about things I don't know a lot about. I want to know everything, so that's why I read a lot of books."
Jaxon said he never thought he would be a real author at age 8.
"This is the best thing that ever happened to me," he said.
Tucker said he has set a 10-year goal of publishing 1,000 books by young authors. He introduced the program at Ruth Hill Elementary School in 2019, and Ruth Hill's Riley Allen was the first winner of the Share Your Story with his book "The Farmer's Rabbit Problem."
Tucker is a frequent visitor to Ruth Hill, often accompanying his Read 'N Roll truck – a bookmobile that allows students to choose a free book to take home.
"Ruth Hill Elementary has been so fortunate to partner with Mr. Tucker and Leap for Literacy," Principal Aaron Corley said. "Mr. Tucker's commitment to promote lifelong literacy, his sincere passion to help others, and his personal pledge to spread kindness is infectious and has shown us the power of reading and positive thinking.
"He has opened doors for many of our students and challenged them to become both better readers and better people," Corley added.
The program has spread, with other young Georgia authors' stories selected for publication. A third Coweta County student, Western Elementary's Ja'Kiah Chester – had her story "Unicorns" published in 2020.
All proceeds from the sale of each Share Your Story book will fund scholarship accounts for the authors, and 14 copies of Jaxon's book were sold at the Titans game. All of the program's books are available at www.amazon.com.
Jaxon plans to become a business owner, a Newnan police officer and a professional football player when he grows up. And he said he still looks forward to challenging Jones to that foot race.
"I'll race him when I make it to the Super Bowl," he said.