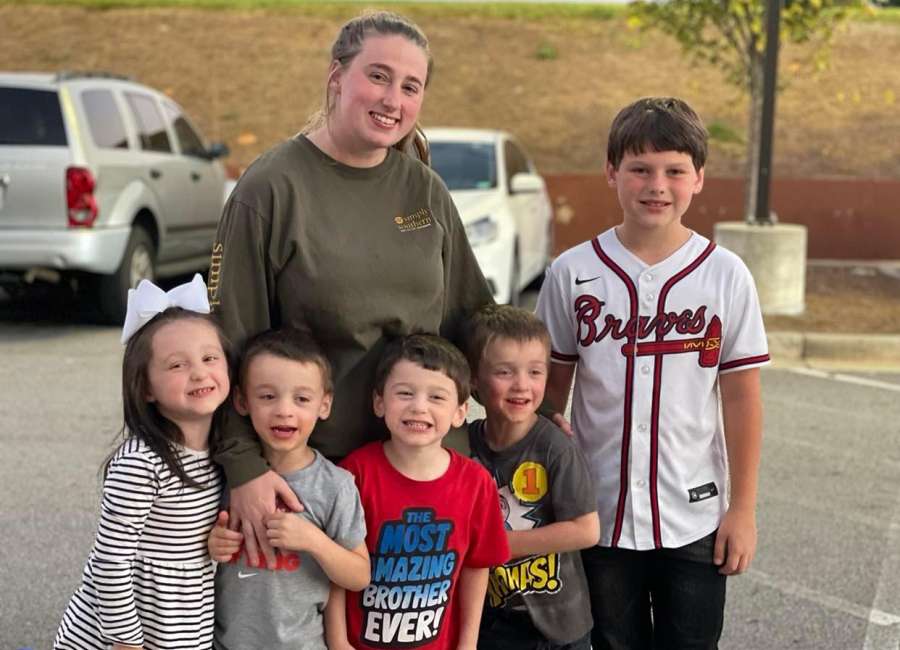 The Miller Quadruplets, the first set of quadruplets born at Piedmont Newnan Hospital, have turned five years old, and are on their way to kindergarten.
The quadruplets - Braydon, Bryant, Brandon and Kenlee Miller, were born Dec. 16, 2016, to Kortney and Justin Miller, joining big brother Bentlee, who is nine years old. The four quadruplets will start kindergarten this August.
But for right now, the four are in pre-K, love to go to school, and stick together, whenever possible. Leading the group is Kenlee, who Kortney called "Miss Bossy Pants."
"She definitely keeps them in line," Kortney said. "She'll say 'you don't mess with my babies.'"
Bryant, meanwhile, Kortney said, is a "sweetheart, my sweetest out of the bunch." He is autistic, and is "very curious, very smart and very intelligent," his mother said.
He likes puzzles and other items that catch his mind.
Brandon, meanwhile, is "very mischievous and sneaky," Kortney said.
And Braydon, Kortney said, is "very hyper. He's like my terrible twos, threes, fours and fives."
But the four try to stick together whenever possible. Kortney told a story of how she'd have two of them and her mother would have two of them for a time. One group would always ask about the other, she said.
This past weekend, the family threw a party to mark the quadruplets' fifth birthday, going out to eat to celebrate the occasion.
And with the Christmas holiday coming, there are plenty of presents in the children's future. Kortney said since each of the four have different interests, all of the presents will all be different.
"It is definitely a lot, with gifts," Kortney said. "They all like different things, and there's one girl out of the bunch, and my nine-year old is completely different. Trying to accumulate for everybody is definitely fun. They're definitely expensive, but it's not bad."
Groceries, just like Christmas presents, also serve as a large expense for the Millers. Kortney joked that Bentlee "eats me out of house and home himself." The quadruplets right now, are at the phase where they love chicken nuggets and French fries, and Kortney even said "that's literally all they like to eat."
But while chicken nuggets and fries may be the quadruplets' dinner of choice, they do enjoy their snacks.
"It is very, very expensive when it comes to eating," Kortney said. "Now they're growing, they're growing out of clothes and shoes. We're constantly having to buy new things, and Kenlee, she's a little bit bigger, she's the only girl, and her stuff is different."
Regardless, Kortney said the family does what it has to do.
Bentlee, who wants to become a professional baseball player when he grows up, has been a huge help in raising the four quadruplets. Kortney called her oldest "a momma's boy."
"He helps with the kids, giving baths and getting dressed in the morning," Kortney said. "I couldn't do it without him."
But even through all the work, Kortney spoke so proudly about her four quadruplets.
"They're my world," Kortney said. "I couldn't imagine my life without the kids. They're my life."
She said that people ask her how she does it, raising the four quadruplets. And when they were born, she said she didn't know how she would be able to do it. However, these days, she said she couldn't imagine how she couldn't.
The quadruplets are special because the chances are so slim for such an occurrence. According to a past Newnan Times-Herald article to mark the quadruplets' 3rd birthday, the odds of having naturally-conceived quadruplets is about one in 700,000.
According to a previous Newnan Times-Herald article, Miller became pregnant without the aid of medical fertility drugs.
Dr. Heather Turner, who delivered the Miller quadruplets via cesarean section at Piedmont Newnan Hospital, said two years ago that her case was even rarer than that.
"Kortney's case was even rarer because for her, each child came from their own egg, which led to four individual sacs and placentas, meaning she released four eggs at once prior to conception," Turner said in early 2020. "Kortney's pregnancy was labeled high-risk due to the likelihood they would be born prematurely, have low birth weights and spend time in the (Neonatal Intensive Care Unit). This required routine OB visits and appointments with a perinatal specialist throughout her pregnancy to monitor the babies' and mom's health."
And indeed, Kortney delivered the quadruplets at 29 weeks. They remained in the NICU at Piedmont Newnan Hospital for two months before being released to go home.