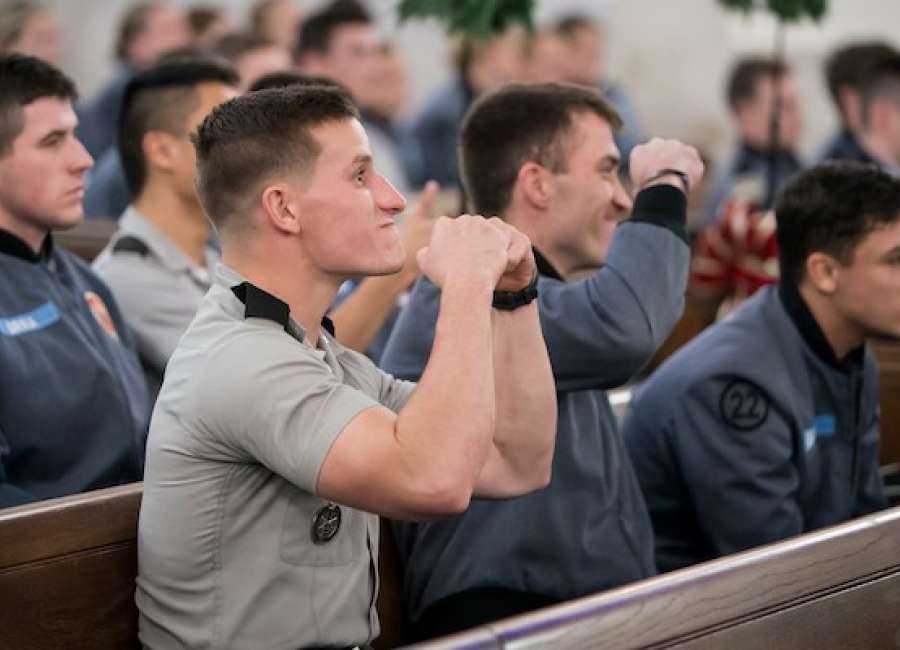 Brady Taylor of Newnan is one of the more than 70 cadets at The Citadel who recently learned what branch of the Army they will enter after graduation.
The soon-to-be Army officers received their branch assignments during a ceremony on Dec. 1 in Summerall Chapel.
"Branching Intelligence is something I have dreamt of for years. It was a surreal experience facing my peers with my branch insignia pinned to my uniform," said Cadet Angelea Lance, an Intelligence and Security Studies major from Lampasas, Texas. "It has taken me one step closer to fulfilling my sense of duty and becoming a leader in my community, something I feel ready to do because of the training and experience The Citadel has provided me. I am honored to be commissioning with so many of my brothers and sisters in May of 2022."
About 70 percent of the cadets received their first choice when it came to branch. Almost 90 percent received one of their top three choices.
Five of the six top branches received are for combat or combat support roles. Those six top branches are:
• Infantry
• Armor
• Field Artillery
• Quartermaster
• Military Intelligence
• Signal Corps
"I'm very excited to have branched Armor – it was my No. 1 choice and is something I have dreamed of doing since I was a little kid," said Cadet Aidan Brady, a Political Science major from Clemmons, North Carolina. "Being a part of the Corps of Cadets taught me how to deal with a lot of stress and not a lot of time, and still find a way to get the job done to the best of my ability. The Citadel has opened so many doors for me in the Army and I am extremely excited to see where they take me."
The Citadel offers a variety of majors to prepare cadets and students for their future careers, both in and out of the military. Intelligence and Security Studies is one of The Citadel's most popular undergraduate degrees. Other top programs include Cybersecurity and Computer Science, Mechanical Engineering, Civil Engineering, Marketing and Business Development, Criminal Justice and Political Science.
"I feel like Field Artillery is a great opportunity to hone in my skills and leadership abilities that The Citadel has prepared me for," said Cadet Brandon Lawson of Woodbridge, Virginia. Lawson is studying Intelligence and Security Studies. "I'm looking forward to leading soldiers and making the most out of this opportunity."
The 72 senior cadets are part of The Citadel's Army ROTC program, known as Palmetto Battalion. It's one of the five largest Army ROTC programs of the 275 across United States Army Cadet Command.
These cadets – as well as cadets from Air Force/Space Force, Navy and Marine Corps ROTC departments – will accept commissions as officers in the U.S. Armed Forces in a ceremony scheduled for May 6.
"I am extremely excited for the opportunity to serve my country, and am even more grateful to serve in the capacity of a Medical Service Corps Officer," said Exercise Science major Cadet Jaret Price of Aiken, South Carolina. "Medical Services was my number one choice to commission in for the Army, and I can't wait to get started on what I plan to be a 20-plus-year career."
Each year, approximately one-third of the South Carolina Corps of Cadets accept commissions to become officers in all branches of the military.